DALIT  WOMEN TALK DIFFERENTLY –A Critique of 'Difference' and Towards a Dalit Feminist  Standpoint Position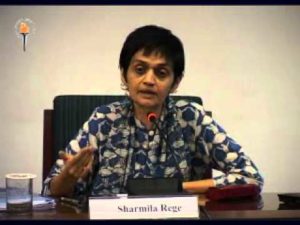 There has always been a dichotomy between the western feminist and that of the Indian feminist thought context, this is partly because of the different situations and consequences of the particular space and time which shifts from one period to another. There was a shift of feminist thought in 1980's as compared to 1990's. Where on one hand the western feminists were dealing with the problem of racism which was further divided into white and black feminists, and white feminists were reluctant to problems faced by black feminists. Whereas in the Indian context, the problems were related to political ideology, and the focus was on colonial domination only, and pre-colonial roots of caste, gender, and class domination was ignored. The voices of feminists were regarded as 'different' which led to the assertion of Dalit women's organization. By early 1990s' issues of caste became the sole responsibility of Dalit women's organization.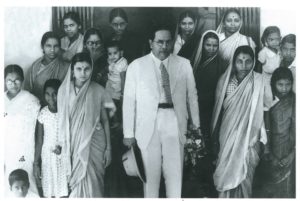 Feminist theorization­­- talking about "difference"
Women from the age-old times were being oppressed because of their womanhood. Race, class, and ethnicity were the three categories on which they were oppressed. Most of the women feminists of 1970's were white, so their opinion was considered as the women's experience. These white feminists wrote upon women oppression such as male domination, patriarchy, and political power relations, but in all their writings black women's opinion was ignored, but later in 1980's this 'difference' came to be seen as the main factor. This was followed up by black feminists and their perspective was different from white feminists. They brought many ideas of thought such as of racial, cultural, language, sex, class debate to the central force. Their opinions were regarded as 'different voices'.
'Motherhood' was celebrated as a new and positive attribute of being a female. There was an increasing rise of the feminism with postmodernism and post-structuralism, which led to two positions:
(1)A position of cultural Feminism– which means that feminists have a right to describe and evaluate women, 'defining a woman' is not merely left in the hands of dominating male definitions. (2) A position of Nominalism–  It is argued that the category of 'woman' does not exist because it is fictitious as it includes several differences such as race, ethnicity, class etc that construct women differently.
Feminists started celebrating the aspects of femininity which were earlier disregarded and enjoyed certain new aspects of identities related to caste and race by women of different race, nationalities. A new wave or resurgence took place at that time when feminists "difference" was shifted to "different voices" of Black and third world women.
History of Difference- women in non –brahman movement, INDIA
Feminists during late colonial India came into being and start questioning the need for redefining certain definitions on gender, patriarchy and showed concerns to rebuild or for reforms related to patriarchy, class,  caste, ethnicity, gender, hierarchies etc. They were concerned for reformations on the distinctions of gender at workplace and home. This led to democratizing movements constituted for peasant and working-class women. There were upcoming non-brahman democratic movements which failed to look on gender and caste. Many Feminists studies in the late colonial period focus on the disappearance of the role of women and stated that nationalism refused to make women's question an issue of political negotiation of the colonial state. Feminists such as jyotiba Phule's important narratives about the position of women of the lower caste. Her project for the liberation of the Shudras, anti- shudras, and women from the slavery of Brahmanism was of great importance. Many feminists such as Mukta bai, savitribai, tarabai  shinde's studies and writings were of great importance. In the 1930s there was an organization of independent meeting and conference of Dalit women under Ambedkarite movement. Many Dalit women delegates in the meeting tried to reformulate certain practices such as the abolition of child marriage, enforced widow remarriage, and divorce, which was a critique of brahminical ways. Ambedkar also follows and critiques with this the subordination of women by caste, especially castes which are regarded as lower in the hierarchy. Dalit women played a crucial role in transferring across generations and especially at the time of national discourse.  Here the 'difference' and 'other difference voices' were of Dalit women who raised their voices and were anti-brahmin.
There were several social movements of the 1970s and early 1980s which were related to women, two such important movements were Dalit Panther and the women's movement, the issues were of economic and work-related and also the issue of violence against women was made public. Apparently, all women were seen as victims and also Dalit. Anti-dowry, anti-rape and anti-violence were the struggles of women's movement. Dalit women were more likely to face rape threats, sexual assault and physical violence at places of work. Women who were sought to be united to fight against the patriarchies were divided on the basis of caste and caste lines. In the Brahmanical view, there is a caste-based division of labour and the sexual division of labor which are interconnected so that many women could not participate in the production of the public sphere. Thus, gender ideology is a combination not only of the legitimization of structures of patriarchy but also the organization of caste. There were critiques of the Brahmanical hierarchies from a gender perspective
The liberation of Non- Brahmanical women
In the 1990's several assertions were made for Dalit women's identity after a long struggle, the formation of the national federation of  Dalit women and All India Dalit Women's Forum. Maharashtra Dalit Mahila  Sanghatana was formed in 1995 this was a state-level organization. In 1996 Vikas Vanchit Dalit Mahila Parishad' was organized. In 1997 the Christi Mahila Sangharsh Sanghatana, an organization of Dalit Christian women was founded. Many of these different organizations promote non-brahminical ideologies thus building a strong structure for the Dalit women. Many programs and important seminars were conducted for raising important issues related to Dalit women. An important essay  Dalit Women Talk Differently was established by Guru in 1995 to understand that Dalit women need to talk differently on the basis of both the political and cultural arena.
The issues underlined by Dalit women goes beyond the level of 'difference' and calls for a revolutionary shift in the Dalit Feminist standpoint.  A Dalit feminist standpoint is seen for the liberation of the Dalit women from daily struggles of life. It is visible in the thought which begins from the lives of Dalit women and these lives are present and visible in the results of the thought. It places emphasis on individual experiences within socially constructed groups and focuses on the hierarchical, multiple, changing structural power relations of caste, class, ethnic, which construct such a group. It should be the collective work in the process of building a structure of a feminist standpoint which was proved by the Dalit Feminists of the 1980s.
References
Rege, S. 1998. " Dalit Women Talk Differently: A critique of 'Difference' and Towards a Dalit Feminist Standpoint." Economic and Political Weekly, Vol. 33, No.44(Oct.31-Nov.6,1998)(pp39-48) https://www.epw.in/system/files/pdf/1998_33/44/a_critique_of_difference_and_towards_a_dalit_feminist_standpoint_position.pdf