Dr Ambedkar: History, Early Life and Marriage
India's first Minister of Law and Justice, Dr B.R. Ambedkar is popularly known as the father of the Indian Constitution. He fought using knowledge as his power to bring society to understand that India should become a democratic country. 'Babasaheb' was another name that he was fondly associated with. Bhimrao Ramji Ambedkar was born in Mhow, India, on April 14, 1891. Ambedkar Jayanti is commemorated annually on April 14.
He constantly faced caste-based discrimination by his peers. Ramji Maloji Sakpal, a subedar rank army officer, was Dr Ambedkar's father.  Bhimabai Sakpal was his mother's name. His household was of Marathi origin. His father retired in 1894, and the family relocated to Satara by 1896. His mother passed away after a brief span of time. In 1897, his family relocated to Mumbai, where he attended Elphinstone High School as the lone "untouchable" student. Dr Ambedkar was born into the Mahar (Dalit) caste, which was considered untouchable and faced socio-economic oppression. He completed his matriculation exams around 1907 and enrolled at Elphinstone College the next year. It had ties to the University of Bombay. He is believed to be the first from the Mahar caste to do so. In 1912, he graduated from Bombay University with a degree in political science and economics. The Gaekwar (ruler) of Baroda granted him a scholarship (now Vadodara). He attended universities in the United States, the United Kingdom, and Germany. He studied at Elphinstone College, the University of Columbia and the London School of Economics. He joined the Baroda Public Service at Gaekwar's authorization but was once again mistreated by his high-caste colleagues. He subsequently went on to practise law and teaching.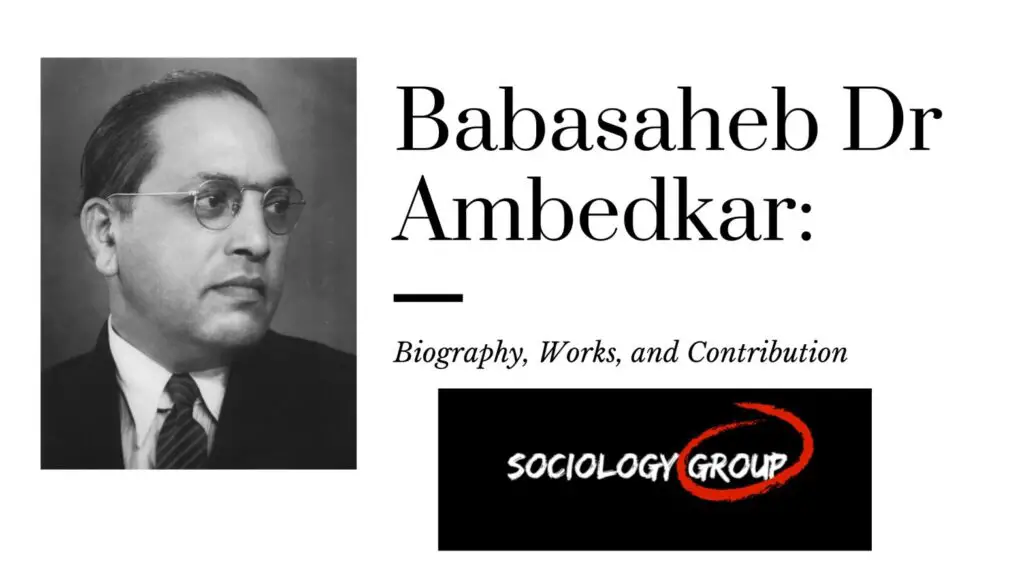 He also formed Dalit leadership and started several periodicals on their behalf. He was successful in obtaining special representation for them in the government's legislative councils. In 1918, he was appointed Professor of Political Economy at Mumbai's Sydenham College of Commerce and Economics. Despite his reputation with the students, several fellow lecturers objected to him sharing a water jug with them. It is widely believed that Ambedkar's first marriage was an arranged, child marriage according to the customs of the time. He lost his first wife, Ramabai to a long-standing illness in 1935. He suffered from insomnia after finishing the manuscript of India's constitution in the late 1940s, experienced nerve pain in his legs, and was using insulin and homoeopathic remedies. He travelled to Bombay for treatment and met Sharada Kabir, whom he wedded at his house in New Delhi on April 15, 1948. Doctors suggested that he be cared for by a partner who had medical knowledge. She took on the name Savita Ambedkar and looked after him for the remainder of his life.
Dr Ambedkar: Written Works
'Annihilation of Caste' By B.R. Ambedkar
Annihilation of Caste is an overview of the idea that social change must take priority over political and religious reform, including examples of upper-caste Hindu oppression against India's untouchable people. On May 15, 1936, Ambedkar launched his book Annihilation of Caste. It was harshly critical of orthodox Hindu religious leaders and caste-based discrimination in general. While writing about freedom, he claims that the division of labour is not one based on choice and that by not allowing professions to be altered, caste becomes the monster that produces unemployment. The two solutions that Ambedkar offers in his book, to abolish the caste system, are inter-caste marriages and the destruction of religious scriptures.
'Who were the Shudras?' By B.R. Ambedkar
'Who were the Shudras' is a 1946 history book written by Indian social reformer and scholar B. R. Ambedkar. The book delves into the history of the Shudra Varna. He writes that there was a period where the Aryan communities of the solar race included the Shudras which is understood as the Aryan society recognizing only three Varnas- Brahmanas, Kshatriyas and Vaisyas. He believed that historically, Shudras were a part of the Kshatriya Varna itself. He attributes feuds between Shudra Kings and their subjugation of the Brahmanas as the reason the latter refused to perform the Upanayana of the Shudras. This resulted in the Shudras falling to a lower status than that of the Vaishyas, ultimately forming a fourth Varna.
'Waiting for a Visa' By B.R. Ambedkar
"Waiting for a Visa' is a brief autobiographical narrative by Dr. B. R. Ambed`r. He wrote it in 1935-36. However, it was first published as a booklet in 1990 by the People's Education Society. The idea of 'Visa' in the title is used metaphorically by Ambedkar. When a government issues a visa, it is understood that the individual is then considered an "approved citizen" which translates to not only being bound by the laws of the land but is also promised safety and protection. Ambedkar uses this analogy to showcase the discrimination and oppression felt by the untouchable, Dalit caste not only by society, but the Indian government as well. He uses personal accounts from his life right from his childhood to highlight the injustices faced by Dalits on a regular basis.
'Beef, Brahmins and Broken Men' By B.R. Ambedkar
'The Untouchables: Who Were They and Why They Became Untouchables?' by B.R. Ambedkar was published in 1948. This work had been republished by Navayana as 'Beef, Brahmins, and Broken Men: An Annotated Critical Selection from The Untouchables', with an introduction by Kancha Ilaiah Shepherd. Around this period, Ambedkar was exploring new faiths having considered Sikhism and finally arriving at Buddhism as a method to become part of a casteless community. This book was aimed at explaining why Brahmins stopped eating beef and why, if it was out of reverence for the cow or for a ritual in pursuit of a 'learned son'. Dismissing all these explanations, Ambedkar theorised that it might have been an attempt at competing with the Buddhists as the Brahmins lost a lot of ground and popularity to the Buddhist ideologies that did not require animal sacrifices and giving up the yajna.
'Plea to the Foreigner' by B.R. Ambedkar
In the mid-1940s, Ambedkar wrote the 'Plea to the Foreigner' with a more direct title regarding Gandhi & Congress' actions (or inactions) towards the Untouchables in India. It is a note to the people outside India who constantly supported the Congress under the guise that they were encompassing all Indian's thoughts and ideas. Dr Ambedkar uses a plethora of examples to disprove this idea focusing on the struggles of the Dalit class.
Career and Contributions
            He advocated for social equality, especially on Dalits, or "untouchables". Through his method, he also encouraged the Dalit Buddhist movement and formed the Buddhist society. Ambedkar called for a separate electorate and reservations for untouchables and other religious minorities while the Southborough committee was debating the Government of India Act regarding untouchability in 1919. In 1920, he launched a weekly called Mooknayak (Leader of the Silent) in Mumbai.
B.R. Ambedkar and the Poona Pact
The Poona Pact was an agreement made on September 24, 1932, at the Yerwada Central Jail in Poona by M.K. Gandhi and Dr. B.R. Ambedkar, who represented the oppressed class. He maintained that there should be a reservation of electoral seats in the British Government's Legislature for the Dalits.
This pact was the consequence of the Communal Award of August 4, 1932, which was a proposal by the British administration to award seats in India's several legislatures to various groups in an attempt to reconcile numerous communal problems. Dalit leaders, led by Dr. B. R. Ambedkar, backed the plan in the hope that Dalits would be able to pursue their interests.
Gandhi was opposed to this as he believed this would weaken India's Independence movement.
B.R. Ambedkar and Politics
Dr. B.R. Ambedkar created the Independent Labour Party in 1936, which participated in the Bombay polls for the 13 reserved and 4 general seats in the Central Legislative Assembly in 1937. It was able to secure 11 and 3 seats, respectively.
As a labour minister, he was a member of the Defence Advisory Committee and the Viceroy's Executive Council. In 1940, following the Muslim League's Lahore Resolution which was focused on the creation of Pakistan, he authored a 400-page document titled "Thoughts on Pakistan," in which he examined the notion of "Pakistan" in all of its facets.
His political group became the Scheduled Castes Federation. It fared poorly in the 1946 elections for India's Constituent Assembly. Dr. Ambedkar  was afterwards elected to Bengal's constituent assembly, while the Muslim League was in office.
He ran in the first Indian General Election in Bombay North in 1952, but lost. He was appointed to the Rajya Sabha and became a member of it.
Ambedkar was requested to serve as the Dominion of India's Law Minister by Prime Minister Jawaharlal Nehru. He was then named "Chairman of the Constitution Drafting Committee".
Individuals in India have a wide variety of civil freedoms guaranteed and protected by the Indian constitution, including freedom of religion, the total elimination of untouchability, and the prohibition of all types of discrimination. Ambedkar campaigned for substantial economic and social rights for women and secured the Assembly's approval for instituting a system of employment reservations in the civil services, schools, and universities for members of scheduled castes and scheduled tribes, as well as members of the Other Backward Class(OBC). Through these policies, India's policymakers, led by Dr. B.R. Ambedkar, intended to eliminate socioeconomic inequities and a lack of chances for the country's poor.
Also Read: Dr Ambedkar is the Real Father of the Country
Ambedkar against Caste Discrimination:
Coming back to India was a turning point Ambedkar decided to fight against casteism that people faced. The zeal to have the society free of casteism in India made him a Hero.  Ambedkar proposed in the Southborough Committee preparation of the Government of India Act in 1919 that there should be a separate electoral system for the Untouchables and marginalized communities. He upheld the idea of reservations for Dalits and outcastes people.
Ambedkar embraced different tactics to reach and make people aware of the evils that were prevailing in society. He started a newspaper called "Mooknayaka" in 1920 with Shahaji II, the Maharaja of Kolhapur and Shahu IV.
After passing his Bar course he tried to combat casteism by advocating different cases against Brahmins. He believed that the Brahmins were exploiting the peaceful environment in India. He launched movements where he demanded public drinking water sources, accessibility to temples, walking freely on the roads, and anything which degrades the self-respect of others.
Conversion to Buddhism
In 1950, Ambedkar met Buddhist scholars and monks in Sri Lanka. Later he wrote a book on Buddhism and converted to Buddhism. In his speeches, we can see he didn't like the idea of casteism which was a ritual in Hinduism. He wrote a book, "The Buddha and His Dhamma"
On October 14, 1956, Ambedkar organized a public ceremony to convert to Buddhism. Ambedkar visited Kathmandu and attended a Buddhist conference.
Also Read: Differences and Similarities Between Gandhi and Ambedkar
Economy:
He additionally contributed to the field of economy.
The Reserve bank of India (RBI) was framed in 1935. This thought was proposed by Dr. Babasaheb and introduced to the Hilton youthful commission. Deliverer of works brought 8 hours of obligation for works in India. Dr Bhimrao brought down the working time from 12 hours to 8 hours which brought light for labourers.
Governance:
Dr. Bhimrao was keen to look after the governance and He believed that administration must reflect sociological reality as nearly as conceivable in the event that those employing energy further bolstering their good fortune stifle the outcaste gatherings.
Ambedkar invested a lot of time and vitality in propelling the proposition for the reason of focusing on the significance to regard equity and value.
Concept of Exploitation
For Ambedkar, monetary misuse was a noteworthy issue to conflict with. It clarifies his long-lasting basic contribution to Marxism. In any case, he accepted there are different wellsprings of exploi­tation and underestimation, which burdened individuals with those essential products significant for the consti­tution of a pure self, an existence of a common acknowledgement and support in aggregate issues.
Reasons, rights, and Identity
Dr Bhimrao said human has made their check and got rid of their myths, customs, and religious frameworks. He saw adaptability, adjustment and association as fundamental conditions for a better than average life and fought that they should be under­stood and looked for after as one component. It was simply on their foundation that a total organization of rights could be developed.