Short Bio: Susan McLeod resides with her husband John in Alplaus, New York. She is originally from Southold, Long Island, New York. In the fall of 1975, she moved to Troy, New York, attending Hudson Valley Community College's Nursing Program, and received her A.A.S. In 2007 she obtained a Bachelor of Arts from Russell Sage College in Troy, New York.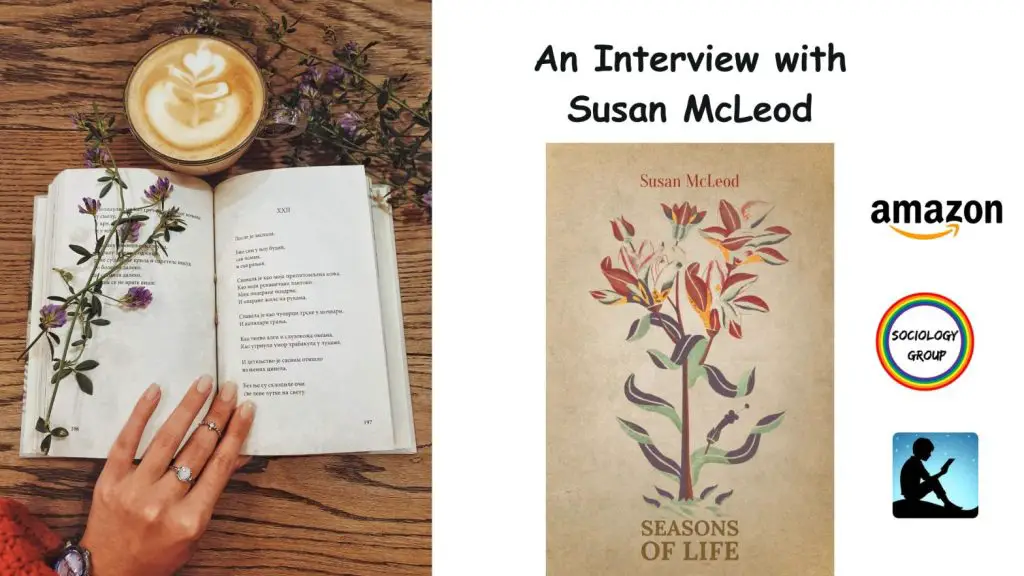 1. If you had to describe your writing style or philosophy in a few words, what would they be?
My writing style is writing on paper (sometimes paper towels/napkins) first.  I like to read all the verses and make the necessary changes. Then I check each poem for a beginning, middle and ending sequence.  I ask the following questions.  Does it evoke feelings, emotions and imaginations.  Will the poem engage in a conversation.  Will the poem act as a "bridge" for the reminiscing of past happy/ pleasant memories.  Then I type into a word document and use the editor icon to correct mistakes with grammar. Reading articles, taking some classes on writing and spending time in a college writing center, this is the method that works for me. 
2. Nursing and writing are quite distinct pursuits. Can you share how your educational background in nursing at Hudson Valley Community College has shaped your perspective as a writer?
My educational background in nursing at Hudson Valley Community College shaped me for my entire life, including writing from the following quote on my nursing pin (Class of 1977). 
" To improve the World, we must improve ourselves". I worked in a Nursing Home Activity Department.  One of my group activities was poetry. The residents enjoyed a variety of poems being read to them.  A long term-goal was to find poems that would encourage reminiscing of memories, events,  and experiences to promote a conversation (s) among the residents for an enjoyable shared group activity. These were ideas of poems my residents could relate to. I continued to utilize poems from various resources mixed in with some of mine. The residents gave me positive comments enjoying my poems and engaging in a conversation. I started thinking I wanted to try and write a book of poems. 
3. Are there any particular authors, poets, or literary works that have influenced your writing style or approach?
There are two poets that have influenced my writing style.  They are William Wordsworth and Robert Frost.  Each poet has a specific quote that gave me a direction for writing my poems.  William Wordsworth's quote: "Poetry is the spontaneous overflow of powerful feelings: it takes its origin from emotion recollected in tranquility". Robert Frost's quote. " A poem begins in delight and ends in wisdom".  
4. Susan, "Seasons of Life" covers a wide range of themes, including childhood, family, seasons of   life, and holidays. What inspired you to explore such diverse subjects in your poetry collection?
To have a wide variety of subjects remembering different periods of time, experiences and memories in a person's life.  Using the poems in a group/one-to-one/independent activity in health care facilities by the activity/recreational departments and with home care family/professional caregivers.  Topics of fun, love, happiness, kindness and enjoyment are described in these poems.  For the poems to engage in pleasant conversations remembering past happy memories. 
5. The childhood poems in your collection touch on topics like birthday cake, baseball, and back to   school. Could you tell us about a specific childhood memory that served as inspiration for one of these poems?
A specific childhood memory that served as inspiration for my poem back to school was Summer every year.  I spent a large amount of time at the beach.  Swimming, sitting in the sun, building sandcastles, and walking on the beach.  It seemed that Summer went by quickly and it was time to go back to school. 
6. Family plays a significant role in our lives, and your poems capture moments like photo albums, reunions, and picnics. How do you believe these family-oriented poems resonate with readers, especially those who value family bonds?
Photo albums, reunions, and picnics are common experiences for families of all cultures.  A lot of my older readers can remember only having black and white photos until color came.  Looking at an album can bring back memories from a time of long ago.  Reunions especially when they happen once a year hold very special memories that are kept forever and reminisce to.  Picnics can happen at a lake, park, beach,rest stop when traveling or even in a backyard.  Any location to enjoy sharing a meal and camaraderie.  All these poems share a family bond. 
7. The "Seasons of Life" section includes poems related to weddings, dancing, and the four seasons. How do these poems reflect the ever-changing nature of life, and the different stages people go through?
Weddings are a life-changing event. No longer single and starting to share a life as a married couple together.  Dancing to music is enjoyed as children, young adults, middle age and older to express fun/joy to.  The four seasons Spring, Summer, Fall , and Winter have poems with common experiences that the reader can relate to.  Some examples are Spring poems titled Introduction to Spring, The Birds, and Spring Cleaning.  Summer poems titled Porch Swinging, Summer Day and Trees.  Fall poems titled  Apple Picking, Walking Through the Woods and Woodcutting.  Winter poems Sledding, Snowflakes and Snowman.  A lot of people spring cleaning is a yearly ritual.  Summer a time for porch swinging day, evening and nighttime.  Fall apple picking with family/friends throughout the years.   Winter children sledding, building snowman and tasting the snowflakes on their tongues. 
8. You mention specific details in your holiday-themed poems, such as the candles in a church at Christmas. How do these small, sensory details enhance the reader's experience and help them connect with the moments you describe?
In my poems I try to use small sensory details to enhance the reader's experience and make a connection.  The senses of sight, smell, hearing, taste, and touch are important to me to incorporate into my poems.  The poem you are referring to is titled Christmas Candles in Church.  To recall memories seeing the candles with their special light at Christmas. 
9. Poetry often has the power to transport readers to different places and times. How do you hope your poems in "Seasons of Life" can create a sense of connection and understanding among readers?
By creating a story with the variety of poems to create the connection.   To  transport readers to different places and times with the poems.  For an understanding the words to all the verses telling a story for a universal feeling of enjoyment. 
10. Younger and older readers are expected to find something to relate to in your poems. Can you share an example of a poem that you believe resonates particularly well with both generations, and why?
An example is my Tooth Fairy poem .  I believe can resonate with younger and older readers.  A shared common experience for younger readers losing a tooth and having the tooth fairy visit in the night.  For older readers to reminisce their memories remembering when they believed in the tooth fairy. 
11. Many poets use their work as a form of social commentary. How do you see poetry's role in addressing and shedding light on contemporary issues?
Poetry's role can be utilized to inform, educate, and bring an awareness to contemporary issues ( topics/problems) affecting society for any culture.
12. Do you have other writers in the family and friends?
After I published my book, my friend Caron Kuo was inspired.  She finally decided to write a romance novel book.  She has a B.S. in Sociology and works fulltime (job/Mom).  Caron graciously let me read the first two chapters and I loved it.  She writes when she can. 
13. Can you share some information about your current writing projects or any upcoming works that your readers can look forward to?
For upcoming works, you can visit me at susanspoetry.com.  The Coming Soon Section has a preview of Book # 2 and Book # 3.  Book #2 (Title TBD) Animal and Food Poems.  50 poems in total.  There are 3 examples each of Animals and Food.  Book # 3 (Title TBD) Poems from A to Z.  92 poems in total.  There are 6 examples to read.   
14. In your experience, what advice would you give to aspiring writers who are pursuing a career in writing while juggling other responsibilities?
My advice would be to write when you can and keep at it.  I take my writing bag with me everywhere.  I write on planes, ferries, waiting rooms and in the car when my husband is driving.  I have written on the back of my grocery list while waiting in line.  I had planned to start writing when I turned 50 but other responsibilities took over and did not start until I was 51.  I wrote a few hours  every week. When I retired wrote 5 to 6 days every week, six hours a day. My book was published in 2023 at age 68 and I started Seasons of Life at age 51. Writing my poems is challenging and rewarding.  Brings me great pleasure to be able to create a story with my poems for engagement to remember happy memories for a person to experience again. 
15. Lastly, can you share a favorite poem of yours or a passage from one of your works that holds special meaning to you?
My favorite poem from Seasons of Life is titled Paper Dolls.  I could play with my paper dolls alone or with my girlfriends.  I/we used our imaginations to create stories about each paper doll.  When I had to stay inside(raining/chilly/cold days) my paper dolls gave me hours of fun.  Simply playing with my paper dolls to this day holds a special childhood memory.  I only wished I had saved them. 
Discover the magic of 'Seasons of Life' by Susan McLeod on Amazon! Dive into a world of heartwarming poetry that will transport you through childhood, family bonds, the beauty of life's seasons, and the joy of holidays. Don't miss this enchanting journey into the depths of human experience – order your copy today!