Civil Servants are people employed in the public sector for the government of a country. The services or contributions by the civil servants vary from department to department. But in essence, the functions that they adopt in relation to ministers tend to be the same. They also check upon if everything is working properly, say for example be it the budget or the defence methods or it might even be the existing peace in the country. Here is a list of 10 Indian Civil Servants who have played extraordinary roles in unexpected situations, who are also great role models.
 TOP 10 GREAT CIVIL SERVANTS – IAS, IPS, & IFS OFFICERS IN INDIA
Ajit Doval IPS
VR Lakshminarayanan
S.R Sankaran IAS
Noronha
Anna Rajam Malhotra IAS
Kiran Bedi IPS
Sivakami IAS
Sagayam IAS
C.B. Muthamma IFS
K.Subramanyam IAS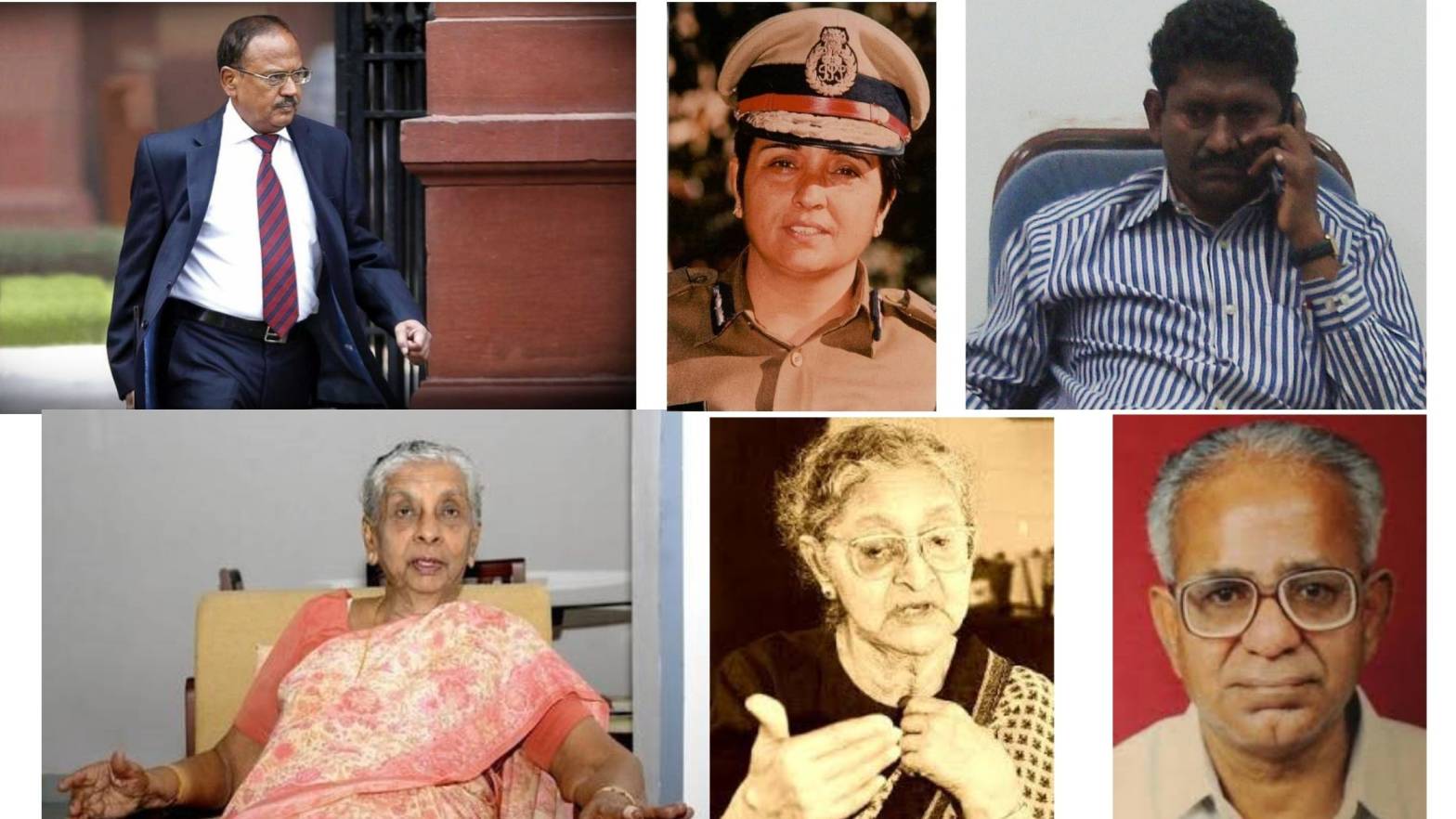 1. Ajit Doval
Ajit Kumar Doval is currently the National Security Advisor to the PM of India. He is also a retired IPS officer and former Indian law enforcement and intelligence officer. During his service, in 2014, he was the reason behind the rescue of 46 nurses who were imprisoned in a hospital in Tikrit, Iran. They were safely brought back to India. The surgical strike in 2016 and the Balakot airstrike in 2019 happened under his supervision. Beginning his police career in the year 1968, Doval has been a great help in a lot of situations. And has also been the youngest person to receive the Kriti Chakra meritorious service.
2. VR Lakshminarayanan
Being known for his exceptional knowledge in criminal law, VR Lakshminarayanan was an IPS officer and former Tamil Nadu Director General of Police. His brother, VR Krishna Iyer, a reformist judge, and he were a special combination. He has been unafraid of any situation and has always been a follower of law and order. For instance, he was the one who arrested Indira Gandhi, during the time of Emergency, very much aware but unafraid of the consequences he might face later. After which he was sent back to Tamil Nadu, where M.G. Ramachandran, former Chief Minister of Tamil Nadu was happy to take him back and appointed him as a DGP. Later, after his retirement, he counseled a lot of aspiring officers from his department.
3. S.R. Sankaran IAS
S.R Sankaran was a retired IAS officer. He has always struggled in bringing up the poor and downtrodden people in every way possible. Being known for his efforts in abolishing the Bonded labour Act and Land Distribution Act, he has also taken a lot of struggles in bringing an end to the manual scavenging issues. He has also been a part of the Integrated Development Schemes and the Special Component Plan for the Scheduled Castes and Tribes. He has taken great efforts in communicating between the Naxal insurgents and the state. A big amount from his salary usually goes to the upliftment of the Dalits and the Tribals. He is a simple man in his personal life. Also, he declined the Padma Bhushan that was awarded to him in 2005.
Also Read: Dalit Movements in India
4. Noronha
Noronha was an ICS officer. He was appointed as the Chief Civil Administrator of Goa by Pandit Jawaharlal Nehru directly. He has played a key role in encountering communalism and corruption in the state of Madhya Pradesh. He has helped the then Prime Minister Jawaharlal Nehru in bringing peace between the two violent groups when he was a District Magistrate. He was a wild-life enthusiast and a humanist who has always been sticking to the ones that god has abandoned. Noronha was flamboyant and sensible. His values, pride, and simplicity have always been an inspiration for other officers.
5. Anna Rajam Malhotra
Anna Rajam Malhotra was the first woman IAS officer. She is an existing inspiration for the young generation. Her then struggles of fighting the gender biases and other problems did not come to an end when she joined the Madras Cadre. She was constantly discouraged for a weak gender, who was a misfit to the IAS. Later, people realized that it was a misconception. She has worked under seven different Chief Ministers. She has been a great help in working for the electric reforms in Hosur. She was the one who helped in building the first computerized Port in Mumbai. Years later, she was recognized for her service by Rajaji and then was awarded Padma Bushan. She has been proudly called a progressive woman by Rajaji in a meeting in Trichy.
6. Kiran Bedi
Kiran Bedi is a social activist and also the first woman to join the Indian Police Services. She is well known for the prison reforms that she introduced after working as an inspector general of prisons. She brought into light on the corruptions and abuses happening in the prisons. She brought in proper nutrition, sanitation, and drug treatment programs to the prisoners. Also, she was the first Indian and woman to be appointed as United Nations Civilian Police Advisor in the year 2003. She is currently the lieutenant governor of Puducherry Union Territory. She is also the founder of two NGOs, Navjyoti and India Vision Foundation that concentrates on education and drug rehabilitation.
Also Read: 10 Great Human Rights Activists and their Contributions
7. Sivakami
Sivakami is an Indian writer, Feminist, and former IAS officer. Besides all these, she has been constantly voicing out her views on the existing social and political issues. Throughout her civil services, she has been handling different types of stress as district director, additional secretary (labour), Director of Tourism, and many more. Also, she is a part of the Dalit Land Rights Movement. After quitting from IAS, she joined politics contesting the Lok Sabha polls representing Bahujan Samaj Party (BSP) from Kanyakumari. Later she became the founder of Samuga Samathuva Padai, her own political party. She is a great follower of Dr. B.R. Ambedkar and his principles.
8. Sagayam
Being transferred over 20 times in his public service, Sagayam IAS is an anti-corruptionist and has declined bribes from politicians and influential people. He is a man of honesty. True to his designation, he has done a lot for the public's wellness. He is the reason behind the sealing of pepsi's new cola bottling plant near Chennai. In 2005, he seized over 5000 gas cylinders that were illegally used in restaurants. He has been so open that he has uploaded the details about his assets in his website. He has been brave enough and has stood by justice to be good and do good for people. He is also a living example of how people should be. He is an inspiration not just to aspiring civil servants but also to any Indian citizen.
9. C.B. Muthamma
India has been and becoming a country that welcomes women to take up stressful job roles, in comparison with other countries. In that list, Muthamma was the first woman IFS officer and Ambassador. Every capacity she was put into had something or the other as a barricade. It was either the gender issues, discouragements she faced, or her caste. Fighting all that, she served different capacities with an extreme energy level in different places such as Asia, Africa, and Europe. Her determination, stubborn honesty and her intolerance towards injustice have left people in awe. Even after her retirement, she has been active in her field and others. Also, her love for writing has made her author a cookbook and scholarly articles. Her struggles and determination are still an example for women who are in confinement.
10. Subramanyam
K.Subramanyam was a bright IAS officer who has played a responsible role in shaping the Indian Defense and Security Policies. He has been the director of IDSA during 1984. Also, he was well known for his skills in journalism and strategic thinking. He, as a home secretary of Tamil Nadu, has been a great help during the Emergency period. He managed well the sensitive positions that were offered by the central government which included the Chairman position of the Joint Intelligence Committee. He was one of the trustworthy chairpersons of several important commissions and committees. After retirement, he constantly wrote columns in several newspapers on strategic affairs. He has contributed in countless ways to the growth of the country with all his brainwave.