Our government of India has always believed in development, as you can see it's still a developing country. Speaking about the special privileges given to the citizens on the note of the development of people in the country pays to the development of the country; we have reservations based on caste, gender and disability.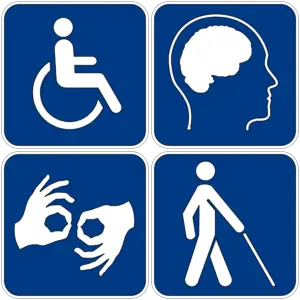 Importance of reservations for physically disabled
The reservation quota for the physically disabled in government jobs had been a great way to empower the differently abled and to give opportunities to earn their livelihood themselves. So let's know what the privileges are.
Reservation in government and Public Sector Company jobs up to 3%.
Exempted from paying the exam fees for government jobs.
Provided with a discount on the train fares and reservation in train compartments.
Reservation in government institutes to 3% and many more…
While the government is playing its role in empowering the citizens with disabilities, there are even more efforts that are to be put in. Though the government is looking upon them, the private sector companies should also develop funds or provide job opportunities. Though the private companies, enterprise and industries do various activities as a part of their corporate social responsibility, they should even include these people too.
Having a disability is nothing to do with one's talent; merely we never understood this fact. The private sector that's been judging them as unfit for their jobs due to their disability should now at least believe in their talent and provide an opportunity. It's not the sympathy that they require, it's the equal opportunity that has to be given and is to be treated equally among the other peers. In this socio-scientific developing country we are living in, let's not categorize people on their disability rather focus on the ability of an individual.
Even if the government is providing special reservations to the physically disabled ones, still there is no accessible environment to them around. The sympathetic look that you give to some random handicapped person on the road or at a mall or in a library may disturb them and also hinder their confidence. It's just the one or two-minute affair that's going to disturb them mentally and emotionally.
Nevertheless, the government is doing its bit to empower these individuals its also the responsibility of all the citizens in the country to stand along.
Now, talking about the importance of these reservations for the physically disabled, its not an additional benefit it's a necessity.  It's a necessity for the family that looks up to them, the necessity to live in the society and necessity to earn their own livelihood. Just looking at any person with disability evokes the most kind and sympathetic part of you, imagine how it feels to live in their body and face the struggles on a daily basis? Isn't it too hard for us to imagine, well that's what they go through daily. In spite of their disabilities, they never give up and are persistent all through their journey.
Most of us can't make it to clear the entrance test, crack the interview of our dream job in spite of all the comfort, luxuries we are been provided with. There are many physically disabled people with great determination and dedication who made it. Many of us are inspired by Helen Keller, Stephen Hawking, Sudha Chandran, Ravindra Jain, etc.