The National Stock Exchange is a Stock Exchange located at Mumbai, Maharashtra in India. It is the 9th Largest stock exchange in the world by market capitalization and largest in India by daily turnover and number of trades, for both equities and derivatives trading.NSE has a market capitalization of around US$1.59 Trillion and over 1,552 listings as of December 2010.
Though a number of other exchanges exist, NSE and the Bombay Stock Exchange are the Most significant stock exchanges in India, and between them are responsible for the vast majority of share transactions. The NSE's key index is the S&P CNX Nifty, known as the NSE NIFTY(National stock exchange City) an index of fifty major stocks weighted by Market capitalization.
NSE is Mutual -owned by a set of leading financial institutions, banks, insurance companies and other financial intermediaries in India but its ownership and management operate as separate entities. There are at least 2 foreign investors NYSE Euronext and Goldman Sachs who have taken a stake in the NSE. As of 2006, stock NSE VSAT terminals,2799 in total, cover more than 1500 cities across India.NSE is the third larStockExchange in the world in terms of the number of trade inequities. It is the second fastest-growing stock exchange in the world with a recorded growth of 16.6%.
Origins of National Stock Exchange of India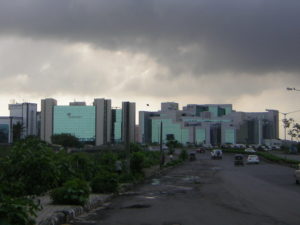 The National Stock Exchange of India was promoted by leading Financial Institutions at the behest of the government of India and was incorporated in November 1992 as a tax-paying company. In April 1993, it was recognized as a Stock Exchange under the Securities Contracts(Regulations) Act,1956.NSE commenced operations in the Wholesale Debt Market(WDM) segment in June 1994.
The Capital Market(Equities) Segment in June 1994.The Capital Market (Equities) segment of the NSE commenced operations in November 1994, while operations in the Derivatives segment commenced in June 2000.
Innovations of NSE
NSE pioneering efforts include
 "National Securities Clearing Corporation Ltd" in India.NSCCL was a place in providing innovation on all spot equity market and trades
 First Depository in India is  National Securities Depository Limited.
only exchange to trade GOLD ETFs( Exchange-traded funds) in India.
NSE was the first exchange in the world to use satellite communication technology for trading using a client-server based system called National Exchange for Automated Trading(NEAT), for all trades entered into the NEAT system, it responds within one second, even less than second this is uniform to all.
Markets of National Stock Exchange
Currently, NSE has the following major segments of the capital market
Equity
Futures and options
Retail Debt Market.
Wholesale Debt Market.
Currency Futures
Mutual Fund
Stocks Lending and Borrowing
August 2008 currency derivatives were introduced in India with the launch of currency futures in USD INR by NSE. Currently, it has also launched currency futures in EURO, POUND & YEN.
Interest Rate Futures was introduced for the first time in India by NSE  on 31st August 2009, exactly after one year of the launch of currency futures.
NSE became the first stock exchange to get approval for interest rate futures as recommended by SEBI-RBI committee, on 31st August 2009, a futures contract based on 7% and 10 years GOI bond (NOTIONAL) was Launched with Quarterly maturities.
Private Company, Public Corporations, Private and Public Enterprises