A Lesbian is a female homosexual. A female who experiences love or sexual attraction to other females. The term 'Lesbian', is used to express as sexual identity, the behavior of a person or as sexual preference or orientation.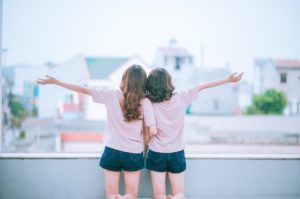 The word 'Lesbian', was derived from the Greek island LESBOS, where Sappho, had written poems of Love and Passion of a woman for another Woman.
Lesbian implies to that, a woman whose partner is another woman.
There is a struggle while coming out as a Lesbian. This is not very easy; as there comes around several challenges to the person. The most importantly, the pressure, which circulates inside the family and its members of the coming out Lesbian, whether to be accepted or not. This is tough.
Lesbians are often seen in genuine relationship with another woman. But as an exception, sometimes seen in open or un-committed relationships, with random women.
The Lesbians are a part of LGBT Community. The full form of LGBT is, LESBIAN GAY BI-SEXUAL and TRANS-GENDER. The Lesbians are certainly a part of the LGBT Group. They conquer a vital role or part in the Empowerment of LGBT Group. The members of LGBT Community are called LGBT Participant or Activist. They play a pivotal role in raising of the community.
They participate in different activities and work for the welfare of the organization. They perform in different awareness increasing programs, which is a part of their essential duties. They work for the Rights of Lesbians. They are the inspiration of lots of women who are aspiring to the part of the Huge Group; thus, by observing so much they aspiring ones may come out and express themselves out to the World and seek freedom
Homosexuality is considered to be as Taboo in some Societies. Whenever anybody who violates the norms and rules of our Society is considered to be Deviance, and the person who violates or goes against the norms of the Society is called as Deviant Person and is found to be under Penal Codes.  And in several countries, the homosexuals including Gays and Lesbians are deprived of basic amenities of life. They are often devoid of facilities of life, The Rights, rejected of Jobs or Works.
The Problems faced by Lesbians and how they face it are all covered in the Theories by Erving Goffman, a Sociologist of 21st Century.
The Society is developing, modernizing day by day. So is our outlook or approach towards the Lesbians or Gays. Now we have a broad platform in the World, where no talents go waste. Somehow the person's talents are used.  There are several Campaigns working around the World, to bring out the aspiring Lesbians and help them in their development, polishing their skills, enhance their features. Several Organization which is working for the welfare of the Lesbians, provide facilities like jobs, homes or hostels, educational facilities like Tuition, Scholarships, providing Books, Internet and Computers, and much more to support the living, meeting daily needs, and also help their families too.
There are also various Talent Fests and Pageants held in the World for Lesbians, where they can freely participate and earn Name and Fame, along with some requisite amount as Prize. Yet this is another source of Lesbian Empowerment.
The Interesting Part is that the Lesbians on the Globe have a Great Taste of Fashion. It is observed that they carry such great sense in wearing Dresses, Styling, Jewelleries, Hair Styles and etc.
There are different Countries which either support Lesbianism or not. The Western Countries of the World, from the very beginning, always had a broad outlook in every aspect. So, therefore it was easy for the Lesbians residing at those countries to Co-Exist with all others.
The North Americas, the South Americas, the Europe, the Africa always had a broad approach towards the Lesbians, Gays or part of LGBTs.
There is nothing bad or offensive with Lesbianism. Moreover, it is something good, which gives an opportunity to the woman individual to learn about her, know better, come out in front of the Society without being shy or fear, seek freedom and being independent. The Lesbianism gives her the Essential Identity and recognize, who she is, it also gives her Confidence, capable of doing, and her struggles will call it better for her Career and Personality Development and Shaping her Ambitions and Education.
To inspire the aspiring individuals of the World, who are struggling every day about Lesbianism, Several Stars, Singers and Musicians, Authoress and Poetess, and other famous personalities came out as Lesbian. They wanted to add on Lesbianism to their Identity, which is definitely a personal choice but an honest one. To add to the list of Lesbian Celebrities they are Ellen De Generes, Beth Ditto, Kesha, Fergie, Madonna, Poonam Pandey, Mink Brar, Paoli Dam, Kaushalya Bannerji, Paula Gunn Allen, Selli Engler, Deborah Elis, Linda Evans, Mellisa Etheridge, Tracy Chapman, Jeon Jett, K.D. Lang, and many more.
To understand about Lesbianism, the story illustrated below from Hindu Mythology will help us:
Bhagirath, who was born of two women.
King Dilip had two wives but no children. He begged the rishis to prepare a potion that his wives could consume and become pregnant, but he died before the potion was ready.
The sages advised one of the queens to drink the potion and the other queen to approach her as a husband approaches a wife. By this action, a child was born who was named Bhagirath as he was born by the union of two bhagas or vulvas.
There are several more stories in Hindu Mythology, which states the presence of Lesbianism from a long time, The Story of Shikhandi, from Mahabharata is another specific one.
As a Conclusion, essentially a Lesbian woman is a female, who accepts herself as a female and loves another female.