As Shakespeare said, "All the world's a stage, and all the men and women merely players: they have their exit and entrance, and one man in his time plays many parts, His acts being seven ages". Being at the age of teenage, entering into the new life of a very big institution "college" gives us a different look at our life and yes, Life is Beautiful in College. To bring the real joy of such juncture, I'm here to speak about my institution " Madras Christian College " to make this article more beautiful than anything.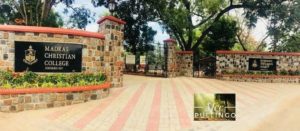 What-not inside the campus:
Just by describing the view of this institution, we can portray a story of it because of its admiring campus with greens everywhere. We can breathe the fresh air once we are inside the campus. The buildings of our campus are build years ago that gives us a new feel. The tables and chairs that we use are all made up of woods that were used by many people for many years. It has 4 gates in all major direction with a specific name with it. Entering through the main gate will lead us to Miller Statue and to Anderson Hall, an auditorium where major events happen.
A big Examination Hall and gallery is the specialty where exams are being conducted. There is a Women's Lounge for ladies of MCC to use. There is a student's center with morning and evening canteen in it. There are stationeries that help us not to roam outside the college for buying college essentials. We have a bank inside the campus for easy and convenient transactions. There are many specialties which other college does not have and they are Botany Tank, Zoo Tank, Clinic, Stone Benches, College Union Society, Pavilion ground, Football ground, Farm, Lake, and Gutters where we spend most of our free time, Bell Tower and most importantly 6 halls (hostel for others) for men and women inside the campus.
Being in such an institution makes me say Life is Beautiful in College. For everyone, their campus is the best and they feel that heavenly thing only inside theirs and not anywhere else. While explaining my college campus, the view of your college might have flashed in front of your eyes, remembering those memorable days is what those periods give us.
Fun-filled days:
There are days, where we celebrate events like festivals and one such is "DEEPWOODS" that happen for 3 continuous days with many inter-collegiate competitions and DJ show at the end by a famous band across the world. To give importance to girls, the inter-department and inter-collegiate event called "AURORA" happens. What is more, than it requires saying Life is Beautiful in College without the entertainment part. No matter considering the attendance, going into the swag vibe during the cultural time in our college is the best thing to live our days. Apart from this, each department has its events where we can explore many things and it will be the time where we can mingle with many other people, might be senior or junior, and know each other.
Hostel life: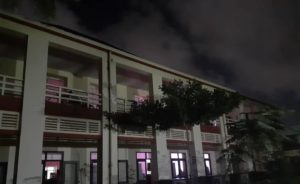 It is just 'hostel' for people living outside, even for non-residence, but for residence, it is a 'second home' in my college. The Halls of residence for men – Selaiyur, St Thomas's and Bishop Heber and the Martin, Margaret, and Barnes for women contribute to the rich diversity and hustle-bustle of the campus life. It is called "Hall" because of the traditions that we follow. The spirit that each resident of the hall carries with them, will teach them the dedication that they should carry on anything in their life. This is the only place we can learn many apart from academics. The students staying in hostel experience different life both in responsibility and enjoyment. Being out of the blanket of our parents will teach us many good and bad things that we must understand. Being with friends (initially strangers), let us share not only toothpaste and toothbrush in the morning but bedsheet and pillow in the night. Somethings irritate us life the fixed time for food which will make us force ourselves out of the bed on Sunday mornings. Finally, being in the hostel is real-time when life is beautiful in college. 
In memory of MCC:
I had no connection to Chennai or Madras Christian College. No legacy to live up to. No clue about what the journey as an MCCian would bring to me. During my campus walk, my senior very famously said "MCC can either make you or break you. The choice is yours". With these very wise words, I began my journey through these woods. The innocent school years had been left behind and came ahead a time of misjudgments, misunderstandings, mistakes and the worst of them all was missing you in the process. I remember crying when I was told that I had gotten a room at Martin Hall. They were not tears of joy but tears of sheer fear of sessions, odd jobs, seniors, and traditions. It is an endless list of fear that plagued every fresher on the campus. But I also remember the tears of joy when I was initiated and later ducked in the pond and called a Martinian. Everything suddenly seemed worth it. It was like having a home away from home.  It is a sisterhood that would forever be mine. Some seniors became guiding lights and a legacy to carry forth. I have no regrets over anything that has happened to me in MCC. Life is Beautiful in College.
There has been a fair share of sadness and days where it felt like the sun would never again shine but all of it only taught me to become stronger and stand up for myself. It made me more aware of my shortcomings and my strong points and more importantly, it taught me that always believe in you. People will try to bring you down but there is always that one person who likes a ray of hope will lead you out of hard times and that person is you. Friends may or may not be there but if you stand up for yourself then no boulder can stand in your way. This happens not only for me but for the entire student batch where college life gives us a motivation to bring ourselves up next in our life. These are the real-life lessons from which we need to ignore the evil and catch up with the angel.
Spirit over anything and everything:
This is the place to make the best we can of these 3 years of paid vacation. We can participate in as many events as we can. We can contribute our maximum and learn from our time here. Remember, it's okay to falter and make mistakes. It's okay to experience. It's okay to fail but at the end of the day we should not give up. In true Martinian spirit arises like a Phoenix and glows brightly like the fire and spread your flame everywhere. MCC and Martin Hall has given me memories galore, and as I walk out of these gates, I leave behind a little of myself in these woods to wander, to be mesmerized by its culture and above all to remind me of the child I used to be and the woman I've become. Each college studying fellow should understand that a society is waiting outside to know the achievements that we made during these days on which they will, sometimes, judge us. It is important to consider our all-round improvements for our years to come. In many colleges, most of our spirit for leading our life comes through the phrase of elections that make us strong mentally. It brings the administration power that will help us to organize things in our life. After years, the percentage will not make us happy but the memories that we had which can even bring joy tears in our life is more precious than anything.
College is heaven to live in. Though for many, it is just an institution that gives us a degree and qualification. But, when we understand the true essence of each building and the story each table and chair narrates, as I understood, we will be starting to live in it rather than just visit it. College is the place where we can socialize with many people around the world and learn things from them. It teaches us not only the subjects but also how to live a life. Being a resident of a hall and as an MCCian, I'm proud of myself to say Life is Beautiful in College.
The Sociology Group is now on Instagram, Follow us