Ramachandra Guha is a historian, sociologist, biologist, political commentator and a cricket writer.
Guha was born in 1958 on 29 April at Dehra Dun in Uttar Pradesh. His father Ram Das Guha was at the time a director at the Forest Research Institute, and his mother was a school teacher. He studied in Doon school where he also contributed an article to The Doon School Weekly. After his schooling, he attended St. Stephen's College in Delhi and graduated with a Bachelor's in Economics in 1977. Later, he also completed his Master's in Economics from the Delhi School of Economics. Despite having two degrees in Economics Ramachandra Guha calls himself a failed economist.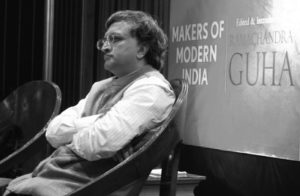 He then abandoned economics and started took interest in Sociology before going on to do his Ph.D. on the social history of forests which was Later Published as The Unquiet Woods. Today he is most well-known for being a historian, biographer and his writings about cricket even though he does not have any formal training in these areas.
Guha went on to become a professor at various prestigious institutions including Yale, Stanford, University of California and University of Berkeley. During the time period from 1994-95, he was a fellow of Wissenschaftskolleg zu Berlin in Germany. He held the Arne Naess chair in 2008 at Oslo University and in the academic year 2011-12 he was the Roman Professor of History and International Affairs at London School of Economics after Niall Fergusson.
Around the year 2000, he moved to Bangalore (now Bengaluru) and began writing full-time. He also served as a visiting professor in Humanities at The Indian Institute of Science in 2003. He has written about cricket both as a historian and a spectator, his passion about the game and research in the social History of the game culminated into the work 'A Corner of a Foreign Field: The Indian history of a British Sport', which was named the Cricket Society Book Of the Year in 2002 by the daily Telegraph.He is also a self- confessed "cricket tragic", he not only supports his side but is also pragmatic in understanding their failures and constantly voices his opinions about the current captain of the Indian Cricket tem, Virat Kohli.
Guha is a columnist for the Telegraph and Hindustan Times and has written several articles for The Caravan And Outlook magazines.  In recent times he has drawn huge flak for his article titled "Liberals, Sadly", which was written in Response to the Article "Sonia, Sadly" by Mander. He likened the Burqa to a Trishul and further went on state that it represents the "most reactionary, antediluvian aspects of the faith" and that banning them was not intolerance but "liberalism and emancipation". His comparisons of Articles of clothing with Weapons and attempt to dictate what a woman should or should not be wearing disguised by an argument promoting liberalism did not go down well with the majority of the community and society members.
In 2009 he was awarded the Padma Bhushan, India's highest civilian honor. Other than that he has received countless awards that honor and appreciate his work, including the Sahitya  Akademi award in 2011 for his book "India After Gandhi". In 2014 he was also given an honorary doctorate in Humanities by Yale University.
In terms of personal beliefs Ramachandra Guha fashions himself a lapsed Marxist, in fact, most of his degrees and former beliefs are now just defunct descriptors. Earlier, he was also known as an environmentalist and an activist due to his large number of essays that focus on an environmental crusade. However, he does not like the description, he writes about the area that he believes in and about the changes that could help the ecology as well as social impacts of such measures. Most of his essays adopt a no non-sense approach and portray a realistic and pragmatic view of the issue at hand without shying away from what may be considered an unpopular or controversial approach. For example in his essay,"A taste for tigers – Is deep ecology a politics designed for well-heeled nature lovers?", he argues that the wilderness protection can be a priority for a well-developed country like U.S.A but when the same approach is applied to India then the results might be disastrous because doesn't provide clean water and fuel hold a higher priority, they cannot be marginal to wildlife needs.
He has given various speeches on political issues that are publicly available and has given various interviews talking about his viewpoints and life experiences. His works can be found on his website, which includes sections on Political and Current Affairs, Culture, Biography and a section on Longer Essays that contains works on all topics which are more than 5000 words. ( Read Guha articles here http://ramachandraguha.in/ )
List of Ramachandra Guha Famous Books