Dalit rights activist Kancha Ilaiah is an Indian writer who was born on 5th October in 1952 in Papaiahpeta (now in the Warangal district of Telangana) in the erstwhile Hyderabad state. He writes in English as well as in Telugu. Also, he played a major role in the movement against the caste system that prevailed in India. He worked for the upliftment of the Dalit-Bahujan or the Scheduled Castes and Backward Castes as we know them. He is now the chairman of T-MASS, an organization that works for the so-called lower castes. He now lives in Hyderabad, Telangana.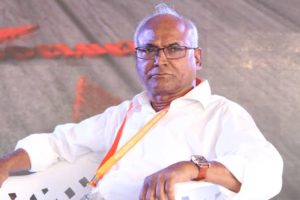 EARLY LIFE:
Kancha Ilaiah was born into the Kuruma Golla caste that was involved in sheep-grazing. This community was designated under the Other Backward Castes (OBCs). Ilaiah's mother, Kancha Kattamma, fought against the chauvinism of the forest guards and according to Ilaiah, she got killed while protesting against the violence caused by the police. Ilaiah says his mother was the one who shaped his interest in political thought and made him determine his stance.
Ilaiah did his M.A. in Political science from Osmania University. He also received his M.Phil. in Political science for his research on the land reforms in the state of Andhra Pradesh (which then consisted of both Andhra Pradesh and Telangana). He received a Ph.D. as well for his work which talked about the political dimension of Buddhism which was culminated in God as a political philosopher- Buddha challenge to Brahminism. Also, since Ilaiah worked for Dalits, he was associated with Dalits and was propagated to be a Dalit by the media while he actually belonged to the OBC category as already mentioned.
Shepherd Kancha Ilaiah: NOTABLE WORKS
Ilaiah spurred Dalits to learn English since he believed they should be able to communicate with intellectuals from all over the world on their own, without depending on people who were not Dalits. Ilaiah also added the word Shepherd to his name and determined it that he chose to be identified by his family origins. Shepherd originally refers to males who take care of sheep. But the word used by Ilaiah intended to connote an English-language proper noun which refers to breaking of the cultural obligations imposed on the society by Brahmins. He used this change in name to characterize the upliftment of Dalits.
He quoted, "Hinduism has destroyed all positive elements that normally exist in a human being. During the post-colonial period, their energies were diverted to manipulate education, employment, production and development subtly. Their minds are poisoned with the notion that productive work is mean and that productive castes are inferior. No ruling class in the world is as dehumanized as the Indian brahminical castes. They can be rehumanized only by pushing them into productive work and by completely diverting their attention from the temple, the office, power-seeking, and so on".
Ilaiah also translated the words of the Telugu poet, Gaddar to emphasize on the productivity of the Dalit-Bahujans which is
"O Mother Lachumamma, your blouse is torn,
Your hair is soiled, your sari in rags,
You have no money to buy new ones.
Even in that condition what have you done?
You planted saplings, walking backwards like a bull,
In order to produce food from the mud".
These words depict how much these people work and highlight the fact that they aren't paid enough for all the work they do.
Ilaiah was associated with the National Campaign for Dalit Human Rights (NCDHR) wherein he addressed caste and untouchability in the UN Conference on Racism, Racial discrimination, and Xenophobia at Durban in 2001. He also worked as a Director of the Center for the Study of Social Exclusion and Inclusive Policy at the Maulana Azad National Urdu University (Hyderabad). He is also the Chairman of Telangana Mass and Social Organizations (T-Mass) which promotes English-medium education. He received a Post-Doctoral fellowship with Dalit Freedom Network in Denver (Colorado, USA). Being a member of this group, he talked about the role of caste and untouchability for ages together in keeping alive the slavery that still lurks in India.
His research paper titled 'Reservations Experience as Framework of Debate', which was published by the Economic and Political Weekly further fueled the anti-Mandal protests (against reservation policy) in 1990. In this, he quoted, "In my university, out of 1,200 teachers, about 160 became teachers only because of reservations to OBCs, SCs, and STs". He wrote for a number of well-reputed sites like Economic and Political Weekly, Frontier and Mainstream. He wrote for Indian daily newspapers like The Hindu, The Times of India, Hindustan Times, Deccan Chronicle, Deccan Herald and The Indian Express quite often. He also wrote for Andhra Jyothi and Vaartha- Telugu dailies. He also wrote Manatatwam (Our Philosophy) in Telugu which gave a new perspective on the Dalit-Bahujan philosophy. This book became very important for Dalit-Bahujan and Leftists in Andhra Pradesh.
Ilaiah is also a part of the National Research Committee which is constituted by the Ministry of Social Justice (New Delhi).
He is also in the Indian Council of Social Science Research (ICSSR), New Delhi.
He was once a member of the National Book Trust under the Ministry of Human Resources Development (New Delhi) for 3 years.
He was also a member of the Planning Commission wherein he was to make plans for land reforms for the 11th Five-year plan.
He is also a UGC Constitutional Committee member and his duty is to ensure the OBC reservations are being practiced in all state and central universities.
He was a member of the Execution Council of Periyar Maniammai University (Tamil Nadu).
Kancha Illaiah's Famous BOOKS:
Kancha Ilaiah wrote many books on society and on politics. According to the Indian Express, his works explore new ideas and are provocative. They challenge convention thinking, the majority Hindu view and the caste system as an element of Hindu practice. Some of these books are the following:
CRITICISM:
When Ilaiah was working at Osmania University, as an associate professor, many criticized him for some articles he wrote for a local newspaper since they believed the content would kindle sectarian discontent or prejudice.
During the Jaipur Literary Fest (in February 2013), he had a debate with Javed Akhtar regarding the influence of religion on the society of India. He was also criticized by a lot of people for believing in the Aryan invasion theory. In 2016, his statement that vegetarianism is anti-nationalism also attracted controversies.
AWARDS AND HONORS:
Ilaiah was the recipient of the Mahatma Jyotirao Phule Award.
He was also a Nehru Fellow between 1994 and 1997.
He bagged the LISA award for his extremely celebrated book 'Why I am not a Hindu?'
He was awarded the Manyawar Kanshiram Smriti Mahanayak Puraskar.
Kancha Ilaiah is a very influential political activist. Though not a Dalit, he helped Dalits by addressing their issues in his books and campaigning on their behalf. He also worked for the civil liberties movement in India. He is a follower of Buddhism and the steps he took added to his critics labelling him 'anti-Hindu'.