Bhima Koregaon is a small village situated in Pune, Maharashtra. Although its density in terms of population and place is less its history is full of massive changes. Koregaon is majorly known for the battle which was fought between British East India Company and Peshwa on 1 January 1818.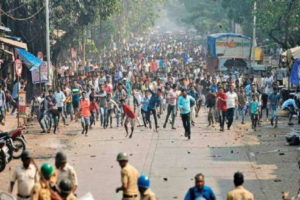 From Peshwa Baji Rao II there was a strong troop consisting of 28,000 people in number, whereas the British East India Company was having 800 soldiers only. Peshwa's soldiers assumed that there can be attack by a massive force anytime, thus they withdrew from the war within 12 hours only. This place holds an extraordinary position in history as this battle has made Dalits gain a legendary stature. They did not see this winning as nationalism vs imperialism. This battle was seen as the end of injustice by the Brahminical Peshwas. Talking about recent times, on January 1 many Dalits gathered at the famous victory pillar to show their gratitude and respect. The famous pillar was made by British East India Company in the memory of those soldiers who fought bravely and put an end to Peshwa-Raj.
The Past and The Present of Bhima Koregaon 
Dalits are fully indulged in seeking inspiration from the victory that happened 200 years ago. Recently there was the formation of Bhima Koregaon Ranstambh Seva Sangh (BKRSS) and it has been seen as a symbol of victory which imparts positive vibes. This also helped them in regaining their political wishes.
The wrongdoings of Peshwas is terrible and it has taught Dalits of their position in past times.
But we are here to discuss is that what if the past history of such behavior by Peshwas is effecting Dalit politics to somewhere else where it should not.
Events:-
*On the 200th anniversary of the famous battle, caste violence was taking place during a Dalit commemoration event. This was an event where Ambedkarites and left activist were collected for a meeting.
*Some people thoughts about this newly yet very capable combination can come across as a threat to the ruling Bhartiya Janta Party. And this mere thought caused violence from Hindutva groups at the village. Some people blame this violence on the conflict speeches by activists.
*There was a series of police cases on both sides viz; Hindutva leaders and the activists. People from Hindutva side got arrested whereas the people from the other side were not even questioned. As the time was succeeding, there was a complaint which added fuel to the fire. The complaint was that the meeting was organized by Maoists to mislead the Dalit community.
* There was a heavy amount of recklessness from the police side. For example, sometimes search warrants were missing during the raids or sometimes the language was not placed right. The activists who got arrested were presented in court without telling their lawyers.
* There were letters from the activist's side which were read in media but they were not submitted to a court and hence it decreased their credibility to offer a witness in their favor.
Series of Events
As we have discussed earlier this all started on the very first day of new year celebration. The celebration has been continued from years where lakhs of Dalit's come and pay a visit to memorial pillar for the anniversary of a battle that took place 200 years ago. In the last week of 2017 Dalits marched from Nashik and Yeola to the destination. The marches took a stop on 31st of December in Pune's Shaniwarwada Fort, popularly called as Elgaar Parishad; the seat of power of Peshwas. Around 35,000 people were joined together and they were led by two retired judges, activists of Dalit rights organization Republican Panthers and members of the cultural group Kabir Kala Manch.
The get together had cultural performances and then they were led by the speech of MLA Jignest Mevani. He made a request from people that if we ever need to defeat new Peshwai it will have to be street revolutions. He clearly spoke that if ever there will be a change in the country; the path we must follow is the street revolution instead of Parliament or assembly. Their viewpoint was if we need to make our society egalitarian, it will be through struggles on the street. But the Pune police made charges of them associated with Maoist which aimed at removing the ruling party. The judges who led this meeting clearly stated that it was organized to oppose communalism and rise in the aggression of Hindu group for the beef ban thing. They questioned that how their motives can be judged as a Maoist plot by Pune police.
While every year the celebrations were conducted peacefully and social harmony was the key element, this year tension began to enter. It was due to a neighboring village asking a question about which community had done the last rites of Maratha ruler Sambhaji-the Mahars or the Marathas. This led to panchayat of Bhima Koregaon issuing a notice which stated that the event will be boycotted and the shops will not open on a particular day.
The next morning, the entire village was facing violence. According to Dalits, they were attacked by someone wearing saffron flags, whereas local Maratha resident claimed to be attacked by Dalits. This violence led to a Maratha man losing his life. The revenge was taken, and a group of Maratha people puts a Dalit man Biryani stall on fire. The deed was confessed in front of Mridula Chari. The violence spread to other portion of western Maharashtra.
The Dalit organization held protest rallies on 3rd of January and were on street. This led to the involvement of police force and about 300 Dalit's were arrested. It has been eight months from now and still some of them are struggling for legal help. Many of them were charged wrongly and thus kept in jail without any fault.
The series of events turned cold when a Dalit social activist complained against two Hindutva leaders namely Sambhaji Bhide and Milind Ekbote about throwing stones and giving a tough time to people. They also burned Ambedkarite flags. Police took this matter seriously and charged both of them accordingly under rioting with arms, unlawful assembly, caste atrocities etc. But both of them retained back from going into jail by clearly stating that they were not even in a district when the riots were taking place.
After eight months police completed its investigation, Ekborte was arrested in March and later on got a bail. Whereas Bhide was out of this trial due to lack of evidence. But this did not stop here. Later on, a new evidence was found which changed the direction of the case.
Akshay Bikkad who is a final year student of Political Science in Pune University claimed that he attended the Elgaar Parishad. He claimed that the speeches were provocative and it led to disturbances between two communities.
On the 4th of January again a complaint was registered by Tushar Damgude. He claimed that he heard many provocative things in the speech. He also held some organizers of the meeting to be connected to Maoist. He stated that their aim is to mislead Dalits and convert their idea of egalitarian society into violence through books and speeches. Based on this complaint, six activists namely Sudhir Dhanwale, Harshali Potdar, Deepak Dengle, Jyoti Jagtap, Ramesh Gaichor and Sagar Gorkhe have held the suspect for increasing enmity between the two communities of the state.
When the matter was investigated, there was an arrest of 10 activists and the planning plotting of an alleged Moist to assassinate Prime Minister Modi came out too.
The raids were going on a full swing. It was on 17th of April when Sagar Gorkhe, member of Kabir Kala Manch was suddenly treated by policemen at his doorstep without a search warrant. The raid involved searching of any book containing words rebel or revolution. The memory card, posters and pen drives related to  Elgaar Parishad were seized.
Further, a shocking twist came, Dhawale and Potdar met Prakash Ambedkar, leader of Bharipa Bahujan Mahasangh and grandson of BR Ambedkar on 26th of March. The meeting was done to investigate the role of Hindutva groups in the attack on Dalits on January 1 at Bhima Koregaon. There were many pieces of evidence which led to the planned version of attack of Hindutva group on Dalits.
Gorkhe stated that he had footage of Ekborte's cadre coming up with a rally called Durga Daud on December 31 at Koregaon Bhima whose main intention was to harm Dalit's. He even told that on 17th of April, Police raided then and took all of the proofs. But as they had copies of the evidence, they submitted the proofs on 16th of July to Koregaon Bhima Commission. The inquiry was set up by the Maharashtra government under the leader namely JN Patel who is former Calcutta High Court Judge.
Although there was witness submitted, Dhawale, Gadling, and Wilson were in Pune jail. Two other people namely Mahesh Raut and Shoma Sen were also jailed.
On September 1, they were called in court without any prior notice, which clearly meant that their lawyers were not given enough time.
But out of every revelation, the popping of letters was held the most shocking one. On June 8, there was a letter which covered the planning of assassinating PM Modi. It was recovered from the laptop of Rona Wilson who was an activist.
The letter did not mark its presence in court but it was leaked everywhere. The opposing lawyer read it out loud and appealed to the court that the bail application should be rejected.
There were chaos and uncertainty due to this case but again a confirmation of the activist being a part of a grand Maoist conspiracy came.
Parambir Singh, Additional Director General of Police arranged a press conference where he came up with many points of the alleged plotting. He stated that it is a big conspiracy to remove the BJP using weapons from Russia and China and the people who are arrested are actively supporter of this conspiracy.
He told how the meetings were planned in abroad and funding issue was taken care in Paris.
One of the letters stated how everyday chaos and struggle will weaken the backbone of a lawfully established and ruling party. Another letter dealt with the details and requirements of 8 Cr for a supply of M4 and M4 is a grenade launcher.
Obviously, the letter is still not presented in court. Sudha Bharadwaj, one of the activists released her statement that the letters are false. Seeing our judicial system very slow it will make the culprit rotten in jail for years or even they are outside, they will live a life full of insults.