Multinational Corporations are the organization which operates in two or more than two countries for producing goods and services to its customers. Multinational companies are smaller packets of a parent institution which sell its products worldwide.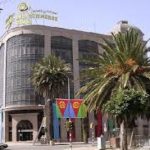 There are some major characteristics of Multinational Corporations:-
MNC have a huge turnover because of its operation on a global rate. It is sometimes observed that its assets and economic growth are more than the country itself.
As MNC is an integration of small packets of branches operating in many countries. Its main branch is in their home country but its subsidiaries are present in many countries.
The economic conditions of this corporation are always in an increasing mode as they mostly takeover small-scale industries and their debt interest make them powerful too.
MNC are never relying on traditional ways, instead, it kept on advancing technologies for its betterment. For example, the companies are using SAP portal for maintaining the records of every employee. It lessens the amount of non-security from the employee's side.
Multinational Corporations spend a lot of money and time over advertising, as their dominance over the market is seen through expansion of market relationships. For example, the IT Company namely Accenture has dealt ¾ of the major leading countries consultancy services.
When a small scale industries work, its aim is to fulfill quantity over the quality product but with Multinational Corporation the challenge is to complete both the requirements. As the quality determines the future of dealing with the company and client, whereas the quantity is the challenge associated with the demand.
As the numbers of companies are higher, the number of employees is also high. Thus the companies also increase job availability for the youth of the countries. For example, the countries with high number of MNC saw the minimum unemployment, like US countries.
Due to MNC high technical knowledge and its branches in every country, the transfer of knowledge makes the poor and periphery countries also develop on a technical rate instead of following the conservative ways.
The MNC quality driven product put a pressure on local monopolies to either start maintaining the quality of a product or start selling it at a lower rate. Generally, the rate of efficiency is increasing in major cases as nobody wants to sell a product at the lower rate.
Multinational corporations contribute to the way of making a society egalitarian by promoting a feeling of brotherhood, peace, and prosperity through business relations.
They are one of the most income generators of the country, and sometimes they can collaborate with political parties and lead some of the decision or contribute in policy makings.
Multinational corporations set up its branches in most promising countries but they do not behave like colonizers, instead, it is a fair competition between MNC and local monopolies.
Although many economists criticized MNC due to its high dominance over political issues of a country and sometimes it arises the sense of control over the feeling of brotherhood.