Jyothika is someone who is one of the most well-known actresses in Kollywood, with a wide repertoire of roles that she's played over almost two decades. After a hugely successful first half of her career, she announced her decision to take a break from acting. Everyone thought that she had quit completely, similar to many actresses after marriage due to both familial and societal pressure. However, this proved to be not the case as she made her comeback a few years later. Ever since then, she has been outspoken about taking up various woman-centric films with often unconventional portrayals for which she has earned both acclaim and backlash from the public.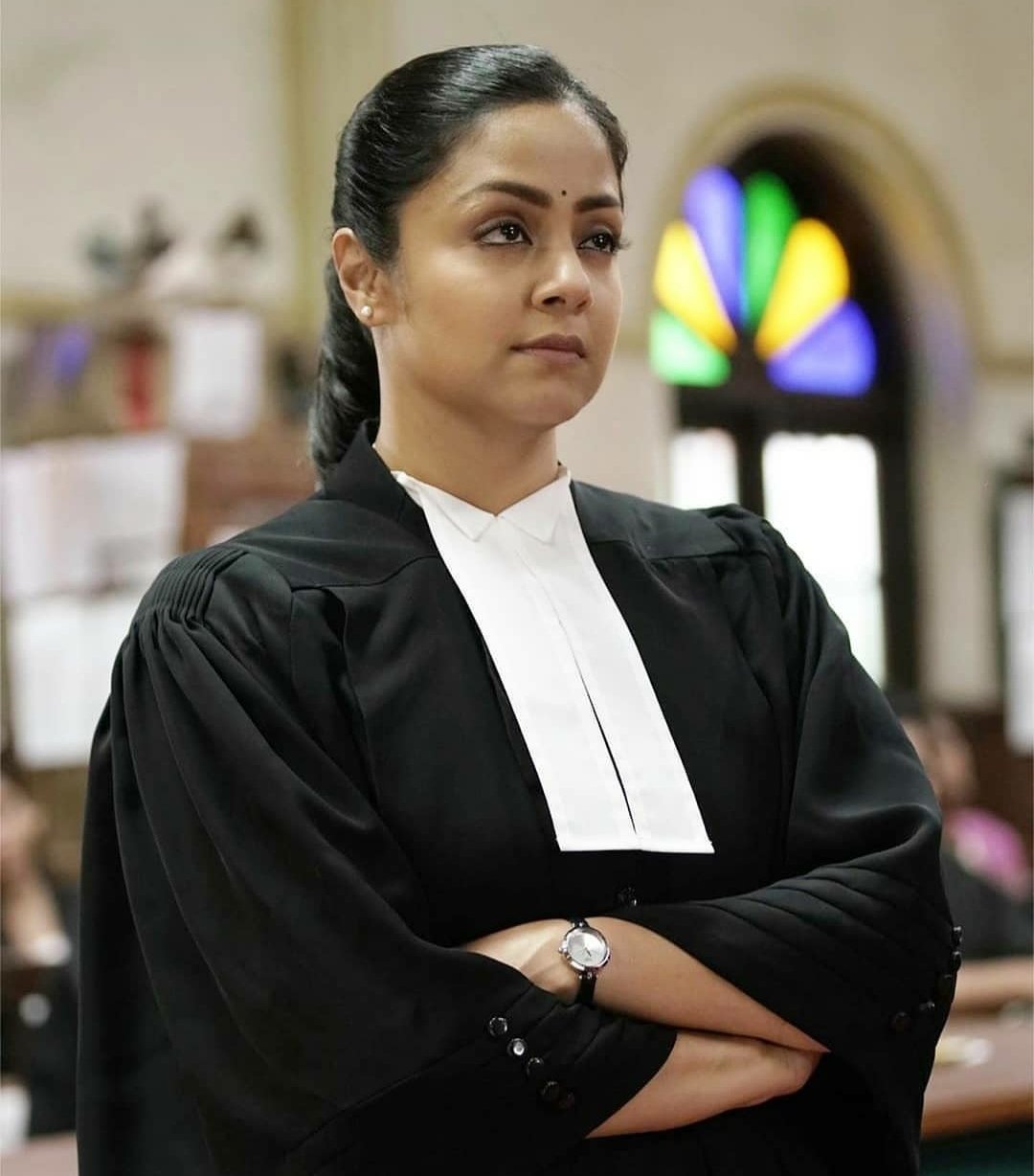 Traditionally, with most Indian films, whether it be Tollywood, Kollywood, Bollywood or otherwise, female characters have been side-lined, represented often only in the capacity of mothers, wives or love interests, as only supporting characters propping up the main hero of the film. Exceptions to this could be found especially in parallel cinema and the likes, but not so in the mainstream – till the last few years where things have been changing. Let us look at some of the films Jyothika has been in, which have been praised (and critiqued ) for the same.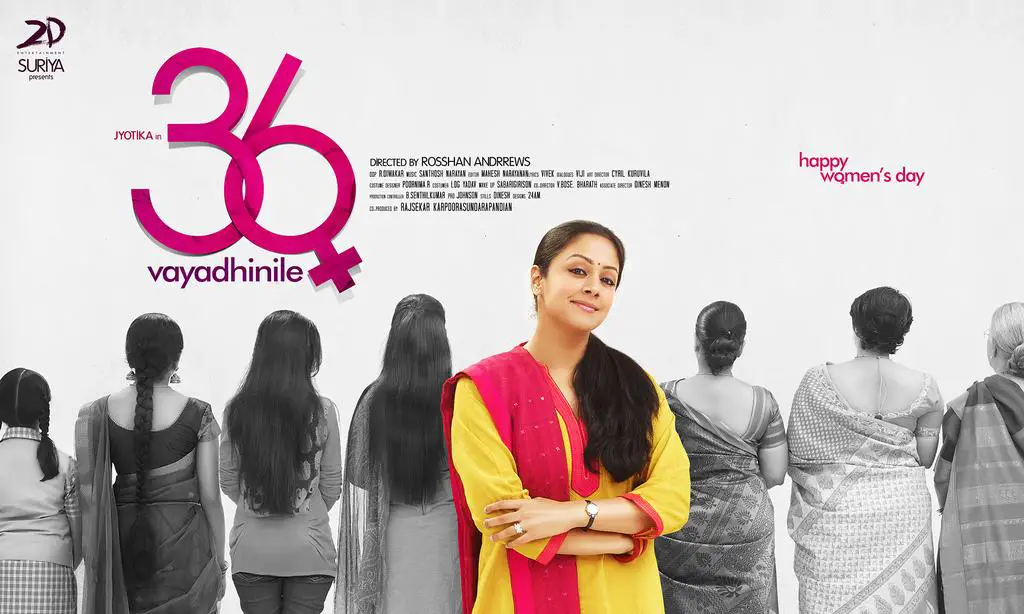 36 Vayadhinile:
The first film that Jyothika debuted in after her comeback, 36 Vayadhinile (At the age of 36), a Tamil remake of the 2014 Malayam film How Old Are You?. In it, Jyothika as the protagonist plays Vasanthi, a housewife who has lost her sense of self in her mundane life where she mainly takes care of others and receives little to no support. However, a meeting with her friend helps ignite her resolve as she embarks on a project about organic farming. The film was well-received by both audiences and the public commended for the way it tackled ageism and sexism. While there is also much to be desired with some aspects such as the character of Vasanthi still being with her husband despite his consistent misogyny, and the convenient resolutions made which seem unrealistic, the widespread acceptance of such a movie dealing with these themes is indicative of at least some change.
Magalir Mattum:
Magalir Mattum (Ladies Only) has Jyothika playing the role of Prabhavathi, an independent documentary filmmaker alongside veteran actresses Urvashi, Bhanupriya and Saranya Ponvannan, who play three childhood best friends that are reunited thanks to Prabhavathi. The film highlights the everyday existence of women under the oppressive yoke of the patriarchy, and the importance of female friendships which help make their lives a little better. Once again, this film too plays into popular notions and stereotypes regarding feminism and showcases a palatable, watered-down version to pander to the audience. However, it still retains praise as a feel-good film about female friends on a road trip, something one does not see very often.
Naachiyaar:
Released in 2018, this film is a crime drama that featured Jyothika as a hard-hitting police offer who works towards solving a rape case concerning an underaged girl, made murky with the involvement of influential people. Even though the film itself did receive a positive response, it was just another Kollywood hit – however, what was different was that here the brave and brash protagonist was a stern woman focused on her job. It had some misses – some critiqued the way in which the arc of Arasi's story played out on screen. While it is true that rather than questioning the culture of normalizing brutality and violence it perpetuates the same and this isn't really harbouring feminist ideals, the backlash the film received instead centred more on that it featured a female character swearing onscreen, which in of itself is a sign of the amount of rampant misogyny still present in our world.
Jyothika has been on a roll in the past few years as other than the movies mentioned above she's also starred in ones such as Katrin Mozhi, Raatchasi, Jackpot and Ponmagal Vandhal, all female-centric films. She has spoken out about the impact that films have when it comes to representation and how directors must do better, and has talked about how women-centric films are not given their due. In the past few years, one can see that she has committed herself to ensure better representation of women on screen.
There have been many who have critiqued these films and others of hers and have questioned whether they truly portray feminist ideals, and I agree with a lot of these critiques and agree that we should push for better. However, does this mean they have no merits? It is important to recognise that these critiques mainly come from those of us who are from more privileged backgrounds and who should perhaps not be so quick to dismiss them in their entirety.
While these films of hers are by no means really amazing films or the best examples of women-centric films, their success lies in that they speak to the hearts of everyday women – of working-class women who also have to take care of everything at home, of middle-class housewives who wish to go after their dreams. It affirms and showcases their voices and their stories, something which does not absolve it of rightful critique or does not negate the need for better made or more radical films, but which does serve a purpose – that of normalizing these themes in society, something which also has its own importance, as change is better accepted by the mainstream in small doses of entertainment.