In this article, I'll be exploring the life of the famous economist and philosopher Amartya Sen. I will be tracing his life through his publications and teaching career. His work on famines, the capability approach and choice of technique has been looked at in brief. His opinion on politics, in general, has also been noted down, to get a better understanding of his political and economic beliefs and how they translate to real life.
Amartya Sen's Biography – Details about his Early Life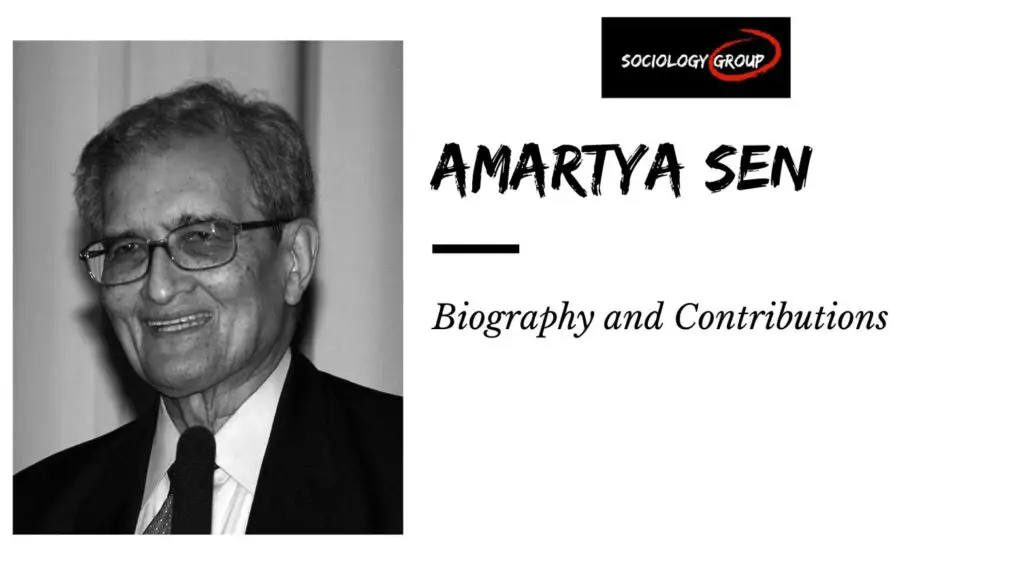 Amartya Sen was educated at Presidency College in Calcutta. His ancestors, including his parents, were from Bangladesh. He studied in St. Gregory's school in Dhaka, but then transferred to Shanti Niketan, which was known for its non-competitive education structure. He obtained the highest rank in the board examinations of his school board.  He went on to receive a B.A, M.A and PhD. He also has taught economics in several universities including Jadavpur University, University of Oxford, Trinity College London and currently teaches in Harvard. He was awarded the Nobel Memorial Prize in Economic Sciences in 1998, and India's Bharat Ratna in 1999.
Sen's Research Contributions- Famines, The Capability Approach
Amartya Sen did heavy research on topics related to economics philosophy. Sen complemented Maurice Dobb's work on "Choice of Technique". This theory was specifically related to developing countries and aimed at maximising investible surpluses, maintain constant real wages and an increase in labour productivity due to technological changes. So he tried to prove how labourers were expected to not demand an improvement in their wages, despite the increase in their productivity. Amartya Sen also helped develop the concept of Social choice which was first popularised by Kenneth Arrow. Sen's contribution was to show under which circumstances the Arrow's Impossibility Theorem works. He also wrote a book The Idea of Justice which also focused on his theory of social welfare. This book was a critique of John Rawls's 'Theory of Justice. It has been commended by 'The Economist' for being able to provide a summation of all his work on economic justice.
Amartya Sen on Famines
Amartya Sen's notable works Poverty and Famines: An Essay on Entitlement and Deprivation (1981) in which he argues that famines happen not because of a lack of food but the lack of equitable distribution of grains. This is specifically argued by giving the example of the Bengal Famine which was characterised by an economic boom and the worker's low wages not being able to keep up with the food prices. He was nine years old when the famine took place, and he later concluded that there were enough food grains in Bengal to provide a means of sustenance to everyone. But due to the panic buying, Price gouging, hoarding and the British Military acquisition, everyone was unable to get food. In Bengal, food production was higher in the year that the famine happened verses the non-famine years. This argument can be supported by drawing a parallel to the apparent failure of the public distribution system in India, wherein silos are overfilled with grains, but people have nothing to eat. He challenged the prevailing FAD Hypothesis. It states that food availability decline is the main and most important cause for famines. Sen, on the other hand, argues that the main cause of famine is entitlement failure.
Sen says that democracy is important to prevent famines. He says that a democratic system puts some checks and balances in place which ensures that food is distributed to all equally. A government that has been voted in democratically fears getting voted out next term, this will ensure it does its best to aid the population. Secondly, Sen argues that a free press will be helpful as well, as it can alert the authorities about places where sufficient food is unable to reach.
Policies should be designed in a way that addresses an effective understanding between markets and food shortage. Sen notes that there are two views in relation to food markets; one says that food markets have to be controlled to alleviate food shortage and second says that markets should not be controlled by the government if we want to prevent famines. Both approaches are incorrect according to Sen. In a controlled market, there are restrictions on the movement of food grains which will cause more starvation. In a laissez-faire market, the problem then is that without government intervention, corporates are unwilling to reduce prices of food grains. Thus there should be a balanced intervention to deal with famines and starvation.
Read: Public Policy
The Capability Approach
In his article "Equality of What", Amartya Sen highlights the concept of capability. He argues that governments should be measured by the concrete capabilities of their citizens. The capabilities approach is an alternative way to look at welfare economics. He tries to explain how the narrow concept of development is only going to focus on a top-down approach and not providing basic facilities to all. He highlights his approach in his book "Development as Freedom". He says that this approach should be used to expand on the citizen's freedoms instead of metrics such as GDP. In his book, Sen highlights five freedoms:  political freedoms, economic facilities, social opportunities, transparency guarantees, and protective security. Sen also highlights these five in his book "Collective Choice and Social welfare" which addressed problems related to individual rights, justice and equity and majority rule. He believes that in a just society everyone is capable of achieving what's best for them. A good government is able to provide people with these capabilities and not just the means to achieve them. For example, Providing meaningful employment instead of providing only money.
The capability Approach focuses directly on the quality of life of individuals. There are two core concepts related to this that of 'capability' and 'functioning;
'Functionings' are states of being and doing. They are different from the commodities to achieve this state. For eg. Cooking is different from possessing a pan and ingredients.
'Capability' is the ability to choose between different combination-or different types of life- which one can value.
There are some Criticisms of the Capability Approach.
Individualism: Many argue that Sen's approach puts too much emphasis on individual freedom instead of focusing on collective good. Sen refuses to acknowledge the impact of an individual's freedom on the other's freedom. He also focuses on the best for the individual rather than looking at the social good of a capability which is problematic.
Under Theorisation: Critics say that the content of Sen's theory is under-theorised and thus is unsuitable as a theory of justice. Some questions have been left unanswered for eg. How should one capability be weighted against another? How should one capability be prioritised? Since there is no objective list of capabilities, the nature of life we should want is unclear.
Amartya Sen's Political Opinions- Kashmir and the Lockdown
 His view on Kashmir Issue
Amartya Sen is vocal against the social problems that plague the nation. After the government of India revoked the special status for Kashmir, he vehemently argued against the decision. He believes that as an Indian, it was wrong for the government to take away the rights of the citizens of its own country, despite being one of the first nations to become democratic. He strongly believed that the decision should have been left to the people. He also called this a "colonial excuse" speaking up about the preventive detention of Kashmiri Political Leaders. "That's how the British ran the country for 200 years," Dr Sen said. "The last thing that I expected when we got our independence… is that we would go back to our colonial heritage of preventive detentions,"
On The Lockdown
He in his article on the lockdown critiques the government's approach to deal with the pandemic. He feels that the pandemic is different from war because in a war a leader can use top-down power, making sure people end up doing what he/she wants. He says in contrast to this, to deal with the pandemic you need participatory governance and public deliberation. He also talks about the varied perceptions of the pandemic as the affluent people are concerned only about not getting the disease, whereas a poor person needs to worry about earning an income. He states in his article that different priorities of different sections of society can only be heard through participatory governance. He says that rather than muzzling dissenters and media, governance can be helped by public discussions.
Awards and Honours
Adam Smith Prize, 1954
Foreign Honorary Member of the American Academy of Arts and Sciences, 1981
Honorary fellowship by theInstitute of Social Studies,1984
Nobel Memorial Prize in Economic Science, 1998
Bharat Ratna, the highest civilian award in India, 1999
Honorary citizenship of Bangladesh, 1999
Order of Companion of Honour
Leontief Prize, 2000
Eisenhower Medal for leadership and Service (2000)
Sources
Kashmir without democracy not acceptable: Amartya, New Nation, 19 August 2019. https://indianexpress.com/article/opinion/columns/coronavirus-india-lockdown-amartya-sen-economy-migrants-6352132/
Sachs, Jeffrey(26 October 1998). "The real causes of famine: a Nobel laureate blames authoritarian rulers". Time. Retrieved 16 June 2014.
https://en.wikipedia.org/wiki/Amartya_Sen