We, people living on this earth really have a concern towards our environment and surrounding? Are we really worried about the changes in nature? Do we take any serious steps to rectify the problems regarding the natural crisis that happened by human beings? Yes, we are in a position to clear the dilemma in the world. But, it is limited only to our words and nothing is coming to the ground for action. Few people are really fighting to see a bright future for the next generation. To highlight this, a Swedish girl named Greta Thunberg is being credited with igniting a climate revolution. Here is a tribute through words and sentences to her achievements.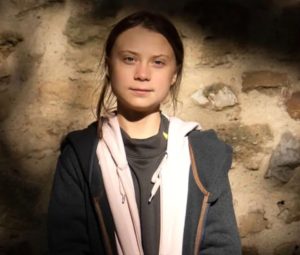 The Beginning is the first success:
Destroying the world by incorporating different means of destruction in the name of technology cannot bring anything except questioning our future. Greta Thunberg first heard about climate change when she was just eight years old in 2011. After three years, she was very much worried and depressed and finally diagnosed with Asperger syndrome which was made public nationwide in Sweden by her mother in 2015 to help other families in a similar situation. Her family does not consider this as her difficulty but as her "superpower". Soon she'd convinced her family to go Vegan and give up flying. She says her parents' response to her request towards their lifestyle gave her hope that she could make a difference. It shows that victory in any field begins from the doorstep for our home with the support of our family members to touch the highest peak in our goal.
Greta Thunberg: The day- Friday
Greta's Friday for future protests began in August 2018 when she sat outside the Swedish Parliament on her own every Friday. The most inspiring vision of this girl is her age when she started her protest all alone with no support from a mass member group for achieving her goal. Going through her journey of life in this struggle for climate change in action on the ground will definitely motivate others who are interesting in protecting their "mother earth" to follow on her ideology. This Friday strike did not begin immediately which seems to prove the fact of attaining the right thing takes time. In August 2018, she started her protest outside her school saying climate change was more significant than education. Not attending school is not an acceptable idea for any age of father and Greta's father is also not an exception from it. But, he told me that seeing her daughter happy for protesting is better than seeing her unhappy for attending the classes. It didn't stop there when opposition comes from the teacher's side for which it seems wrong when in their mind, ignoring classes and subjects is a curse. So later she came out with this Friday protest which soon becomes an international protest for climate change and made her a popular climate activist.
Know where it ended:
When a proper issue is being addressed in a proper way, it reaches the people for their response through which they can bring about changes. The same thing has happened in the case of her continuous protest that attracted many school-going peers to raise their hands to help her in achieving the demand. This Friday protest soon gave birth to a global protest and by March 2019, more than 2 million students in 135 countries were striking from school. The government and the politicians can somehow handle any man protesting outside except a group of students demanding and fighting for the welfare issue. This was faced soon by many officials who could not control the gathering led by her that called her for attending the World Economic Forum Annual Meeting in Davos after her 16th birthday and she went till the United Nations Climate Action Summit that included 16 other children from all over the world to petition a case regarding climate effects.
Greta phenomenon:
She didn't start the climate revolution; she arrived at a time when it was looking for a hero. There been a climate activist for decades but something has changed, young protesters are getting more and more attention and here is why. First, social media platforms have become activist recruiting grounds. Greta's generations are known for being more socially aware so they're already primed to get on board and that has become much easier to be a young climate activist. The second reason is their message and it's a scary one. Young activists have tapped people's fear for their own lives are much more attention-grabbing and how bad climate change will be for the planet. The third reason is that their age – it's harder to ignore school children than older more typical protesters. The image of hundreds of thousands of kids coming together is a positive one and it makes it much easier for everyday people to get behind them and their queen she says she's not a leader icon or face of a movement. But that's what makes Greta Thunberg the perfect figurehead by leading a movement that is now cool among young people. She becomes a person people can aspire to be – She becomes the climate poster girl.
Cannot escape from criticisms:
She is a very bold and straight-forward little girl who made all her speeches in front of thousands of millions of people against the inactiveness of government towards their responsibility regarding climate crisis. When the higher authorities are being questioned for their improper duty, they will ignore by sorting it in anyways or begin to criticize the protesters for their way of action. The latter happened to Greta from right-wing media people, elected officials and climate skeptics for opposing them with harsh words and statements. One of those is twitter replies by the world leader Donald Trump that was viral in the Medias making her protest still worse.  There can be nothing called neutral in this world for any opinion as one should tilt their head to the good or to the bad by which it creates two groups of people making them opposition for one another. When Greta stands in the side of 'right' for bringing changes to the "crying mother earth", there are many people who are standing on the 'wrong' side emphasizing the mistakes that she made by entering this into the ground.
Her victories and achievements:
Being a teenage girl can think of achieving a high grade in school, getting medals and certificates in sports, chit-chat with their friends and family for a whole day and night, party hard to enjoy their age, and find happiness in many such ways. But this Swedish girl found her enjoyment in the streets protesting with people around her, fighting for her demand from the regime and the politicians, giving speeches to make understand the "panic" that she has, and involving millions of young minds into her idea of change believing to bring a little change in climate issues. When we talk about her victories, it is already beyond her age and experience – She is being honored with Glamour Award for the Revolutionary for the year 2019 and also as Time's Person of the year 2019. But apart from this, turning her wish to become a dream of millions of people all around the globe is itself an achievement.
Conclusion:
She is Important because, At the age of 16, she met many world leaders and become a public figure as a climate activist working for the well-being of the worsening climate. Her only demand is to follow the Paris Agreement by her government and officials according to which many highlighted areas are not been followed. She already becomes an initiator for young people and incorporating in their minds about the importance of the environment. She proved that Giant leaps often start with small steps.
Also Read about India's Great Greta Thunberg – Ridhima Pandey Story
References:
Greta Thunberg Speech Video
https://www.youtube.com/watch?v=11FCyUB81rI
Greta Thunberg – https://en.wikipedia.org/wiki/Greta_Thunberg
Greta Thunberg – https://news.un.org/en/story/2019/09/1047052
Greta Thunberg and Donald Trump – https://www.youtube.com/watch?v=i4hXzw2OnnE
Greta Thunberg's criticism – https://bigthink.com/politics-current-affairs/greta-thunberg-criticism