Dr.Vandana Shiva is a world-renowned ecological feminist and activist who has campaigned against GMOs, intellectual property rights and free trade. Time magazine named Dr. Shiva an "environmental hero" in 2003. This article outlines her early life and education and then moves on to her various fields of activism. Afterwards, the institutions founded by her have been discussed along with a few of her selected works. The article concludes with a list of Dr. Shiva's major achievements and awards received over the span of her career.
Vandana Shiva: Early Life and Education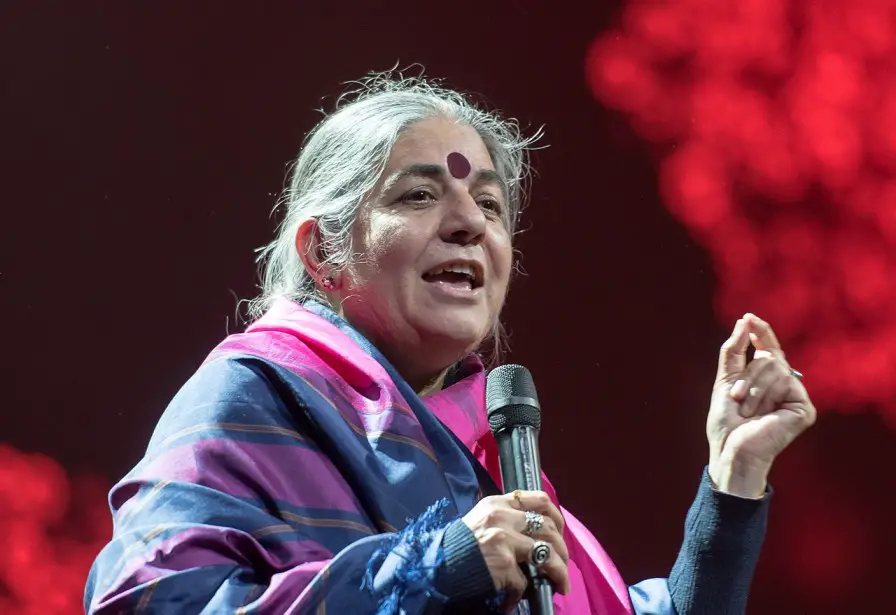 Vandana Shiva was born in 1952 in Dehradun. Her father was a forest conservationist working for the Indian government and her mother a farmer. She attended St. Mary's Convent High School in Nainital and later the Convent of Jesus and Mary in Dehradun. In the early 1970s, Vandana Shiva participated in a women's tree-hugging movement that was campaigning against the deforestation of highlands in Northern India.
In 1972, she graduated with a bachelor's in science after studying Physics at the University of Punjab in Chandigarh. Afterwards, she pursued a master's in the philosophy of science from the University of Guelph.  She wrote her thesis on "changes in the concept of periodicity of light" in 1977. The following year, she received her doctorate in philosophy from the University of Western Ontario in Canada. Dr. Shiva's dissertation was on the topic "hidden variables and locality in quantum theory".
Later, she shifted her focus to inter-disciplinary research in various fields of science, technology and environmental science. Dr. Shiva studied these disciplines at the Indian Institute of Management, Bangalore and the Indian Institute of Science ("Dr. Vandana" n.d.). 
Vandana Shiva: Activism
Seed Freedom
Dr. Shiva supports the concept of seed freedom that refers to the rejection of corporate patents on seeds. She campaigned against the WTO 1994 Trade-Related Intellectual Property Rights (TRIPS) agreement which allowed patents to be issued for living beings too. Dr. Shiva condemns the practice of patenting life forms by calling it 'biopiracy' and has fought several attempted patents on indigenous life forms like basmati. Navdanya campaigned against the biopiracy of basmati rice and won the fight against the US corporation RiceTec in 2001. In 2005, Shiva won a 10-year battle against the biopiracy of neem after fighting the US Department of Agriculture and also the corporation WR Grace.
Gender Issues
The book, 'Staying Alive' authored by Dr. Shiva was responsible for altering the perception of Third World women. She wrote about Indian rural women's experiences of ecological destruction and how their insights were crucial to understanding environmental crises. Dr. Shiva founded the gender unit at the International Centre for Mountain Development in Kathmandu. She was also an essential founding member of the Women Environment and Development Organization. Furthermore, she was responsible for launching the international movement Diverse Women for diversity, that promoted women's participation in food and agriculture ("Dr. Vandana" n.d.).
Biodiversity
Dr. Shiva believes that the homogenization of crops through monocultural farming practices is extremely dangerous. Native seed varieties have had the chance to adapt to various conditions over a long period of time. But genetically engineered seeds promoted by large corporations are reliant on pesticides and fertilizers. In the challenging times of climate change, Dr. Shiva advocates the use of native seeds and the promotion of biodiversity for agricultural systems to flourish.
Dr. Shiva also condemns the green revolution implemented in India which she deemed to have more negative than positive results. She published a book called, 'The Violence of the Green Revolution' on the same topic. In this, she writes about how the revolution destroyed the traditional agricultural practices of India. Moreover, she blames the shift in focus from variety to productivity for a large number of farmer suicides in the country.
Ecofeminism
Ecofeminism refers to a branch of feminism that sees the relationship between women and the environment fundamentally entwined through their oppression. As a part of radical ecology, ecofeminism advocates against the patriarchal ideology that dominates and exploits both women and nature. Dr. Vandana Shiva is a key figure in the ecofeminist movement. In her 2004 article, Empowering Women, she advocated a women-centric approach to farming in India for more productive results. She believes that involving women in environmental work would have a positive impact on the earth.
Foundations
Research Foundation for Science Technology and Ecology (RFSTE)
Dr. Shiva founded RFSTE in 1982 in Dehra Dun, India. The foundation aimed to work on the conservation of biodiversity through the protection of people's rights from monoculture in agriculture, forestry and fisheries.
Navdanya
Navdanya can be translated to "Nine Seeds" that are representative of India's food security. It was founded in 1991 by Dr. Shiva with the aim of protecting the diversity of native seeds via the promotion of organic farming and fair trade. The organization was an initiative of the RFSTE to help educate farmers about the advantages of biodiversity and individualized crops. Over the last three decades, Navdanya has worked with more than 500,000 male and female farmers at a grassroots level. The organization works by distributing free natural seeds to peasant farmers in return for the promise that they would save the seeds and also share a small percentage with other farmers. This helped reduce the hold that international companies like Monsanto distributing genetically modified seeds had on the farmers. Later, Navdanya also helped the farmers redistribute and sell organic surplus through their free trade network. Dr. Shiva promoted the goal of total independence from capitalism through self- sustaining agricultural practices. The organization has started 124 seed banks across the country. The efforts made by Navdanya have helped in the conservation of around 3,000 rice varieties all over India. Navdanya was funded by many international non-governmental organizations to help spread awareness against the adoption of GMOs in India. But after a controversial report in 2014, the government banned many such contributions. Dr. Shiva spoke against the report calling it an attack on civil society and written in favor of foreign companies. A subsidiary of Navdanya, Navdanya International, was founded by Dr. Shiva in 2011 in Italy. This was established to expand Navdanya's global outreach through international campaigns and collaborations ("Dr. Vandana" n.d.).
Bija Vidyapeeth
Bija Vidyapeeth or earth University is an international college in Doon Valley, Uttarakhand that collaborates with Schumacher College, UK. It was established in 2004 by Dr. Shiva to teach sustainable living to the Indian youth. The college offers courses in various fields such as organic agriculture, earth democracy and social ecology with a focus on combatting corporate greed, chemical agriculture and capitalist systems. The duration of these courses varies from two to three days to some lasting a few weeks.
Vandana Shiva: Selected Works
Vandana Shiva has written many books during her career on a variety of topics. A few of her essential publications have been mentioned below:
Staying Alive: Women, Ecology and Survival in India (1988)
The Violence of the Green Revolution (1991)
Ecofeminism, co-authored with Maria Mies (1993)
Water Wars: Privatization, Pollution and Profit (2002)
Monocultures of the Mind: Perspectives on Biodiversity (2011)
Biopiracy: The Plunder of Nature and Knowledge (2011)
Stolen Harvest: The Hijacking of the Global Food Supply (2015)
Making Peace With The Earth (2013)
Vandana Shiva: Major Achievements, Awards and Honors
Dr. Shiva has been awarded the following positions at many different prestigious organizations:
Chair of the Commission on the Future of Food (Tuscany, Italy)
Member of the National Board of Organic Standards (India)
Board Member of the International Forum on Globalization (IGF)
Member of Prince Charles's expert group on sustainable agriculture (United Kingdom)
Member of the Steering Committee of the Indian People's Campaign Against the WTO
Member of President Zapatero's Scientific Committee (Spain) ("Dr. Vandana" n.d.).
Read: 10 Environmentalists from india
Dr. Shiva has been the recipient of various awards listed below:
Alternative Nobel Prize/ Right Livelihood Award (1993)
Order of the Golden Ark (1993)
Global 500 Award of UN (1993)
Earth Day International Award (1993)
Lennon Ono Grant for Peace (2008)
Sydney Peace Prize (2010)
Calgary Peace Prize (2011)
Thomas Merton Award (2011)
Fukuoka Award (2012)
Prism of Reason Award (2012)
MIDORI Prize for Biodiversity (2016)
Veerangana Award (2018)
The Sanctuary Wildlife Award (2018)
International Environment Summit and Award (2018)
Finally, Dr. Vandana Shiva has also received honorary doctorates from universities around the world such as the University of Paris, University of Guelph, University of Oslo and the University of Western Ontario ("International Womxn's" n.d.).
Conclusion
Dr. Shiva's contributions to the field of environmental conservation are unparalleled. She has created awareness on numerous topics ranging from genetic engineering to food rights in the face of climate change. She is an inspiration to activists all around the world.
References
Dr. Vandana Shiva: 7th Biennial Wang Center Symposium. (n.d.). Retrieved July 19, 2020, from https://www.plu.edu/hope/speakers/dr-shiva/
International Womxn's Day Lecture: Dr. Vandana Shiva. (n.d.). Retrieved July 19, 2020, from https://www.gsd.harvard.edu/event/international-womxns-day-lecture-dr-shiva/