Safai Karamchari Andolan: Manual Scavenging through The Lens of Caste-Based Division of Labour in India
SKA is a human rights organisation which has been campaigning for the complete abolition of manual scavenging, which our country is infamous for. The organisation stands against the employment and operation of manual scavengers which has been declared illegal in India, in 1993. Bezwada Wilson, an Indian activist is a founder and the National Convenor of the Safai Karamchari Andolan (SKA). For his endless contribution and activism, Bezwada was awarded the Ramon Magsaysay Award in 2016, which is also one of the highest recognitions in the field of governance and pragmatic idealism in a democratic setup.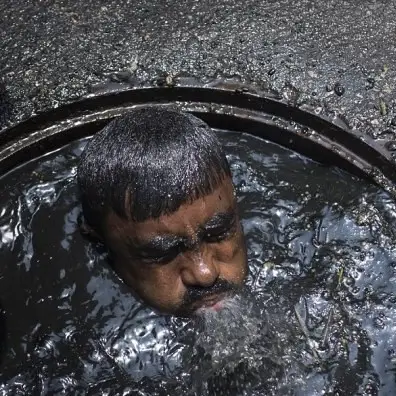 What is Manual Scavenging?
Manual Scavenging is an age-old practice in India whereby dry latrines (toilets without flush and water-seal) used by the privileged caste are supposed to be cleaned by a group of safai karamcharis or manual scavengers who come from historically marginalised caste and have been practising it generations after generations, for a living. They are employed to clean the human excreta with a bucket and a brush, from open drains or pits and from insanitary latrines. Hence, it has synonymously been referred to as a caste-based dehumanising practice.
Despite the Manual Scavenging (Prohibition) Act of 1993, the practice is still prevalent in the Indian states of Gujarat, Maharashtra, Uttar Pradesh, Rajasthan and Madhya Pradesh as of 2014. In 2013, people employed in cleaning septic tanks, railway tracks and open drains were categorised under the same umbrella as manual scavengers. Due to the job being one of the most hazardous ones, the scavengers suffer from a range of health ailments like typhoid, cholera and other respiratory issues.
Also Read| Human right violation: No end to Manual Scavenging in India?
The Caste-Based Division of Labour
Just like the rise of capitalism stimulated by Protestant Ethics in Europe that gave rise to private property ownership and oppression whereby members of the highest religion procured maximum wealth and accounted for major ownership and people from a different faith were garnered the positions of workers who would be exploited by and were at the mercy of rich landowners, the Indian caste system, too, was heavily characterised by the division of labour. European writers who wrote on the subject of caste origins in India have emphasised on the racial grounds of caste. Weale wrote that India's history has been determined by a long story of colour prejudice and more racial cruelty had been displayed in India than in other parts of the world. Brinton finds that the Upper Caste Brahman was somehow white and had Aryan facial features like medium height, an oval face, symmetrical body, dolichocephalic head with brunette complexion, hazel eyes and wavy hair as against the Tribals who shared Dravidian features like tanned skin. The Tribals and other so-called lower castes were made to settle in the margins and forced to carry on with the work of cleaning, sweeping and so on. In other words, these groups were kept away from the centre as well as from the economic sanctions.
The Dalits and other historically marginalised castes, living in the margins of the sub-continent are now employed as manual scavengers. Whereas they are referred to as the 'untouchables' and contact with them would contaminate or pollute the Brahmans and other Upper Caste, ironically, they are shouldered with the responsibilities of heralding a pollution-free existence as they clean and sweep away the filth, one at a time. The safai karamcharis clean the toilets of Upper Caste people, carrying away the waste or nightsoil in baskets placed on their heads. The payments that they receive stand as nothing against the work that they do. While their discriminated identities impose on them such menial jobs, these further add on to their discrimination as they are considered unclean, filthy and unhygienic. Hence, finding an alternative job become a herculean task. They are deprived of educational opportunities which hinder the process of economic emancipation and they have always acquired the lowest rungs in the social ladder and form the bulk of Indian proletariats.
What Led to The Safai Karamchari Andolan?
Bezwada, who comes from a family of manual scavengers, began his fight to end this draconian practice in 1986. Nevertheless, he was aware of the hurdles that he would have to face while traversing the less taken and less discussed path of fighting for a just society. The first challenge that came his way was posed by his parents who had so far not only internalised but also normalised their work, without an iota of disgust and discomfort, almost perceiving it as an inevitable part of their lives, their existence. Ironically, many were ashamed to admit that practice such as manual scavenging existed and that they engaged in it but anyway carried on with their active participation. One of Bezwada's siblings also worked as a manual scavenger for more than a decade.
While caste-based oppression was a regular scenario in their lives, it greatly shaped their academic positions and stood as a major obstacle in their employment opportunities. The young Bezwada, on discovering what it truly meant to work as a manual scavenger, which had also been his familial profession, practised by generations after generations, attempted suicide at the age of 18, as he felt deeply saddened and humiliated. He soon materialised his despair into a driving force with his letter-writing campaign in Karnataka – writing letters to the chief minister of the state and then to the prime minister. Despite his efforts and regular feature in columns of prominent newspapers, the campaign failed to gain momentum and remained largely unacknowledged.
In 1993, the Parliament enacted the 'Employment of Manual Scavengers and Construction of Dry Latrines (Prohibition) Act'. The Act not only outlawed the practice of manual scavenging but also banned the construction of dry latrines. The Act, however, has done as little as nothing to eradicate the practice which still continues across India. Hence, Bezwada took photographs of dry latrines and manual scavengers and sent those to P.A.K. Shettigar, a local administrative authoritative figure and threatened action under the 1993 Act. Following this, an emergency meeting was called to transfer all scavenging jobs to non-scavenging jobs and convert dry latrines into water-seal ones. It was in 1994 when the Deccan Herald, a prominent English Daily in the South, published those photographs which were taken by Bezwada which stirred the parliamentarian atmosphere and forced the Karnataka government to acknowledge that manual scavenging continued to be a problem. Campaign Against Manual Scavenging (CAMS) was then formed by Bezwada which worked towards converting dry latrines into flush toilets and rehabilitating the manual scavengers.
Later, Bezwada moved to Andhra Pradesh and started working with S.R. Sankaran, a retired Indian Administrative Service (IAS) officer and Paul Diwakar, a well known Dalit activist. In 2001, the Andhra Pradesh government consented to a complete survey of dry latrines and people engaged in manual scavenging to take necessary actions and liberate and rehabilitate those historically marginalised people. The survey format was prepared by Bezwada himself and volunteers were appointed to photograph and document each manual scavenger and dry latrine.
A Brief History
In 1994, Bezwada along with Diwakar and Sankaran founded the Safai Karamchari Andolan (SKA) which shared similar objectives. They engaged in providing training to teams who would further carry on with their goals. SKA operated at the state-level until 2003 when Bezwada and his team moved to Delhi to launch it as a nationwide movement. That year, they filed Public Interest Litigation in the Supreme Court of India. The affidavit was signed by SKA and 18 other civil society organisations, individuals and manual scavengers as litigants, who named all states and government departments of Education, Judiciary, Defence and Railways as violators of the Manual Scavenging (Prohibition) Act.
The PIL provided them with the momentum that they were so long looking for. All the governments, both at the centre and the state, were forced to address the issues of manual scavenging. Till the day, 23 hearings have taken place in Haryana and in 2010, the act was properly enforced which sent 16 members into custody for violating the law by employing manual scavengers. The SKA, in the later years, felt that the movement has been slow-growing and the legal procedures generally had put the onus on manual scavengers to prove that such practice existed. Hence, the team of SKA launched Action 10 through which they would ask manual scavengers to simply leave their jobs and find alternative work. Hence, the 12th Five Year Plan of India in 2010, focused on the liberation of the safai karamcharis (manual scavengers).
Bezwada met and discussed the issue with parliamentarians and ministers. In 2009, he was elected a Senior Fellow for human rights by the Ashoka University and in October 2010, Sonia Gandhi, a leading politician of Congress party in India, wrote to the Prime Minister demanding manual scavenging to be declared a national shame and its complete abolition to be the utmost priority. Following this, the Planning Commission of India constituted a subgroup on safai karamcharis with Bezwada as its convenor.
Almost a decade ago, India sheltered more than three million manual scavengers and the number has drastically come down to as less as 600,000 in 2010. It is only a matter of time as to how long the system leeches on the oppression of a particular section of the population and normalisation of the same. With the efforts of Bezwada and other prominent figures who are joining the movement unanimously, we are, without an iota of hesitation, moving towards an era of revolution and deconstruction and may the guiding light keep shining.
References
Bezwada Wilson. (2020, November 7). In Wikipedia: The Free Encyclopedia. Retrieved on November 8, 2020, from https://en.m.wikipedia.org/wiki/Bezwada_Wilson
(October, 2010). The 'untouchable' Indians with an unenviable job. Retrieved from https://www.independent.co.uk/news/world/asia/the-untouchable-indians-with-an-unenviable-job-2106970.html
Majumdar, D.N. & Madan, T.N. (1986). Rank and Caste. In D.N. Majumdar and T.N. Madan's 'An Introduction to Social Anthropology' (pp. 190-206).
Manual Scavenging. (2020, November 7). In Wikipedia: The free Encyclopedia. Retrieved on November 8, 2020, from https://en.m.wikipedia.org/wiki/Manual_scavenging