Abstract: Films are an integral part of our lives today. Filmmaking is guided by the happenings in society and society is also heavily influenced by films. Cinema can be seen as a mirror of society and by analyzing it; we can understand issues in society better. Disability is a social issue not addressed enough in India. There exists a lack of awareness and sensitization towards people with disabilities and films can be used as a powerful tool to change that. This paper aims to trace the portrayal of disabilities in Indian Cinema and analyses its role and impact on the marginalized disabled community. In order to do so, it will focus on four Bollywood movies.
Introduction
According to the World Health Organization, a disability is "any condition of the body or mind (impairment) that makes it more difficult for the person with the condition to do certain activities (activity limitation) and interact with the world around them (participation restrictions) ("Disability and Health Overview | CDC", 2020). 'People with disabilities' refers to a diverse group of individuals who have varying needs ("Disability and Health Overview | CDC", 2020). Disabilities affect people differently and the same type of disability can have two very different effects on two different people. Most often, when we think of disability, we think of physical disabilities. However, not all disabilities can be seen and while some are birth-related and are noticeable immediately, others become apparent only during childhood or adulthood. Mental disability hardly receives the attention it requires, perhaps because it is not as pronounced or easy to see with the naked eye.
Disabled people have been severely marginalized in Indian society. A lack of awareness and sensitization among the masses attribute to the exclusion of this group. Media has a reach many other mediums do not enjoy. Cinema remains the most accessible form of media in the country and is, therefore, the biggest influencer of the public (Prasad, Kashyap & Rabindranath, 2018). It can be used as a powerful tool to change the narrative and shape the opinion of thousands. India produces the most number of films annually in the world, with billions of people watching them. The Indian film industry is mainly dominated by the Hindi film industry, popularly known throughout the world as 'Bollywood'.
Portrayal of Disability in Bollywood
When an audience watches a character with a disability they are not familiar with, the portrayal of it in the movie shapes their opinion of it. In Bollywood, disability is either seen as a punishment or as heroism and seldom do we have movies where it is realistically portrayed (2020). Indian film makers have traditionally written roles where a disabled character is used for a comic interlude or to give the film a dramatic twist (2020).
One of the most popular films in Hindi cinema where the protagonist is disabled is 2003 released Koi… Mil Gaya. The protagonist Rohit, played by Hritik Roshan is an adult who has a brain injury as a result of an accident when he was still in the womb. He is subject to a life of ridicule and torment on a regular basis; until one day he manages to accidentally communicate with aliens. The alien Jadoo entrusts Rohit with superpowers that makes him more intelligent and stronger. Only after this does he start behaving his age and is accepted by his friends and treated like a hero. Initially, his character is shown as weak, gets belittled by his teacher and peers alike, and is bullied for his 'weakness'. The aspect of disability in the film is used mainly for a dramatic effect, rather than to familiarize and sensitize the audience about the disability. The movie almost seems to tell us, that until you are 'normal' and behave like the rest of the society, you will not be accepted (Friedner, Gosh & Palaniappan, 2018). The happy ending in the movie is mostly just Rohit getting 'cured' of his illness. While the movie enjoyed great commercial success, it failed to do much for the disabled community through its a poor representation of the disease.
Rohit Shetty's Golmaal Trilogy, similarly uses a disabled character for commercial gains. Tushar Kapoor plays Lucky, a mute friend of the protagonist and is introduced mainly for comical effect, as is evident by the multiple one-liners making fun of his inability to speak. Apart from regularly poking fun at Kapoor's character, the other characters are caught making inconsiderate remarks like "Tera speaker phata hua hai (your vocal cord is broken)" (Shetty, 2006). When his character wanted to impress a girl, he used his friend's voice to impress her; because being mute was seen as a negative thing. Eventually, he found out that the girl was deaf, implying disabled people end up with other disabled people because they can never be good enough for able people, owing to their weakness.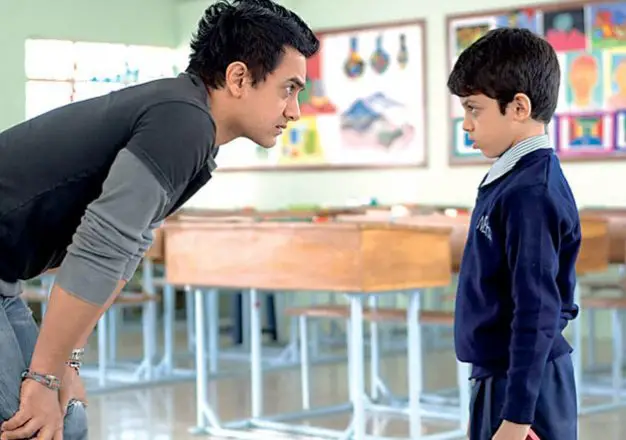 While the portrayal of disability in Bollywood has been mostly negative, there have been instances of positive portrayal as well. Films like Taare Zameen Par directed by Aamir Khan; helped break the stigma around mental disability in the country. The movie does a splendid job in portraying the journey of a young boy diagnosed with dyslexia. While the protagonist is initially ridiculed, his family recognizes his disability and accepts the way he is in the end. The movie did so well at the box office and left such an impact on the audience, that a number of fashion shows began raising funds for disability organizations to win favour with the public (Mahaseth, 2019). The Central Board of Secondary Education also issued a circular which allowed students with disabilities extra time during examinations, following the movie (Mahaseth, 2019). This milestone judgment helped thousands of children across the country.
Main Aisa Hi Hoon, released in 2005 focused on disability laws. The film, directed by Harry Baweja revolves around a legal battle for custody between a mentally challenged father and the maternal grandmother who was adamant on taking guardianship of the child citing that the father was not capable enough (Baweja, 2005). The movie addresses issues related to the use of words like 'paagal', 'retard' and 'handicapped' while engaging with national and international laws and their applicability in a tactful and mindful manner (Mahaseth, 2019). The audience connected with the movie at an emotional level, enough to have a significant impact on the disabled community and play a role in shaping the Rights of Persons with Disabilities Act, 2016, India's disability legislation passed by the Indian Parliament, which "fulfills it's obligation to the United Nations Convention on the Rights of Persons with Disabilities (Mahaseth, 2019).
Conclusion
In India, disability takes the form of a political and social category similar to those of gender and caste (Friedner, Gosh & Palaniappan, 2018). The government uses the 'medical model' where they view disability in terms of biological impairment; requiring fixing instead of a 'social model' where they view disability as something which is created by the society through infrastructure, policies, and practices that are meant for certain kinds of bodies and thus are exclusionary (Friedner, Gosh & Palaniappan, 2018). There exists a discrimination or a hierarchy even amongst the disabilities where those that fit into a particular category that is recognized by the government are considered, leaving out disabilities that do not fit into these brackets. The negotiation power of certain disabilities like the visually impaired or speech impaired is much higher than other disabilities. The list of disabilities under the 'disabled' category needs to be more inclusive and the government must include more variants of disability (Friedner, Gosh & Palaniappan, 2018). That said, merely recognizing and adding different disabilities covered under it is not the solution because disabled individuals have varying needs and generalizing it can end up doing more harm than good (Friedner, Gosh & Palaniappan, 2018). The current non-discrimination clauses are not effective enough and merely a 5 percent reservation for education and employment opportunities is not enough to cover for the wide range of disabilities that exist (Friedner, Gosh & Palaniappan, 2018). The government is simply not doing enough for people with disabilities and if one happens to be poor and disabled, they have slim pickings and end up dying prematurely (as can be seen in states like Jharkhand and Bihar) (Friedner, Gosh & Palaniappan, 2018). While discrimination and oppression are common to all disabled people, each of them requires specific and different solutions and ways to address them.
Films are a reflection of society and by analyzing the portrayal of various groups; we can understand the attitudes of the majority populace towards marginalized groups. The evolution of our society can to some extent be seen in the representation of minority groups in films. However, Bollywood still has a long way to go with regard to the appropriate portrayal of disabilities in their films. Bollywood still stereotypes its disabled characters and is not sensitive towards them. Disabled characters usually occupy supporting roles because the protagonist or the 'Hero' has to be an ideal character, with no weaknesses. If at all the lead role is that of a disabled person, the character is written to be sad and struck by tragedy with their roles often exaggerated. An actual disabled person rarely plays the part; instead, a mainstream hero portrays them. New age Bollywood films tend to romanticize disabled roles in an attempt to make their film engage with their audience better (Prasad, Kashyap & Rabindranath, 2018).
Also Read: What is Film Studies?
India is years behind when it comes to awareness among the general public. Living with a disabled person at home, I notice that there is either a lack of sensitization or over-sensitization among the masses today, and seldom are people with disabilities treated like able bodied people. Few are curious when they see a disabled person and end up unknowingly making the person feel uncomfortable. My mother was diagnosed with Multiple Sclerosis in 2000, leaving her wheelchair bound. On lookers often ask her how a young woman like her ended up on a wheelchair when she ought to be up and about and ask her uncomfortable questions. This eventually led to her becoming hesitant to come out in public and she felt like something was wrong with her. Even the infrastructure in our country only caters to able bodied people, making disabled people dependent on others. However, the attitude towards the disabled seems to be changing today, albeit slowly. I see people in India reacting to my disabled mother with the same awareness people in other parts of the world did- ten years ago. Only when we move away from the medical model of looking at disability, will we stop looking at it in a negative light; as a disease that needs to be cured.
References
(2020). Retrieved 31 December 2020, from https://stanford.edu/~kartiks2/disability.pdf
Baweja, H. (2005). Main Aisa Hi Hoon [DVD]. Bollywood.
Boray, Sameer, Depiction of Disabilities in Movies: Disability Portrayal in the Media Through the Eyes of Bollywood and Hollywood (September 17, 2011). Available at SSRN: https://ssrn.com/abstract=1943108 or http://dx.doi.org/10.2139/ssrn.1943108
Disability and Health Overview | CDC. (2020). Retrieved 30 December 2020, from https://www.cdc.gov/ncbddd/disabilityandhealth/disability.html).
Friedner, Michele & Ghosh, Nandini & Palaniappan, Deepa. (2018). "Cross-Disability" in India?: On the limits of Disability as a Category and the Work of Negotiating Impairments. South Asia Multidisciplinary Academic Journal. https://www.researchgate.net/publication/331228212_Cross-Disability_in_India_On_the_limits_of_Disability
Mahaseth, H. (2019). The Disability Narrative in Indian Cinema. By Harsh Mahaseth | Film Matters Magazine. Retrieved 30 December 2020, from https://www.filmmattersmagazine.com/2019/04/05/the-disability-narrative-in-indian-cinema-by-harsh
Prasad, S., Kashyap, G., & Rabindranath, M. (2018). Anatomizing the Screen Presence of Disabled Characters in Hindi Feature Films. Retrieved 30 December 2020, from https://www.amity.edu/gwalior/jccc/pdf/jcc-journal-june-2018.pdf
Roshan, R. (2003). Koi… Mil Gaya [DVD]. Bollywood.
Shetty, R. (2006). Golmaal [DVD]. Bollywood.