NITI  Aayog stands for National Institution for Transforming India. It is a Government of India initiative to replace Planning Commission. NITI Aayog involves inputs from both the central and state governments in policy-making processes. The Prime Minister is the Ex-officio chairman of NITI Aayog. NITI Aayog also consists a governing council. Chief Ministers of all the states, chief ministers of Delhi and Puducherry, Lieutenant Governor of all the union territories are members of this council. Prime minister selects and appoints a Vice-chairman. Apart from the governing council, NITI Aayog also consists of two part-time members and four ex-officio members. There is also a chief executive officer, presently the post is held by Amitabh Kant. The council also consists of some temporary members who are selected from leading universities and research institutions.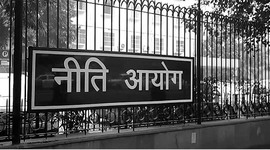 NITI Aayog has developed a scheme of three plans which would run parallel.
A 15 year 'Vision' that covers all the objectives of the government to be fulfilled by the end of 15 years.
A 7-year 'Strategy' envisaging the blueprint of development in next 7 years called as 'National Development Agenda'. This is again divided into two phases.
A 3-year Action Plan that enlists all the goals and the actions that will be taken by the government to accomplish the goals.
In the third council meeting of NITI Aayog on 23 April 2017, it has unveiled the blueprint of these plans. NITI Aayog, under its 15 year 'Vision' document for 2017-2024, has listed several action points covering a wide range of issues. The document aims to triple the economy of India by the end of 15 years. The Gross Domestic Product (GDP) is expected to rise from ₹137 lakh crores to ₹469 lakh crores in the subsequent years. Per capita income is also set to triplicate its growth in this period.  NITI Aayog ensures optimum participation of state governments to boost infrastructure and services. The Goods and Services Tax (GST) was a step taken to bring the states into the sphere of mainstream economic policymaking.
India is following the philosophy, "One Nation, One Aspiration,  One Determination". Keeping in view, the expected increase in Indian population to 22 crores by 2031, the plan aims for radical urbanization. It plans to develop an NGO-Darpan Portal to focus on NGOs' functioning.
According to the draft, all NGOs will be provided a unique ID from the portal and no funds will be allowed to NGOs without this ID. All the office bearers at the NGO must have PAN and Aadhar. The government is mapping specific goals that cover issues like clean water and energy resources, judicious consumption and climate issues. The government plans to switch the current financial year to January-December to align it with the agriculture income reporting because budgets should be prepared immediately after the receipt of agricultural incomes for the year in an agriculture-dependent economy.
The three-year Action Agenda is divided into 7 parts into 24 chapters. The key points enlisted in this document are:
Medium-Term Expenditure Framework (MTEF)
This document, keeping in foresight, the revenues of the government, sets up a sector-wise expenditure allowance for three years. It also aims at reducing the fiscal deficit to 3% by 2018-19 and revenue deficit to 0.9% of the GDP by 2019-20.
Doubling Farmers' income by 2022
The action agenda aims to double farmers' income manifolds. The actions to be taken in this direction include reforms in Agricultural produce market committee (APMC) policies; raising productivity by providing means of enhanced irrigation and high-value commodities; faster seed replacement rates; precision agriculture; and improving allied agricultural activities like horticulture, animal husbandry, fisheries etc.
Job Creation in Industries and Services
The document discusses the idea of encouraging the increase of exports in Coastal Employment Zones. It also aims for enhancing the labor market flexibility by reforming the key industrial laws. It promotes the addressing the issue of Non-performing assets (NPAs) of banks and supports auction of larger assets to Asset Reconstruction Companies (ARCs). It also plans to promote the SBI led ARC. It aims to encourage Public-Private Partnership by revising the role of the India Infrastructure Finance Company Ltd. (IIFCL) in that direction and putting National Investment Infrastructure Fund (NIIF) to work.
Urban Development
The plan aims to make housing affordable for everyone by bringing down the land prices through increased supply of urban land. The methodology includes flexible conversion of land use; release of land held by sick units (industrial units that have accumulated losses equal to or exceeding their net worth by the end of a financial year); generous Floor Space Index (ratio of total floor area to the size of the piece of land); reform of rent control act on the lines of Model Tenancy Act. It also aims to enhance city transport and waste management.
Regional strategies
Regional development strategies target specifically the North East; Coastal Areas & Islands; North Himalayan states; Desert and Drought prone states. It aims to enhance transport facilities and Digital Connectivity across the targeted areas. It also focuses on the improvement of railway infrastructure and security; inland waterways; civil aviation etc. Other points of focus include E-governance, simplification of payment structure and improvement of literacy, etc.
Energy Sector
It encourages using consumer-friendly measures such as the provision of electricity and LPG connection to all households by 2022; elimination of black carbon by 2022; extension of city gas distribution program to 100 smart cities; etc. It aims to reduce cross-subsidy (charging a higher price to one group of consumers so as to subsidize for another) of power. It aims to radicalize the coal and power sectors.
Science & Technology
This aims in drawing on a complete database of all government schemes, evaluating them and make necessary changes. It emphasizes on developing guidelines for Public/Private Partnerships (PPPs) in Science & Technology to improve technical education and industry-academic ties for demand-driven research. It plans to create a National Science, Technology & Innovation Foundation to pinpoint and discuss national issues concerning technological applications, suggest key changes in science and technology department and prepare guidelines for their execution and organize the administration.
Governance
It pushes the restructuring of the role of government organizations by reducing those activities that don't serve the public purpose and extending its reach to areas that require necessary action and serve public purposes.
Taxation and Regulation
This lists principal strategies for facing the problem of tax evasion. It is also concerned with the simplification of tax regime etc.
The Rule of Law
The document suggests important judicial system reforms like increased ICT (information and communication technology) use and reduced judicial workload. The document hinted at various changes in policy, legislation in states etc.
Education and Skill Development
The plan aims to increase the quality of school education; shifting from input-based to outcome-based assessments; optimise the use of ICT; revising the no-detention policy and focusing on establishing and improvising public universities under World Class Universities Programme.
Health
It plans to significantly increase government expenditure on health facilities; constructing a model policy on human resources for health, enforce bridge course of nurses and AYUSH practitioners in primary care; revising the Indian Medical Council (IMC) act; and various other acts concerning the homeopathy and Indian systems of medicine. Other significant plans include the launch of the National Nutrition Mission and an all-inclusive Nutrition Information System.
Building an Inclusive Society
This includes working for improvement in the conditions of women, children, youth, minorities, SC, ST, OBCs, differently-abled persons, and senior citizens. The actions suggested are introducing skill-based education and extra-curricular activities as a compulsory part of the school curriculum to promote the holistic growth of students and introducing new scholarship schemes to encourage girls' education.
Environment and Water Resources
This suggests adopting sustainable practices and implementing steps to tackle city air pollution; revising policies regarding the felling of trees on private land. It aims to promote the judicious use of water resources by enhancing and implementing groundwater management techniques.
NITI Aayog aims towards federalism by giving equal powers to the states. NITI Aayog is an advisory body or in simpler words, just a think tank for the government. It does not have any financial power in its hands. The plan is at present just a blueprint of the developmental programs. The structure of the plan is really flexible. Different 15 years, 7 year and 3-year plans will help in considering specific issues keeping in mind the changing face of the Indian economy. The goals and agendas listed range from practical to ambitious. With due course of time, we will get to assess the effectiveness of the program. For now, it will serve as a powerful tool to analyze and improve the condition of the country.