Evolution in any industry is inevitable, and so it has happened in the media. Forms of communication through which the audience consumes their news has been changing rapidly, but there has been a constant framework of theories outlining the process by which information reaches the masses. This framework consists of certain communication theories that help in discerning how the media influences society at large. Some of these theories are the Gatekeeping Theory, Symbolic Interactionism and Political Economy of Media. This paper will aim to review these theories and contextualize their implications using real-life examples and case studies.
GATEKEEPING THEORY
There exists a myriad of incidents, ideas and events that occur every day in various parts of the world. However, all of these are filtered in such a way that only a limited amount of information reaches an individual on a daily basis. This phenomenon is known as gatekeeping in mass communication. The term gatekeeping was coined by Kurt Lewin, a German psychologist in 1943. Initially, the concept was limited to studies in social psychology but it later moved to the field of communication as one of its foundational theories. Simply put, gatekeeping is the process by which the billions of messages that are available in the world get cut down and transformed into hundreds of messages that reach a given person on a given day (Shoemaker 1). Contrary to popular belief, gatekeeping is not exclusive to the media. The audience consists of both readers and viewers who are also actively involved in the process of gatekeeping.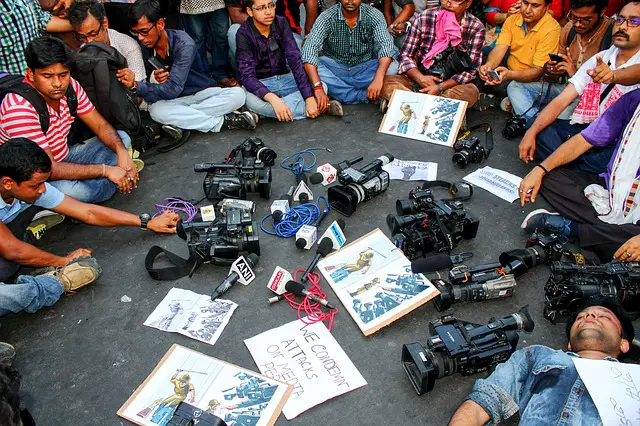 1.    Media Gatekeeping– The news media is constructed in a way that it filters out ideas and messages on the basis of a variety of factors. These filters are known as gates, hence the name gatekeeping. These gates can broadly be categorized into two types-individual factors and organizational constraints (Barzilai-Nahon 1). Individual factors generally involve personal bias (White 383-385) as well as the gatekeeper s moral ground (Gans 60-61). Organizational constraints are factors that are out of the gatekeeper s control, such as lack of infrastructure, lack of manual labour and other financial limitations.
CASE STUDY
In May 2020, the north-eastern state of Assam was hit with disastrous floods, which affected around 30,000 people and ruined the crop production in 5 districts. According to Assam State Disaster Management Authority, by October 2020, the floods had affected around 5 million people in 5474 villages, claiming a combined total of 149 lives. What one expected was a huge media uproar, adequate attention and a spotlight over Assam in the aforementioned days. However, the media turned a blind eye to this issue in reprehensible ways. There was considerable media coverage on other less significant matters, such as entertainment news focusing on celebrities and their lifestyle. Mainstream media channels frequently reported actor Amitabh Bachchan s stay at the hospital (India Tv) or internet sensation Taimur Ali Khan s gimmicks (The Hindustan Times). But it took weeks before they actually paid heed to the devastating loss of life in the northeast. By the time they woke up to it, there had already been substantial damage in the state, with nearly 85% of Kaziranga National Park submerged (Taskin et al Assam floods submerge Kaziranga ). It is important to note that this is not the first time this has happened. The states of Assam and Bihar are annual victims of flooding and even after all this while, the government has essentially failed to take action on these concerns, probably because the associated discourse stays away from the public eye. The unjustifiable neglect of reporting on the Assam floods illustrates the continuing debate over what constitutes national news (Sharma, Dear National Media.). A probable reason for the less than desirable coverage on the northeast could be an actual lack of reporters and labour willing to work in remote areas. Another reason could be prevailing misconceptions on what the audience actually wants to view. The construction of news narratives can be constituted by the individual reporter s news sense, the routines and standards of the organization for which the reporter works, the economic pressures that enter the newsroom, and the technologies that facilitate gathering and transmitting information (Kaid 293). And since there is no empirical evidence on what influenced this particular gatekeeping incident, now one can only theorize on why the media is overlooking the news that actually matters.
Audience Gatekeeping– With the advent of social media, the audience members now act as gatekeepers by not only creating but also sharing and promoting certain content that they feel is noteworthy. In this way, they also contribute to determining the kind of information that reaches the mass. Traditional news sources did not leave much room for the audience to actively participate in the spread of ideas and messages. However, presently, the viewers, readers and listeners can all make spontaneous decisions on what to consume and what to publicize. Hence, audience gatekeeping is the phenomenon by which users pass along already available news items and comment on them based on their own criteria about the newsworthiness (Shoemaker and Vos, 113). This criterion is based on a multitude of factors such as cultural upbringing, first-hand experiences, individualistic views, etc.
CASE STUDY
The United States Presidential election was held nominally on November 3, 2020. It was a fierce and competitive race between the Democratic nominee, former Vice President Joe Biden and the Republican nominee, incumbent president Donald Trump. Interestingly, the intense political scenario in the US clashed with the 2020 Bihar Legislative Assembly election in India. Despite both of the above being pivotal episodes to the trajectory of national and world politics respectively, there was a substantial difference in how the Indian audience reacted to them. According to a report by the Hindustan Times, Google India s Search Index showed US Election Results as the most searched term on November 4 when the counting process began in America. More people continued to search for US polls than for Bihar throughout the following days. Twitter and Instagram was flooded with memes regarding the US elections (News18) and there was little to no information on Bihar and its polity (Free Press Journal) This is just one of many incidents where netizens overpowered social media in a way that regulated the kind of information that made it to the general public.
In his book 'The Immigrant Press', Robert Park says that there is an enormous amount of news that is killed every day. Gatekeeping, though necessary, can lead to a vast disconnect between the media and the audience. This not only undermines the significance of those broadcasting but it can often lead to ineffective communication among the masses.
SYMBOLIC INTERACTIONISM
In his book, Mind, Self and Society, George Herbert Mead described how the content that we put into our mind, including all interpretations and conclusions that we make, is the development and product of social interaction (p. 191). The language and symbols that one uses during communication is in anticipation of how others will respond while the verbal, and non-verbal cues that the listener provides are crafted to suit how the original speaker will react (Griffin 54). This is known as symbolic interaction. Mead s chief disciple, Herbert Blumer coined the term symbolic interactionism and stated its three core principles-Meaning, Language and Thinking. In simple terms, symbolic interactionism claims that humans assign meanings to different symbols which is then navigated through the use of language to form the basis of self and society. Hence, the social reality is constructed through an interactive process of communication among humans (Mcquail 89). This means that communication is a complex process that is influenced by our pre-existing thought process. Therefore, different factors such as cultural and geographical differences, socio-economic status, personality traits and even minute gestures-such as smiles, frowns, nods, etc affect the way we communicate.
Symbolic Interactionism is a complicated framework that is very helpful in understanding how miscommunication occurs. When symbols are analysed out of their context, they lose their original meaning and can be interpreted in various ways. This often leads to inadequate communication.
EXAMPLES
George H. W. Bush was an American politician who served as the 41st president of the United States from 1989 to 1993. Bush, while touring Australia in 1992 made a huge blunder that is now remembered in history as the infamous peace
sign incident (NBC news). In Canberra, he gave a speech in front of a group of farmers who were protesting against U.S. farm subsidies. To show the spirit of harmony, he made a hand gesture known as the V sign, popular in youth culture as
the peace sign. But he was unaware of the fact that this is a well-known obscene gesture in Australia, equivalent to holding up the middle finger in the United States (Tarpley and Chaitkin, 563). A similar incident occurred in South America in 1950s, when vice president Richard M. Nixon flashed the crowd with an OK sign with his thumb and forefinger forming a circle (Chicago Tribune). However, in that culture, this was again similar to a rude obscene single finger gesture. Both of these are incidents where non-verbal cues led to misunderstandings due to cross-cultural differences. This is again, an aspect of symbolic interactionism. As mentioned above, the interpretations we make depend on the respective meanings that we assign to symbols. Since, no two people interpret verbal and non-verbal cues in the same way, therefore no two people behave in the same way (Axtell).
During World War II, a statement known as the Potsdam Declaration or the Proclamation Defining Terms for Japanese Surrender was issued by the United States which called for the surrender of the Japanese armed forces or else they
would risk prompt mass destruction (National Science Digital Library). At that point in time, Japan had naval officer Suzuki Kantar as its Prime Minister. After the Potsdam declaration on July 26, 1945, the military press asked him for his reaction in a heated news conference His response, now notorious, was mokusatsu (黙殺) which was intended to mean in context that they were reservingcomment (New York Times). However, the Americans interpreted it as to treat with silent contempt without considering its cultural connotations (Bochner 108). The subsequent course of events were all based on the assumption that Japan had rejected the declaration, which was definitely not the case (Kawai 409). A simple incident of miscommunication largely led to the U.S. Armed Forces dropping two consequent atomic bombs on the Japanese cities of Hiroshima and Nagasaki which killed almost 226,000 people and is still inducing long term health effects on the population. This tragic historical catastrophe could have been averted by way of a more thorough understanding of cultural nuance (Medium). It is interesting to note that if someone familiar with Japanese culture would have interpreted this, then the whole tragedy could have been avoided.
As Mead said, we rely on shared symbols and understandings in our interactions with each other. When these symbols, non-verbal or verbal, are deciphered out of context, they lead to communication failure.
POLITICAL ECONOMY OF MEDIA
Alexander Stille, a well-known American journalist, in an interview with PBS said, Money, media and political power are very closely connected. This is precisely what Political Economy of Media or PEM aims to study. It mainly focuses on how media practices are shaped by governmental laws and the effects of business interrelationships on the content that broadcasting services produce (Allen 1227). The roots of analyzing political economy are connected to the German Sociologist Karl Marx and his critical review of capitalism and how it affects media structures (Fuchs 2719). This concept was then developed by scholars such as Herbert Schiller who is famous for coining the term packaged consciousness in his book
The Mind Managers. He discusses how the media is controlled by a few international
corporations who create, process, refine and preside over the circulation of content and
therefore, influence the behaviour of the masses (1973). Therefore, it is important to know
the extent to which political and economic structures regulate media institutions. The central
issue in this regard is the fact that media monopoly is undoubtedly a threat to freedom of
expression and consumer choice (Mcquail 246). This implies that it is also an indirect threat
to democracy. In their book Manufacturing Consent: The Political Economy of Mass Media
(1988), Edward Herman and Noam Chomsky show that the media is driven by profit seeking
organizations and their close connections to the government as well as other business and
advertising industries are a threat to democratic structures (Richter and Gräf 27). According
to Dallas W Smythe, another proficient scholar in this field, the media industries do not only
produce sitcoms or news broadcasts; from the point of view of capitalism, but they make
audiences to sell to advertisers. This is known as using the Audience as a commodity   (Svec 1).
The political economy of communications, in simple terms, means that the media industry is
a flawed business model, influenced by a variety of factors like ownership, political
affiliations, support mechanisms and conglomerations and thus it is not to be trusted as a
source of objective and reliable information because it can manipulate both your behaviour
and thoughts.
EXAMPLES
In a PBS article,  The Prime Minister and The Press , Crispian Balmer writes,
On a balmy night in May, Italian soccer team AC Milan won Europe s prestigious Champions League final in Manchester, England. The match was shown live on Italy s Canale 5 television station and was watched by a record 20 million people. This in turn generated record-breaking advertising revenues for the broadcaster. Prime Minister Silvio Berlusconi was one of the lucky few who managed to see the game from the stadium, and every so often his smiling face flashed up on TV screens around the country.
He had every reason to smile. He owns AC Milan, he owns Canale 5 and he also owns the company that placed the advertising.
Silvio Berlusconi is an Italian businessman who served as the Prime Minister of Italy for four terms. He has also been a Member of the European Parliament since 2019. He controls Italy s top three national TV channels, together known as the Mediaset Empire. Berlusconi also owns shares of national broadcaster Radiotelevisione Italiana (RAI). All of this combined holds 90% of national audience and advertising revenue shares (Open Society Foundations). There have been various controversies surrounding Berlusconi and these conflict of interests between his business empire and his political reign. Berlusconi has frequently indulged in indirect lobbying, one particular incident being when he publicly asked newspapers to not criticize his handling of the economy in 2009. He singled out his left-leaning nemesis, La Repubblica and channeled roughly 90 percent of its own annual advertising to the Mediaset networks (Dellavigna et al 2). In addition to this, in 2019, the board of RAI, dominated by Berlusconi, suspended the airing of political talk shows ahead of key regional elections. This led to Italian opposition accusing Berlusconi of once again, censoring the media for his own political gain (Reuters). This is a fitting example of how media monopoly results in authoritarian decisions. It indirectly suppresses dissent, leads to prioritizing private interest over public interest and thus, poses a considerable risk to the essence of democracy.
In the United States of America, it is a well-known fact that Fox news, a multinational cable news channel is pro-republican in all ways. Fox news strongly
favours conservatives and has time and again shown evident bias towards current President Donald Trump and his policies (Media Matters for America). In fact, the news corporation openly donated a million dollars to the Republican Governer s Organization in June 2010. In the recent presidential elections, even when a majority of news channels decided that Biden s win was inevitable, Fox news continued to delegitimize this projected victory and support Trump s denial. But the main reason why Fox indefinitely supported Trump throughout these years, to the exclusion of all journalistic integrity is because of the convenient friendship that Fox founder Rupert Murdoch shares with Trump (New York Times). Both Murdoch and Trump were each other s closest confidantes. This led to a profitable relationship for both where Trump was successful in indirectly controlling a popular national news channel. On the other hand, Fox was busy banking cash. On average, Fox news, in the last year, generating more revenue than all its rivals, making its margins an envy of the industry (Bloomberg). Since Rupert Murdoch owns many news sources across the world, it also wasn t tough for him to censor huge amounts of information that should have reached the masses. All this was however dismantled recently in November, 2020. When Fox called Arizona as Biden s win, it led to huge flak from Republican supporters as well as Trump himself (The Washington Post). Relations between Fox and Trump have been strained since 2019, when Disney s CEO Bob Iger decided to buy Fox news. This seems to be the last straw for both, now that there has been a public spar with Trump also voicing his unhappiness. This is just another incident that forces one to think of how a few influential people, in this case, Disney, Murdoch and Trump are all connected in ways that remain unknown to the general public. This global integration of business and politics not only manipulates the media but also the audience that consumes it.
In India as well, the situation is strikingly similar. One particular incident is of March 2017, when Prime Minister Modi, his ministers and bureaucrats, and Chandrababu Naidu all pulled out of the ET global summit at the last minute (Scroll). The reason was the government s displeasure with the coverage of Samajwadi Party leadership ahead of the Uttar Pradesh Elections that year (National Herald India). The last-minute withdrawal incurred huge losses for The Times Group and since then they have been careful as to not upset the ruling party in the State. Such incidents are exactly the opposite of what democracy stands for. As Ron Dart once said, the media is like a watchdog who has developed an affection for the burglar.
CONCLUSION
With an objective knowledge of how the media functions, it is important for the audience to identify the different types of messages being sent into the world and to interpret them meticulously. The aforementioned theories of communication are based on empirical evidence and give a fair idea of the effectiveness and efficiency of mass media. The primary goal is to now raise awareness and form a well-rounded, media-literate set of audiences that can communicate at both micro and macro levels successfully.
WORKS CITED
Shoemaker, P. (1991). Gatekeeping. Newbury Park, CA: Sage.
Barzilai-Nahon, K.    Gatekeeping: A critical review.    Annual Review of Information Science and
Technology 43 (2009): 1-79.
White, D. M. (1950). The "gate keeper": A case study in the selection of news. Journalism Quarterly, 27(4), 383–390.
Gans, H. (1979). Deciding what is news. New York: Pantheon.
Amitabh Bachchan Slept Well Last Night and Had Breakfast in the Morning, Says Doctor. , India TV News, 12 July 2020, www.indiatvnews.com/video/entertainment/amitabh-bachchan-slept-well-last-night-and-had-breakfast-in-the-morning-says-doctor-633550.
Kareena Kapoor's Son Taimur Breaks into an Impromptu Dance as They Visit Grandma Babita. Watch. Hindustan Times, 19 Sept. 2020, www.hindustantimes.com/bollywood/kareena-kapoor-s-son-taimur-breaks-into-an-impromptu-dance-as-they-visit-grandma-babita-watch/story-YKCo1v53OU3EWlNSGB6XxO.html.
Taskin, Bismee, et al. Assam Floods Submerge Kaziranga, Kill Dozens – Why the Annual Season Is so Devastating. ThePrint, 18 July 2020, theprint.in/india/assam-floods-submerge-kaziranga-kill-dozens-why-the-annual-season-is-so-devastating/462895/.
Sharma, Kalpana. Dear 'National' Media, Stories on Assam Floods Must Go beyond the One-Horned Rhino. Newslaundry, 30 July 2020, www.newslaundry.com/2020/07/30/dear-national-media-stories-on-assam-floods-must-go-beyond-the-mighty-brahmaputra-or-the-rhino.
Kaid, Lynda Lee. Handbook of Political Communication Research. Routledge, Taylor & Francis, 2010.
Shoemaker, P. and T. Vos (2009) Gatekeeping Theory. New York: Routledge
US Poll Fever Grips India; Internet Search, Interest Soar. Hindustan Times, 7 Nov. 2020, www.hindustantimes.com/india-news/india-logs-onto-internet-to-check-us-poll-results-as-interest-soars/story-4gjCUVlbF3rcbF8aibJoPO.html.
Desi Twitter Is Mocking Indians for Obsessing Over US Elections While Ignoring Polls at Home. News18, 4 Nov. 2020, www.news18.com/news/buzz/desi-twitter-is-mocking-indians-for-obsessing-over-us-elections-while-ignoring-polls-at-home-3043103.html.
Bihar Who? Indians Far More Interested in US Election Results, Says Google's Search Index. Free Press Journal, www.freepressjournal.in/india/bihar-who-indians-far-more-interested-in-us-election-results-says-googles-search-index.
Mead, George Herbert, et al. Mind, Self, and Society: the Definitive Edition. University of Chicago Press, 2015. http://tankona.free.fr/mead1934.pdf
Griffin, Em, et al. A First Look at Communication Theory. McGraw-Hill Education, 2015.
McQuail, Denis. Mass Communication Theory. Sage, 2005.
Baskas, Harriet. Throwing Shoes and Blowing Noses. NBCNews.com, NBCUniversal News Group, 29 Dec. 2008, www.nbcnews.com/id/wbna28339497.
Tarpley, Webster Griffin, and Anton Chaitkin. George Bush: the Unauthorized Biography. Progressive Press, 2008. https://www.pdfdrive.com/george-bush-the-unauthorized-biography-d185436287.html
Borcover, Alfred. HANDS OFF. Chicagotribune.com, 2 Sept. 2018, www.chicagotribune.com/news/ct-xpm-1992-01-26-9201080471-story.html.
Axtell, Roger E. Gestures: the Do's and Taboos of Body Language around the World. Wiley, 2001.
Potsdam Declaration. Potsdam Declaration | The Bombing of Hiroshima and Nagasaki | Historical Documents, www.atomicarchive.com/resources/documents/hiroshima-nagasaki/potsdam.html.
Good Translation Might Have Prevented Hiroshima. The New York Times, 21 Aug. 1989, www.nytimes.com/1989/08/21/opinion/l-good-translation-might-have-prevented-hiroshima-322089.html.
Bochner, Stephen. Cultures in Contact: Studies in Cross-Cultural Interaction. Pergamon Press, 1992.
Kawai, Kazuo. Mokusatsu, Japan's Response to the Potsdam Declaration. University of California Press, University of California Press, 1 Nov. 1950, online.ucpress.edu/phr/article-abstract/19/4/409/73158/Mokusatsu-Japan-s-Response-to-the-Potsdam?redirectedFrom=fulltext.
Freeland, Benjamin. Mokusatsu: The Word That Launched 41 Kilotons. Medium, Medium, 15 June 2018, medium.com/@benfreeland/mokusatsu-the-word-that-launched-41-kilotons-136cc17d5ba5.
The Prime Minister and the Press ~ Interview: Alexander Stille. , Public Broadcasting Service
Oct. 2008, www.pbs.org/wnet/wideangle/uncategorized/the-prime-minister-and-the-press-interview-alexander-stille/2895/.
Allen, Mike. The SAGE Encyclopedia of Communication Research Methods. 4 vols. Thousand SAGE Research Methods. Web. 19 Dec. 2020, doi: 10.4135/9781483381411.
Herman, Edward S., and Noam Chomsky. Manufacturing Consent: The Political Economy of the Mass Media. PDF Drive, www.pdfdrive.com/manufacturing-consent-the-political-economy-of-the-mass-media-e159932816.html.
Richter, Carola & Gräf, Bettina. The Political Economy of Media: An Introduction. New Media Configurations and Socio-Cultural Dynamics in Asia and the Arab World. (2015).
The Prime Minister and the Press ~ Does Berlusconi Threaten Italian Democracy? , Public Broadcasting Service, 18 Sept. 2008, www.pbs.org/wnet/wideangle/uncategorized/the-prime-minister-and-the-press-does-berlusconi-threaten-italian-democracy/2889/.
Berlusconi's Chilling Effect on Italian Media. Open Society Foundations, www.opensocietyfoundations.org/voices/berlusconi-s-chilling-effect-italian-media.
Market-Based Lobbying: Berlusconi Power and Mediaset Ads. VOX, CEPR Policy Portal, voxeu.org/article/market-based-lobbying-berlusconi-power-and-mediaset-ads.
Ide, Ella. Italy Talk Show Ban Censorship , Says Opposition. Reuters, Thomson Reuters, 2 Mar. 2010, in.reuters.com/article/worldNews/idINIndia-46599820100302.
Chozick, Amy. Rupert Murdoch and President Trump: A Friendship of Convenience. The New York Times, The New York Times, 23 Dec. 2017, www.nytimes.com/2017/12/23/business/media/murdoch-trump-relationship.html.
Lachapelle, Tara. The Real Reason Fox News Needs Trump to Win. BloombergQuint, Bloomberg Quint, 3 Nov. 2020, www.bloombergquint.com/gadfly/fox-news-needs-trump-for-more-reasons-than-you-think.
Sarah Ellison, Josh Dawsey. The Long Love Affair between Fox News and Trump May Be over. Here's How It All Soured Last Week. The Washington Post, WP Company, 9 Nov. 2020, www.washingtonpost.com/lifestyle/the-long-love-affair-between-fox-news-and-trump-may-be-over-heres-how-it-ended-last-week/2020/11/09/f4dddb5e-2095-11eb-90dd-abd0f7086a91_story.html.
Ninan, Sevanti. How India's News Media Have Changed since 2014: Greater Self-Censorship, Dogged Digital Resistance. Scroll.in, Scroll.in, 5 July 2019, scroll.in/article/929461/greater-self-censorship-dogged-digital-resistance-how-indias-news-media-have-changed-since-2014.
Speculation after PM, Cabinet Ministers Pull out of ET Business Summit. Www.bestmediaifo.com, bestmediainfo.com/2017/03/speculation-after-pm-cabinet-ministers-pull-out-of-et-business-summit/.