QUOTES OF 15 SOCIOLOGICAL THINKERS AND THEIR EXPLANATION AND APPLICATION IN DAILY LIFE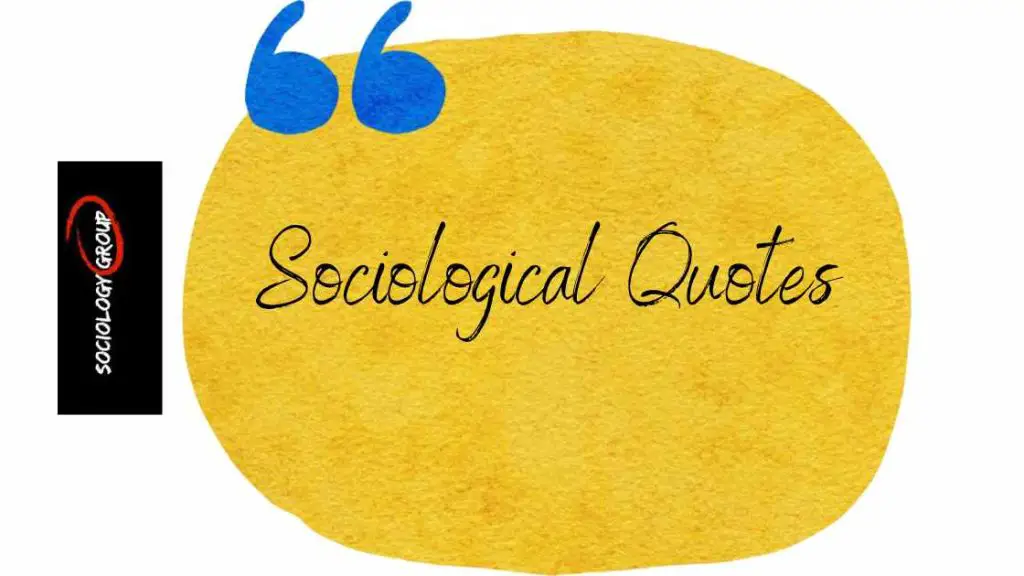 Emile Durkheim
Considered one of the most prominent figures of the functionalist perspective of sociological analysis, French sociologist Emile Durkheim is renowned for his efforts towards formalizing the field of sociology and establishing it in academia. He theorized some of the most important concepts in sociology, such as anomie, mechanical and organic solidarity, and his work Suicide: A Study in Sociology is one of the best known works of classical social theory.
            "WE DO NOT REPROVE IT BECAUSE IT IS A CRIME, BUT IT IS A CRIME BECAUSE WE REPROVE IT" (Durkheim, 2013, p. 81).
Durkheim writes this in his most famous work, The Division of Labor in Society, in the portion where he talks about "mechanical solidarity." According to Durkheim, the type of solidarity that arises when members of a society who share common beliefs, values, ideas, practices, and ideologies feel a sense of solidarity with each other because they have some sort of commonality among them. In this quote, Durkheim is explaining his theory of mechanical solidarity by stating that an act does not have the inherent quality of being a crime. Rather, it is when an act becomes offensive to the collective consciousness that members of a society share that it is considered a crime. Examples of this can be seen every day as shared values, beliefs, and practices differ from one culture to another, from one region to another, and even within the same neighborhood. A very basic example will be the practice in Hindu households of not touching books or any object related to education with their feet. In Hinduism, feet are considered impure, while books are considered a representation of Goddess Saraswati who embodies knowledge. Therefore, touching books with feet means disrespecting the deity, therefore hurting the collective conscience of the followers of the religion. As a result, it is declared a sinful act. However, followers of other religions, such as Christianity or Islam, have no such associations and do not consider it to be an act of sin. An act derives the meaning of being a "sin" because people declare it to be so when it hurts their collective sentiments.
Max Weber
A very important classical sociologist, Max Weber, belongs to the symbolic interactionist school of thought.
"OBEDIENCE IS NOT OWED TO ENACTED RULES, BUT TO THE PERSON WHO OCCUPIES A POSITION OF AUTHORITY BY TRADITION OR WHO HAS BEEN CHOSEN FOR SUCH A POSITION ON A TRADITIONAL BASIS" (Weber, 1947, p. 341).
This quote is from a chapter of one of Weber's most comprehensive works. In this chapter, Weber discusses the three types of legitimate authority, among which one is traditional authority which is made legitimate on grounds that the sanctity of a position has been established and passed down by means of tradition, that is these positions are considered to have authority for generations. Examples of traditional authority may include parents. Parents are considered to have a revered, authoritative position by Indian tradition, therefore their authority over children is considered legitimate. Following Weber's quote, we follow our parents' instructions not because the instructions hold any legitimacy, but because our parents authority over us does. If our parents ask us to clean our room, we do so not because we find the order legitimate, but because it is our parents who hold the traditionally higher position that have asked us to clean our room. In case of absence of our parents, or the traditional position of authority, if a friend asked us to clean our rooms, we most often tend to not obey it.
Thorstein Veblen
Thorstein Veblen was a celebrated figure who contributed both to the fields of sociology and economics. He is most known for critiquing capitalism, and one of his biggest contribution to sociology was the concept of conspicuous consumption.
"CONSPICUOUS CONSUMPTION OF VALUABLE GOODS IS A MEANS OF REPUTABILITY TO THE GENTLEMAN OF LEISURE" (Veblen, 1899, p. 36).
Veblen coined the term "conspicuous consumption" to explain the way in which consumers compete to satisfy their vanities and attain a social position or status through means visible to others. Conspicuous consumption is when people, regardless of which social class they belong to, make investments, adopt behaviors, and perform activities to establish themselves as 'higher' than others in society. In order to display their economic power to the public and establish themselves as belonging to a higher social class, people often engage in certain activities that cost more than is required for practical purposes. For example, when purchasing a watch, people often opt for the costlier alternative or the more 'expensive-looking' one instead of buying a normal, less expensive watch. Regardless of how expensive they are, watches serve the practical purpose of checking the time, yet a more expensive watch 'proves' one's higher social status. Therefore, as the quote states, the value of goods consumed by a person becomes a symbol of their reputation or status in society.
Georg Simmel
The German sociologist Georg Simmel was a structuralist, and his works mostly focused on life in the urban sphere.
"FASHION ON THE ONE HAND SIGNIFIES UNION WITH THOSE IN THE SAME CLASS, THE UNIFORMITY OF A CIRCLE CHARACTERIZED BY IT, AND, UNO ACTU, THE EXCLUSION OF ALL OTHER GROUPS" (Simmel, 1957).
According to Simmel's quote in one of his works most relevant in contemporary times, the primary function of fashion that people use it for is to distinguish themselves from others in the society and to establish their image as individuals distinct from others. At the same time, however, when others choose the same kind of fashion as a 'distinguished' individual, it helps form a sense of unity among these people, creating a uniform circle. However, since the primary reason of the fashion was to separate oneself from the others, it excludes those who do not subscribe to the same 'taste'. Therefore, fashion essentially serves the two contradictory functions of uniting and excluding people. For instance, when people prefer to wear darker colors such as brown or black, they are creating a social group unified by their preferences towards darker clothing while at the same time creating a divide between themselves and those who prefer brighter colored clothing such as pink or yellow.
C.H. Cooley
The best works of American sociology Charles Horton Cooley are known for their examination of the reasons for human behavior and how social interactions shape human actions.
"I AM NOT WHAT I THINK I AM, AND I AM NOT WHAT YOU THINK I AM. I AM WHAT I THINK YOU THINK I AM" (Landvatter, 2013).
This infamous quote which is said to be have been told by Cooley is a great way to introduce the sociologist's most renowned theory – the looking-glass self. According to Cooley's theory, the 'self' or the way we construct our identities or define ourselves is through what we think others perceive about us in our daily social interaction. In other words, when we interact with others in society, we form a perception of how they might be perceiving us, and using that we develop our sense of self. As the quote says, in our daily life, we might like to think that defining who we are is in our own hands. Similarly, we might also perceive someone in a certain way and think that it is what shapes their sense of self. Cooley disagrees with both these ideas. For example, let's say an individual has gone to give an interview for a job. Regardless of how much confidence they create by practicing mocks thinking it might boost their performance, they get nervous during the interview. Therefore, them thinking that they are confident does not eliminate their nervousness. Similarly, if the interviewer considers them a confident candidate, that does not eliminate or reduce their nervousness either, as the interviewer's opinions do not shape the individual's sense of self. Only what the individual thinks that the interviewer is perceiving them as that boosts or decreases their morale – that is, based on whether the individual thinks the interviewer is perceiving them as anxious or assertive, the individuals idea of themselves and consequently their behavior will change. They might try to incorporate more confidence in their responses if they think the interviewer considers them to not know a lot about the topic.
Robert K. Merton
Another American Sociologist, Merton was a structural functionalist well known for his contribution of numerous important theories and concepts to the field of Sociology. He is most renowned for his works on deviance and the most basic and essential concepts of functionalism – manifest and latent functions.
"PEOPLE BUY EXPENSIVE GOODS NOT SO MUCH BECAUSE THEY ARE SUPERIOR BUT BECAUSE THEY ARE EXPENSIVE" (Merton, 1968, p. 123)
According to Merton in this quote, it is not the manifest function of an action that drives people to act or behave in a certain way. Rather, it is the latent functions, which, although not visible or apparent, are more important than manifest functions and play a more significant role in the decision-making process for an individual's actions. Merton cites Veblen's theory of conspicuous consumption to explain manifest and latent functions, which is apparent in this quote. For example, buying a bag which is from a more expensive brand serves the manifest function of purchasing a 'better quality' or 'superior' item of clothing. However, according to Merton, it is the latent function, or the fact that the ability to afford a more expensive brand is associated with higher social status, that ultimately drives the purchase of the bag.
Theodor Adorno
One of the pioneers of critical theory, Theodor Adorno is a key proponent of the Frankfurt School of thought in sociology. Mass culture was one of the primary concerns for Adorno and his contemporaries.
"THE CUSTOMER IS NOT KING, AS THE CULTURE INDUSTRY WOULD HAVE US BELIEVE, NOT ITS SUBJECT BUT ITS OBJECT" (Adorno, 1975).
Introduced by Adorno and another critical theorist, Horkheimer, the term 'culture industry' is used to describe how the production and dissemination of popular culture under capitalism for mass consumption direct and essentially shape the consumers' ideas and preferences related to consumption. In this particular quote from another work of Adorno, The Culture Industry Reconsidered, he explains the position of consumers in a capitalist society. According to Adorno, the often-touted tagline that customers are the ultimate decision-makers in the production process is nothing but a false impression—consumers do not participate in the production process in any manner, rather they are simply the purchasers of whatever the production system provides them with. For example, consider going to purchase a notebook. There is a specific shape, size, and design of notebook that you prefer and would like to purchase. However, the notebooks in the shop are almost of the same design and the notebook you want is not available. If you do not purchase one of the available notebooks, you will end up with no notebook at all, so you are forced to purchase them. As a result, the production system does not take into account your specific requirements. Rather, instead of consumers or customers as the recipients of services, mass production under the culture industry reduces them to another object in the capitalist system.
Herbert Marcuse
German-American sociologist Herbert Marcuse was another renowned critical theorist who, along with Adorno and other thinkers, pioneered the Frankfurt School of Critical Theory.
"UNDER THE RULE OF A REPRESSIVE WHOLE, LIBERTY CAN BE MADE INTO A POWERFUL INSTRUMENT OF DOMINATION" (Marcuse, 1964, p. 14).
In this quote from Marcuse's famous work, One-Dimensional Man, the author argues that the freedom of choice that people think they have is actually not truly free in a capitalist society. Combining it with Adorno's ideas, since the capitalist mode of production determines what kind of goods are to be produced, the choice that consumers have is also automatically controlled by the capitalist production system. Therefore, capitalism uses the idea of 'liberty' as a tool to control people. According to Marcuse's quote, people's 'free' choices are actually not free and are, in reality, bound by several constraints. Take, for example, fashion choices. People are essentially 'free' to choose what they want to wear and where they want to wear it. However, if, for instance, one wears a torn shirt to a wedding, they are subjected to considerable ridicule and social backlash. One is 'free' to wear what they want to a wedding as long as they adhere to certain acceptable social rules and norms, thereby making the decision not entirely free.
Peter M. Blau
A contemporary American sociologist, Peter M. Blau's best known work is on the theory of exchange and how social structures drive individual-level exchange.
"SOCIAL ATTRACTION IS THE FORCE THAT INDUCES HUMAN BEINGS TO ESTABLISH SOCIAL ASSOCIATIONS ON THEIR OWN INITIATIVE AND TO EXPAND THE SCOPE OF THEIR ASSOCIATIONS ONCE THEY HAVE BEEN FORMED" (Blau, 1964, p. 20).
In Blau's theory, "social attraction" is the force due to which humans initiate social associations or relations with others. According to Blau himself, individuals are "attracted to another if he expects associating with him to be in some way rewarding for himself, and his interest in the expected social rewards draws him to the other" (Blau, 1964, p. 20). Thus, the gratifying or rewarding nature of social associations makes them attractive to people and propels them to take the initiative to associate with others. Take, for example, a college setting. Two complete strangers start talking to each other in the first year of college because they need some help with the coursework. Therefore, the reward of "getting help for coursework" drives the two people to start communicating and associating with each other. To gratify further needs, such as having a companion to walk to class with and eat with, they might, as Blau states, "expand the scope of their associations" (Blau, 1964, p. 20) from mere acquaintances to friends.
Erving Goffman
A proponent of the symbolic interactionist perspective in sociology, Goffman is most renowned for his 1959 work, The Presentation of the Self in Everyday Life. Goffman was most interested in the micro, day-to-day aspects of social life and how society influences individual behavior. Some of his most famous concepts, such as impression management, find use in both sociology and other disciplines, such as psychology.
"A BACK REGION OR BACKSTAGE MAY BE DEFINED AS A PLACE, RELATIVE TO A GIVEN PERFORMANCE, WHERE THE IMPRESSION FOSTERED BY THE PERFORMANCE IS KNOWINGLY CONTRADICTED AS A MATTER OF COURSE" (Goffman, 1956, p. 69).
Considering human interaction in daily life akin to theatrical performances, Goffman presented his theory by defining several concepts, such as performance, or the act put up by individuals every day as well as the front or the objects and behaviors individuals use as tools of expression. Like every theatre, there is also a backstage in the social life of humans where, according to Goffman, the details of the performance are decided and everything, from props to expressions, are set into place to ensure the smooth execution of the performance. In our daily lives, the bathroom or our bedroom can be considered our 'backstage'. It is here that we take off the 'costumes' from that day's performance and prepare the script and ourselves for the performance the next day.
Charlotte Perkins Gilman
Charlotte Perkins Gilman, an American sociologist, was a pivotal figure in feminist theory in the early twentieth century. One of her most sociologically relevant works is Women and Economics: A Study of the Economic Relation Between Men and Women as a Factor in Social Evolution.
"WHATEVER THE ECONOMIC VALUE OF THE DOMESTIC INDUSTRY OF WOMEN IS, THEY DO NOT GET IT. THE WOMEN WHO DO THE MOST WORK GET THE LEAST MONEY, AND THE WOMEN WHO HAVE THE MOST MONEY DO THE LEAST WORK" (Gilman, 1898, p.8).
Perhaps one of the simplest yet perfect examples of why intersectionality is important in feminist theory and action is the above quote by Gilman. The author argues that dividing labour among men and women traditionally so that men go out to 'earn' while women perform domestic work results in intrinsic misogyny. While women's work is equally important economically as men's work, and the domestic work that women perform essentially enables men to work and gain economic independence, the women performing the work are made dependent on men because their labour is unpaid. Women are therefore known only through the male members of their families, and the men's status becomes the status of the women. Gilman brings the class issue into this context. Poor or so-called 'lower' class women who work in jobs such as caretaking, domestic care, etc., work the most, both in their own homes as well as in others' homes. Yet, they are not adequately compensated for their work. Rich women (regardless of whether they are rich through men) who have the advantage of wealth and higher social status can afford to hire other women to do the work that traditional gender roles impose on them. Therefore, it is poor women who work the most and have the least money. This remains true even today and is most visible in urban spaces, where women from poor households, despite working the most in terms of labor and time in jobs, for example as 'maids' or caretakers, live in dilapidated conditions.
Michel Foucault
Perhaps one of the most widely read philosophers of 20th century and a household name in social science academia, Michel Foucault is best known best known for his theories on knowledge, power, and discourses and is often touted as a postmodernist.
"SURVEILLANCE IS PERMANENT IN ITS EFFECTS, EVEN IF IT IS DISCONTINUOUS IN ITS ACTION" (Foucault, 1995, p. 201).
Discipline and Punish introduces one of Foucault's most interesting concepts about surveillance, "panopticism". In this quote, Foucault is talking about how once people are subjected to surveillance, they believe that they are being 'watched' or monitored even if that is not the actual case, and therefore control can be maintained over them. An example in daily life includes surveillance cameras. In schools, cameras are installed in every corridor and place which requires scrutiny, and initially, these are use diligently as a method of disciplining students and controlling their actions. In reality, however, soon these cameras become 'for show' only – rarely is the video footage monitored by someone constantly. However, the students avoid deviance within surveillance areas because of the idea that they might be 'watched'. Therefore the control of the school authorities over the students becomes established and strengthened.
Pierre Bourdieu
"CAPITAL IS ACCUMULATED LABOR (IN ITS MATERIALISED FORM OR ITS 'INCORPORATED,' EMBODIED FORM) WHICH, WHEN APPROPRIATED ON A PRIVATE, I.E., EXCLUSIVE, BASIS BY AGENTS OR GROUPS OF AGENTS, ENABLES THEM TO APPROPRIATE SOCIAL ENERGY IN THE FORM OF REIFIED OR LIVING LABOR. IT IS A VIS INSITA, A FORCE INSCRIBED IN OBJECTIVE OR SUBJECTIVE STRUCTURES, BUT IT IS ALSO A LEX INSITA, THE PRINCIPLE UNDERLYING THE IMMANENT REGULARITIES OF THE SOCIAL WORLD. IT IS WHAT MAKES THE GAMES OF SOCIETY – NOT LEAST, THE ECONOMIC GAME – SOMETHING OTHER THAN SIMPLE GAMES OF CHANCE OFFERING AT EVERY MOMENT THE POSSIBILITY OF A MIRACLE" (Bourdieu, 1986).
For Bourdieu, capital plays a very important role in determining a person's position in society. What kind of opportunities will be presented to a person, how and through whom it will be presented, how the person themselves will behave and what kind of 'tastes' or preferences they will develop, who they will associate with, all of these factors of a person's social life is determined through capital. Capital does not only mean economic or financial or monetary capital. It also refers to cultural capital and social capital. Rather than being 'natural' or 'by chance', an individual's social location and life situation and the entire society itself is largely dependent on these different forms of capital which are generationally accumulated. Cultural capital can be either embodied or deeply embedded within the individual, objectified into physical materials, or institutionalized through academic qualifications (Bourdieu, 1986). For Bourdieu, incidences of inequalities such as rich people being more educated, more rich people getting better paid and better status jobs could be explained from a sociological perspective rather than citing them as 'natural'. For an easy example, we can consider how some people are said to come from 'old money'. These people have a higher possibility of attaining education in private institutions with better quality of education yet higher tuitions than those from poor families. Therefore, the future opportunities of these people also get enhanced. These people also have a wider social network consisting of people from so-called 'higher' socio-economic backgrounds, thereby further improving their opportunities.
George Herbert Mead
A pioneer of the symbolic interactionist perspective in sociology, American sociology George Herbert Mead is largely associated with the pragmatist tradition of philosophy.
"THE "I" IS THE RESPONSE OF THE ORGANISM TO THE ATTITUDES OF THE OTHERS; THE "ME" IS THE ORGANIZED SET OF ATTITUDES OF OTHERS WHICH ONE HIMSELF ASSUMES" (Mead, 1934, p. 175).
In one of his most seminal works, Mead theorizes that an individual's self is made up of two distinct parts – the "I" and the "me". The "me" part of our self emerges when we consider ourselves as an object – a product of social interactions. The "I", on the other hand, is the individual component of the self which reacts to the "me". The "I" occurs in the present moment of any social interaction, acts creatively or variedly based on the situation they are presented with, all within the context of the "me". So while the "me" is socialized, the "I" is what helps us analyze the "me" and respond to immediate social situations. For example, when one is born, they are assigned a gender and are expected to adhere to the norms and roles of that particular gender, – man or woman. Considering some toxic ideals of masculinity, crying or showing intense emotions except anger are considered symbols of weakness for boys and men, and they are socialized practically from birth into being stoic. In patriarchal societies, therefore, men learn not to emote their feelings which constitutes their "me". Now suppose a man socialized into this "me" fractures his leg during a football match and is in immense pain. The immediate response of the "I" would be stop the man from crying or from the pain because the "me" has learned that it is a sign of weakness.
James S. Coleman
American sociologist James S. Coleman was best known for his work in theories of exchange and daily social interaction.
"IF A DOES SOMETHING FOR B AND TRUSTS B TO RECIPROCATE IN THE FUTURE, THIS ESTABLISHES AN EXPECTATION IN A AND AN OBLIGATION ON THE PART OF B. THIS OBLIGATION CAN BE CONCEIVED AS A CREDIT SLIP HELD BY A FOR PERFORMANCE BY B" (Coleman, 1988).
For Coleman, the value of social capital lies in its capacity as a tool that can help people gain something for their own interests and realize their goals. The quote is simultaneously simple and significant, as we can see examples of this in our daily lives all the time. Social interactions, as Coleman says, are based on equal exchange: one person helps another, which creates the expectation and obligation for the other to help them back or repay them equally in the future. For example, consider that you helped your friend in a major way with one of their assignments, for which the submission deadline was very near and there was a lot of work to do. Despite saying that "friends always help each other out," by helping your friend in such a manner, you have, therefore, created an obligation for your friend to help you back in a similar critical situation later on when you need it. At the same time, regardless of how much you helped them out of the goodness of your heart, an expectation is automatically established in you, which will manifest later as "I helped that friend that one time, they should help me now" when you are in urgent need of help.
Also Read: How to Sociologically review a Song: Explained with Examples
References
Adorno, T. W. (1975). Culture industry reconsidered. New German Critique, 6(6), 12–19. https://doi.org/10.2307/487650
Blau, P. M. (1964). The Structure of Social Associations. In Exchange And Power In Social Life (pp. 12–32). Wiley. https://ia801504.us.archive.org/31/items/in.ernet.dli.2015.118920/2015.118920.Exchange-And-Power-In-Social-Life_text.pdf
Bourdieu, P. (1986). The forms of capital. In J. G. Richardson (Ed.), Handbook of Theory and Research for the Sociology of Education (pp. 241–258). Greenwood Press.
Coleman, J. S. (1988). Social capital in the creation of human capital. American Journal of Sociology, 94, S95–S120. https://www.jstor.org/stable/2780243?seq=8#metadata_info_tab_contents
Durkheim, E. (2013). Mechanical solidarity. In G. Simpson (Trans.), The Division of Labor in Society. The Free Press.
Foucault, M. (1995). Discipline and Punish: The Birth of the Prison. Vintage Books, Random House, Inc. https://monoskop.org/images/4/43/Foucault_Michel_Discipline_and_Punish_The_Birth_of_the_Prison_1977_1995.pdf
Gilman, C. P. (1898). Women and Economics. In digital.library.upenn.edu. Small, Maynard & Co. https://digital.library.upenn.edu/women/gilman/economics/economics.html
Goffman, E. (1956). The presentation of self in everyday life. University of Edinburgh, Social Sciences Research Centre. https://monoskop.org/images/1/19/Goffman_Erving_The_Presentation_of_Self_in_Everyday_Life.pdf
Landvatter, R. (2013). I am what I think you think I am. Utah State University; All Graduate Plan B and other Reports. https://digitalcommons.usu.edu/gradreports/328/
Marcuse, H. (1964). The new forms of control. In One-Dimensional Man: Studies in the Ideology of Advanced Industrial Society (pp. 11–20). Marxists Internet Archive. https://www.marxists.org/ebooks/marcuse/one-dimensional-man.pdf
Mead, G. H. (1934). The self: The "I" and the "me." In C. W. Morris (Ed.), Mind Self and Society from the Standpoint of a Social Behaviorist (pp. 173–178). University of Chicago. https://brocku.ca/MeadProject/Mead/pubs2/mindself/Mead_1934_22.html
Merton, R. K. (1968). Manifest and latent functions. In Social Theory and Social Structure. The Free Press
Simmel, G. (1957). Fashion. American Journal of Sociology, 62(6), 541–558. https://doi.org/10.1086/222102
Veblen, T. (1899). Conspicuous consumption. In The Theory of the Leisure Class (pp. 33–47). Macmillan.
Weber, M. (1947). The types of authority and imperative co-ordination. In A. M. Henderson & T. Parsons (Trans.), The Theory of Social and Economic Organization (pp. 324–423). Free Press.