Shehla Rashid Shora is a famous activist from Jammu & Kashmir. She is also a politician who was formerly associated with the Jammu & Kashmir People's Movement  (JKPM). She was the Vice-President of the Jawaharlal Nehru University Students' Union (JNUSU) in the academic year of 2015-16 as the nominee of the All India Students' Association. She is, in fact, the first Kashmiri woman to win the student election at the Jawaharlal Nehru University (JNU). She is now a Ph.D. student at JNU. She is working on the topic 'How algorithm-based decision-making affects policymaking'.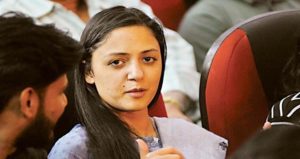 Early life:
Shehla Rashid was born in Habba Kadal locality of Srinagar, Jammu & Kashmir on 30th April in 1988. Her mother is a nurse at the SK Institute of Medical Sciences (SKIMS). Shehla studied computer engineering at the National Institute of Technology, Srinagar. Post attaining her Bachelor's degree, she did a 10-week course in Political leadership at the Indian Institute of Management, Bangalore. And after this, she began working for HCL Technologies since she was a computer engineer.
Later on, she started participating actively against various social issues that are predominant in Kashmir. But there was not much of democratic space in Kashmir. Since it was very restricted and there was a lot of suppression of the students with no scope for any lobbying, Shehla moved to Delhi. She wanted to represent Kashmir in Delhi and change the situation in Kashmir. She also wrote a blog 'Where are Kashmir's youth leaders?' in which she underlined it that there must be a student union in Kashmir which wasn't permitted in many colleges in Kashmir- including hers as well. She joined the Jawaharlal Nehru University and completed an M.A. in Sociology. She also completed an M.Phil. in Law and Governance. She is now pursuing her Ph.D. During the India Today Conclave (in March 2016), she said that she grew up watching a 'very violent image of India' while the JNU provided her democratic space.
Works:
She was an ardent woman activist from a very young age. She raised her voice against the human rights violations that prevailed in Kashmir. Since 2010, she has been very active in issues pertaining to human rights after she helped organize a youth leadership program in Kashmir. She later supported Pragaash, an all-female band that consisted of Muslim girls of young age. It was the first all-girl rock band in Kashmir. Shehla campaigned so as to bring support for these girls in 2013 when they faced online threats and death warnings from the conservative Muslims in Kashmir.
Shehla contested in the elections for the Gender Sensitization Committee Against Sexual Harassment at the JNU in 2014. She wasn't successful, though, in the next year, she became the Vice-President of the JNUSU with a margin of 200 votes and was the highest polled candidate of that year. She won the election against ABVP candidate Valentina Brahma despite having had to persuade people to vote for a Kashmiri girl from a non-political background. She led the protests against the UGC (University Grants Commission) in 2015 since the scholarship given to MPhil and Ph.D. students was decreased. She led the Occupy UGC movement for the same cause and led protests against the Ministry of Human Resources Development demanding an increase in the scholarships provided to the students. She was supported by the University of Delhi, Jamia Millia Islamia University and the Ambedkar University of Delhi. She also led many protests on the JNU campus in which many people joined her. In February 2016, the then JNUSU President Kanhaiya Kumar was arrested for sedition charges along with many other student leaders in the Union including the General Secretary, Rama Naga, and Ashutosh Kumar, former JNUSU President. It was Shehla, who had no charges against her, who took care of the functioning of the members in the meantime and she came into limelight then. She called for protests demanding the release of Kanhaiya Kumar and Umar Khalid among others. Many protesters also demanded a 'Rohith Act' to be passed so as to end caste-based discrimination in educational institutions.
Politics:
In 2019, Shehla joined the JKPM which was founded by Shah Faesal, the first Kashmiri to secure the first rank in the Civil Services Examination in 2009. Faesal founded the party on 16th March 2019 at a football ground in the Rajbagh area in Srinagar, shortly after he started his political career by giving a speech in Kupwara- his hometown. She later resigned from the party on 9th October 2019, though. She justified this disassociation from electoral politics by saying that the Center didn't regard the Indian laws when they decided upon the Kashmir issue and abrogated Section 370 and Section 35A.
Book:
Shehla is currently writing her first book. It has tentatively been titled as 'I, Student'. She declared that it will be a memoir of the student politics in India from her point of view during her time as the Vice-President of the JNUSU. This book will be published by Penguin Random House. It is expected to be published in Hindi, Malayalam, and Urdu subsequently.
Criticism:
Shehla has been accused of spreading fake news and many even demanded her arrest. She has requested people to keep spreading her posts even if she is arrested so as to make sure the citizens are not diverted from the Kashmir issue by mainstream media. She is very active on social media and has many followers on the Internet and social media handles.
The Aligarh Muslim University (AMU) students' Union filed an FIR accusing Shehla of passing disrespectful remarks about Prophet Muhammad. It was, however, withdrawn after she deleted the Facebook post regarding the same.  She also welcomed a newly converted Irish singer Shuhada Davitt into Islam and this received huge online criticism.
Dehradun Police also filed an FIR against her for a tweet wherein she claimed that as many as 15-20 Kashmiri girls were trapped in a hostel in Dehradun by then and that there was a mob outside which the police wasn't able to dismiss. This was allegedly fake news put up by Shehla. Also, since the abrogation of Article 370 and Article 35A, Shehla took it to Twitter that the Indian army was torturing the Kashmiris while the armies denied the allegation. A Supreme Court lawyer, Alok Srivastava, filed a complaint against her and sought her arrest under sedition.
Shehla has engaged herself in political activities and has been a part of associations where she has always been the voice of people. She tries to hit the target with her words during her activism. Shehla has also made efforts to make sure none is distracted from the Kashmir issue by posting tweets regularly.