Television plays a significant part in entertaining the masses yet it also goes beyond being mere form of entertainment, for it can help bring social changes in society. Nonetheless, the social changes might be positive as well as negative. India, has the world's largest television system, here, serials not just serve as the mode of entertainment but also as the mode of social and cultural expression. They can impact our language, dressing styles, or even the culture as a whole. As the Joshi Committee Report on programming for Doordarshan has appropriately said: "If you want to get introduced to a country and its people watch its television."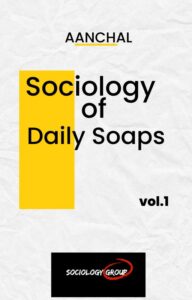 To follow a historical backdrop of  TV in India, one might say that it started in the late 1950s as an experiment and broadcasted only two one-hour educational programs per week. By the 1970s many television channels started coming up.
However, Indian small-screen programming started off in the early 1980s. At this point in time, there was only one national channel that was owned by the government – Doordarshan. It broadcasted two great epics of Indian history, the Ramayana and Mahabharata. Besides, many other shows like Hum Log broadcasted in 1984, dealt with Indian middle-class families and their daily struggles and aspirations. Likewise, Buniyaad (1986-87) was another show telecasted around this time which dealt with the partition of India in 1947 and its aftermath. Along with that, there were many comedy shows like Yeh Jo Zindagi Hai, and stories for children like Vikram Betal and Malgudi days. (Sen, 2019)
The 1980s are known as the "golden age of television" as it focused on daily issues people and was fruitful in bringing a feeling of oneness among people. Moreover, it was in the 90s when private television channels started emerging. At this time, television showed more progressive shows while glorifying Indian values. Remarkably, with the onset of Ekta Kapoor's melodramatic 'K' dramas during the 2000s, e.g. Kyunki Saas bhi kabhi Bahu thi and Kasauti Zindagi ki so on, the highly superficial and melodramatic elements entered the stage.
Furthermore, the recent years are the extension of this type of genre only, for the development in telecom and media throughout the course of the past few years has drastically changed the television industry. For instance, initially, Indian drama serials were not so melodramatic and sensational in nature, and it was only recently that serials began developing into a giant form of sheer amusement.
This article is an attempt to check whether Indian serials are making a progressive or regressive turn in terms of content. We will discuss all the aspects that are dramatised in these serials using various sociological perspectives.
Sociological analysis of Indian Drama Serials:
Social theory can provide valuable insights into understanding Indian melodramatic serials. For example, Marxist theory can help to explain the often-criticized emphasis on consumerism and materialism in these shows. Theories of gender and sexuality can help to explain the often-criticized portrayal of women as submissive and sexually objects. And, finally, theories of class can help to explain the often-criticized focus on upper-class characters and lifestyles. We'll touch upon all these theories throughout our discussions.
Indian Soap Operas: Source of Amusement or Social Devaluation
Like Indian Cinema, television too was immensely influenced by the economic liberalization and political violence of the post 90s. It was these changes that transformed the film industry by producing a new kind of Urban Cinema. In this period two major film genres emerged. The new economic policies paved the ground for the first kind of genre i.e. feel-good romance, which focused upon exotic and glamorous lifestyles of the upper middle class. On the other hand, the economic violence of the 90s influenced the second film genre i.e. urban noir cinema, which dealt with dark themes such as communalism, pogroms, etc. The former film genre which was trying to reassure people that modernity is good but on one condition that it should firmly rest upon traditional Indian values was later adopted by many daily soaps.
In addition, if we talk about the historical context, earlier the moral universe of films revolved around kinship bonds, love for the nation, etc. (Sharpe, 2005, p. 64)
However, post-1990s this tradition was replaced by family melodrama by giving value to 'conspicuous consumption.' Along the same lines, Indian drama serials also underwent a drastic change around this period and they also adopted similar storylines.
Consequently, one of the trending topics of our time turns out to be whether Indian drama serials are a source of amusement or social devaluation in the present era? Despite the fact that different people have different suppositions about it, the majority of them have settled on the common idea that Indian Drama Serials are not only mere forms of entertainment but they are also indicative of moral degradation. Nowadays, Indian television revolves around exceptionally superficial and shallow storylines. For instance, the majority of content of serials like Naagin, Saath Nibhana Saathiya and Sasural Simar Ka even in the 21st century rests upon blind convictions and are full of events such as sexual harassment, snakes seeking revenge, blackmail, suspicion, women turning against women, coming back from the dead etc. Such serials in the name of forewarning against crime reinforce superstitious beliefs in common masses and these superstitious beliefs seemingly keep on tormenting Indian society as a whole.
Depiction of Women and minority culture in Indian Drama Serials:
Feminist Perspective:
With the onset of the new millennium, daily soaps started targeting the very economically privileged class where the primary source of familial income was amassed by means of business activities carried out by men. The females were shown to be married off in these big lavish households. In addition, the so-called upper-class women were shown wearing heavy makeup and heavy jewellery (even while hitting the sack). This constant use of female beauty decked up all the time leads us to famous feminist Naomi Wolf's book entitled, The Beauty Myth.  In her book, Wolf argues that beauty is the "last, best belief system that keeps male dominance intact". (Wolf, 1991) In simple words what Wolf is trying to convey is that men or in fact the patriarchy has effectively restrained women by using her beauty or more specifically what she calls, "the beauty myth!" And that's what gets depicted in these serials as well.
Additionally, there are a number of ways in which gender stereotyping is evident in Indian saas-bahu serials. One of the most obvious ways is in the way that the female characters are portrayed. In many of these serials, the women are shown as being submissive to their husbands and in-laws and are often depicted as being weak and helpless. They are also often shown as being overly emotional and dramatic and are often portrayed as being jealous and scheming towards other women. Another way in which gender stereotyping is evident in these serials is in the way that the male characters are depicted. In many of these serials, the men are shown as being the breadwinners of the family, and are often shown as being the ones who make all of the decisions. They are also often shown as being very macho and aggressive, and are often shown as being the ones who are in charge of the household. Overall, the portrayal of gender stereotypes in Indian saas-bahu serials is quite negative. This is because these stereotypes often reinforce negative attitudes and behaviours towards women, and can lead to discrimination and even violence against women.
For instance, the popular TV show Sasural Simar Ka has been accused of gender stereotyping in recent years. The show, which is set in a rural Indian village, depicts women as being subservient to men and often involved in domestic tasks such as cooking and cleaning. By applying gender theories this can be seen as a result of the patriarchal society that Indian serials are set in. By understanding the role that women play in these serials, we can see how they are often used as a tool to further the plot, and how their emotions are often used to create drama.
Likewise, recently one of the most iconic scenes from the serial, 'Saath Nibhana Saathiya' went viral when the YouTuber Yashraj Mukhate made it into a song while using this bizarre scene. Basically, in this viral scene, Gopi Bahu ( played by Devoleena Bhattacharjee) was seen cleaning her husband's laptop with soap and water and hanging it out to dry, upon which Kokilaben Modi (her mother in law) was seen scolding her and asking Rasode mein kaun tha? (Who was there in the kitchen) which later on became the subject of memes. Besides, this scene also highlights the dominance of mother in law in Indian culture, for it normalises scolding daughter in laws as a part of our culture. As the Radical feminist perspective would see this as a form of patriarchal oppression. They would argue that in these Indian serials, it is not uncommon to see women turning against other women. This is often done in order to uphold the patriarchal status quo. Women who challenge the status quo or who are perceived to be a threat to it are often targeted by other women, who have internalized values to such an extent that they have become oppressors themselves. This is done in order to keep them in their place and to prevent them from challenging the male-dominated order.
Subaltern Perspective:
Interestingly, the minority culture is generally sidelined from these serials. For instance, there has been almost no portrayal of Muslim family dramas in main characters with ostentatiously display of their religiosity. Serials seem to promote only ideal Hindu families where women are always adorn in extravagant sarees, carrying the light of Hindu religion. The vast majority of Indian dramas revolve around Hindu families.  (Sen, 2019)
The subaltern perspective on the depiction of minority culture in Indian serials is that it is often inaccurate and misrepresentative. This is because the majority of Indian serials are produced by and for the upper-caste Hindu majority. As a result, minority cultures are often stereotyped and misrepresented in these serials. This can lead to a negative impact on how minority cultures are perceived by the general public. A skewed viewpoint will persist until or unless minority cultures or persons from minority cultures find a place in Indian serials and they speak for themselves.
Marxist Perspective
The representation of Muslims, Jains, Sikhs, and other minority cultures is apparently absent from these dramas. In fact, the serials seem to portray only the values of North-Indian households, without taking much consideration of other cultural values and stories. That's where the Marxist theory comes into play which emphasizes the importance of ideology in shaping social and cultural life. This perspective can help us to understand how melodramatic serials reflect and reinforce dominant ideology. Like the emphasis on the dominant cultural values, the north Indian culture is emphasised, demonstrating its supremacy throughout India.
Furthermore, Marxist theory also emphasizes the importance of class conflict in social and cultural life. This perspective can help us to understand how class conflict is represented in melodramatic serials, and how these representations can contribute to class conflict in society. For example, the higher-upper class individuals featured as key leads in these serials give the general middle class a sense of estrangement, causing them to begin glorifying material fulfilment as the essential requirement for living a great life.
Conclusion and Suggestions:
To recapitulate the whole argument, it could be said that Soap Operas in India not just serve as a source of entertainment but also serve a higher purpose. As people watching these dramas imbibe many of their qualities and consequently these programmes serve as "reference groups" for many viewers. Aforementioned, at the initial stage, explicitly in the 80s and 90s shows were more focused on showing middle-class people's stories and their struggles.
However, in contemporary times, with the onset of globalisation, TV serials started taking a regressive turn in terms of content. Nowadays, most of the shows are based upon absurd fictional plots unlike Gulzar's profoundly realistic and mentally weaved plots. It appears to be that nowadays shows are mainly made for profit maximisation purposes and for the consumption of Hindi-speaking masses respectively. 
The depiction of women and minority culture, the language biases, etc. in most of the Indian Serials advance a backward attitude. And as the popular saying goes, 'you are what you see,' subsequently the people watching these serials unintentionally cultivate such values. Hence, in order to make our society healthier, we need to produce good content which can incorporate all kinds of cultural values and mirror our true 'Indianness' through that.
Nevertheless, the effect of Indian drama serials on Indian society is both positive and negative. It all depends on how the people take it. Some people might get motivated by the good things shown in the serials while some might get influenced by the bad things. It is a known fact that most of the Indian drama serials contain a lot of clichéd scenes and dramatic dialogues. But there are also some serials which offer fresh and original content, such as Anupma, light-hearted comedy serials like Taarak Mehta Ka Ooltah Chashmah etc. However, these sorts of serials are less in number but these ones have a positive impact on society. They inspire people and teach them valuable lessons. Moreover, the positive effects of Indian drama serials on society are outnumbered by the negative effects. They often promote unrealistic expectations and give people false hopes. They also create a sense of insecurity among people by showing them the dark side of society.
So, it is imperative that we acknowledge the persisting biases, and patriarchal and prejudiced mindset of these serials and work towards bringing it to a gradual end.
Also, we should have a proper representation of all minority cultures. Stories from different cultural backgrounds for example- stories from North-East families and Kashmir families for that matter find space on the Indian television screens.
References
Sharpe, J. (2005). Gender, Nation, and Globalization in Monsoon Wedding and Dilwale Dulhania Le Jayenge. Meridians, 6(1), 58-81. Retrieved from
            http://www.jstor.org/stable/40338684
Mazumdar, R. (2011). Terrorism, Conspiracy, and Surveillance in Bombay's Urban Cinema. Social Research, 78(1), 143-172. Retrieved from
             http://www.jstor.org/stable/23347207
Times of India. (2014, September 13). Funny things that define Indian daily soaps. The Times of India. https://timesofindia.indiatimes.com/tv/news/hindi/Funny-things-that-define-Indian-daily-soaps/photostory/42396843.cms
Jain, A. (2021, November 5). RIP Physics: This Sindoor Scene From A Hindi Daily Soap Is Going Viral For Being So Bizarre. ScoopWhoop. https://www.scoopwhoop.com/entertainment/sindoor-scene-from-hindi-daily-soap-going-viral
Wolf, N. (1991). By Naomi Wolf The Beauty Myth: How Images of Female Beauty Are Used Against Women (1st First Edition) [Hardcover] (First Edition). William Morrow & Co; 1st edition (April 1991).
Beauvoir, S. (1989). The second sex. New York: Vintage Books.
Spivak, G. C., Husain, A., & Lewis, M. (2021). Can the Subaltern Speak?: Two Works Series Volume 1. Walther König, Köln/Afterall Books.