Sociology is a branch of social sciences which erupted in the late nineteenth century. This branch of social sciences has its effect and power to govern things tactfully. Series of events lead to the discovery of Sociology. This subject is not something which came across the world in just a day or two. It indeed took its time to introduce itself as a subject. It is the base of a society. Many factors are read and challenged in this subject. It would be interesting to know the series of events which lead to the emergence of Sociology. There were many sociologists whose opinions matter a lot in describing the word Sociology.
Learn Subject Matter and Importance of Sociology
A long time ago two Greek philosophers named Plato and Aristotle set up a basic definition of society in which the reaction of a man is observed for a long period. They were studying patterns of human behaviour at different stages. They were the first socialists who gave a simple yet most important definition of society. They eventually also put up their words for the law and order of a country. The rules and punishments were something to be decided and put in the actual practice in the Western countries. Time demands a constant change and what exactly happens when the time flies. In the 16th century, a new term was introduced known as State. Now sociologists like Thomas Hobbes and Machiavelli were providing the difference between states and society by their ideologies.
Now it was the early 18th century which also perceived the changes in a new way. They have seen several observations made by some famous sociologists namely Rousseau's and Montesquieu's De lousy. The famous personalities wrote their ideations which further became the fundamentals of Sociology. In short, it can be proved how it took centuries to come across as an important and different subject. In an earlier time, production and state policies also wanted a separate kind of attention. Henceforth economics come into the play, governing the budget, production rate, and policies regarding states. And because sociologists did research related to every region of human beings, it all together comes as a union of History, Political Sciences, Economics, psychology etc as Sociology subject. Before 1839 every aspect was dealt with differently and thought to be a different subject, but from 1839 onwards they were considered as a whole subject known as Sociology. The question is how sociology emerged by a single or series of events.
EMERGENCE OF SOCIOLOGY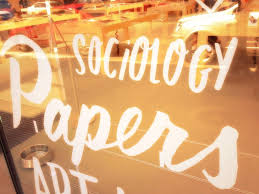 In the late 19th century when the world was facing one of the biggest changes, Sociology also hit the human race for their betterment. It was the time when the world was facing the French revolution and the Industrial revolution simultaneously. The French revolution is considered as the notion changing of a nation. It made sociology came into existence without opposition. French revolution almost took 10 years to get over but both kinds of effects were observed. One of the positive effects of the 'French revolution' was the tenancy thing which was introduced by Zamindars or powerful people came to an end. People were not forced to work 24*7 under the feudal system where they have almost become slaves. Instead, they were getting rebellious about their rights. And they were behaving just like a citizen should behave. This revolution made people question the setup norms of high-rank people and Churches. The power of high-rank people and Churches get shifted to common people accounting for a democratic society. This period is popularly known as Enlightenment because it served as a new notion for man, society, and nature. It was a period when the discrimination was set to eliminate from the world. Two enormous changes were observed in that time i.e. Civil Marriages and Divorce. They were legalized during that time giving the world a different and positive mindset. Apart from the French Revolution, Industrialization also imparts the emergency of Sociology. Industrialization rose from Britain but its effect can be seen throughout the world. It was one of the biggest changes in technical and economic fields.
The technology gave an idea to use machines in place of men and it rapidly increased the economic growth of a country. It eliminated the conventional system where men were working day and night to produce a handful number of products. Instead, it used machines and production level touched the sky. With industrialization, pressure on workers decreased and communication between other countries increased to have import and export of raw materials. The condition in which workers have to work get better day by day and the output was also obtained at a greater rate. It was the time when many of the old concepts were removed. Be it the communication processor sociologist with new ideas, the world was experiencing changes and Sociology norms were again changed. It was the time when sociologists challenged the old setup of society. Charles Montesquieu, Jacques Turgot was some of the sociologists which were adamant to change the world for better. It happened because the communication process got rapid. For example, letters were eliminated with telegrams which were faster and much safer. It leads to various discussions, discussions lead to changes in the world. Sociologists asked commoners to have their perception about anything, rather than abiding by someone else rules and regulations.
People were asked to have a sense of judgment and this thinking ability worked as an asset to the growth in any way. This was the time when people's mentality changed its course from closed to open. They were solving their problems without the help of upper-class people or the Church. This phase of revolutions also imparted some of the negative effects of chaos and uncertainty. Due to industrialization, urban areas were full resulting in chaos.  Population in cities abruptly increased resulting in poor lifestyles, worse arrangement related to health. And to remove this kind of social problems, a sociologist named Auguste Comte worked hard and also approached to study Sociology as a whole subject in science. Thus the emergence of sociology happened
DEVELOPMENT OF SOCIOLOGY
'Comte' introduced Sociology as the science of society in which a person thinks, observe and experiment to have a progressive society. After Comte, many sociologists contributed their time in making Sociology ideations better day by day. In the late 19th and early 20th century, four people get special mention in the progress of Modern Sociology. Auguste Comte, Herbert Spencer, Emile Durkheim and Max Weber are the four distinguished members of taking Modern Sociology to a different level. Another scholar named Tonnies made an attempt where social class classification can be made.  Another scholar contributed to the study of various social processes.
During Industrialization, trade expanded and many thinkers believe that it is the basis of communication accounting for many social and cultural changes. And it was proven that trade imparts a change in which social changes were evident by the way communication process changed. Max Weber contribution is also evident in the development of many factors like bureaucracy, sociology of law and religion. He directly linked culture with the economy. He thoroughly discouraged the concept of Iron cage. Iron cage is a state of people in which they are obliged to behave in a particular manner. His theory related to the iron cage is still a popular topic in the modern era. Another scholar Karl Marx also did a tremendous job by offering a new perception for sociology. His witty quotes are still a favourite among readers. He connected democracy and Socialism in his popular quote stating that Democracy makes the path clear for Socialism. He also supported the women empowerment indicating that women are the support system of a society. He clearly stated that social progress can be calculated by the social position of the female sex; he emphasized that without working for the up-gradation of females no social change will be up to mark. While everyone was happy about the industrialization, Marx made a funny yet witty comment that certainly Machinery increased the numbers of lazy people wanting to do nothing. His theories were general and the approach became famous after quite a long time.
As the time proceeded, the world witnessed world war-1 and world war-2 and sociologist again come up with something new related to Sociology. As the countries witnessed losses and deaths continuously, they also experience a change and many sociologists studied the different patterns related to war and its effects. During recent times Sociology again went through some transformations.
For example, it is not classified into many branches. It is studied for a group of things in the world. It first gets classified into macroscopic (bigger aspect) and microscopic (minute details) of life. Then there are many other branches which came like Criminology, Sociology of Knowledge, Religion, Culture, Urban and Rural Sociology, Political, Demography, Industrial Sociology etc.
The Sociology Group is now on Instagram, Follow us