The struggle of third world feminists could be marked in the final decades of the 20th century. In the Indian context, women always remain the dual victims of caste and patriarchy. The Indian social movements are conventionally concerned with the role of caste and caste identity. In the early 1990s, when autonomous Dalit organizations were emerging, a new wing of feminism came to light that is 'Dalit Feminism'.
Feminist theories talk about gender equality in an embracing way. The most significant factor here is to track the intersectionality existing in society. Intersectionality refers to the overlapping social identities and oppression. The structures of oppression are usually interconnected and there requires a multidimensional approach to fully comprehend the character of discrimination. Therefore, the term 'Dalit Feminism' appeared when it was discussed that the Dalit women specifically are the worst sufferers of structural domination created by men over women and caste evils.
Meaning Dalit Feminism:
As the main aspect of Dalit women's uprising, Dalit Feminism has an emancipator potential against caste and gender concerns. With the establishment of the National Federation of Dalit women in 1995, the movement got its autonomous momentum. A Dalit feminist viewpoint primarily stresses the significance of 'difference' as a factor. Therefore, their point of view considers the experiences of marginalized women within the large heterogeneous social structure. It is the perspective that asks vehemently about the caste and gender roles in the whole Dalit population which in turn consolidated the whole feminist movement.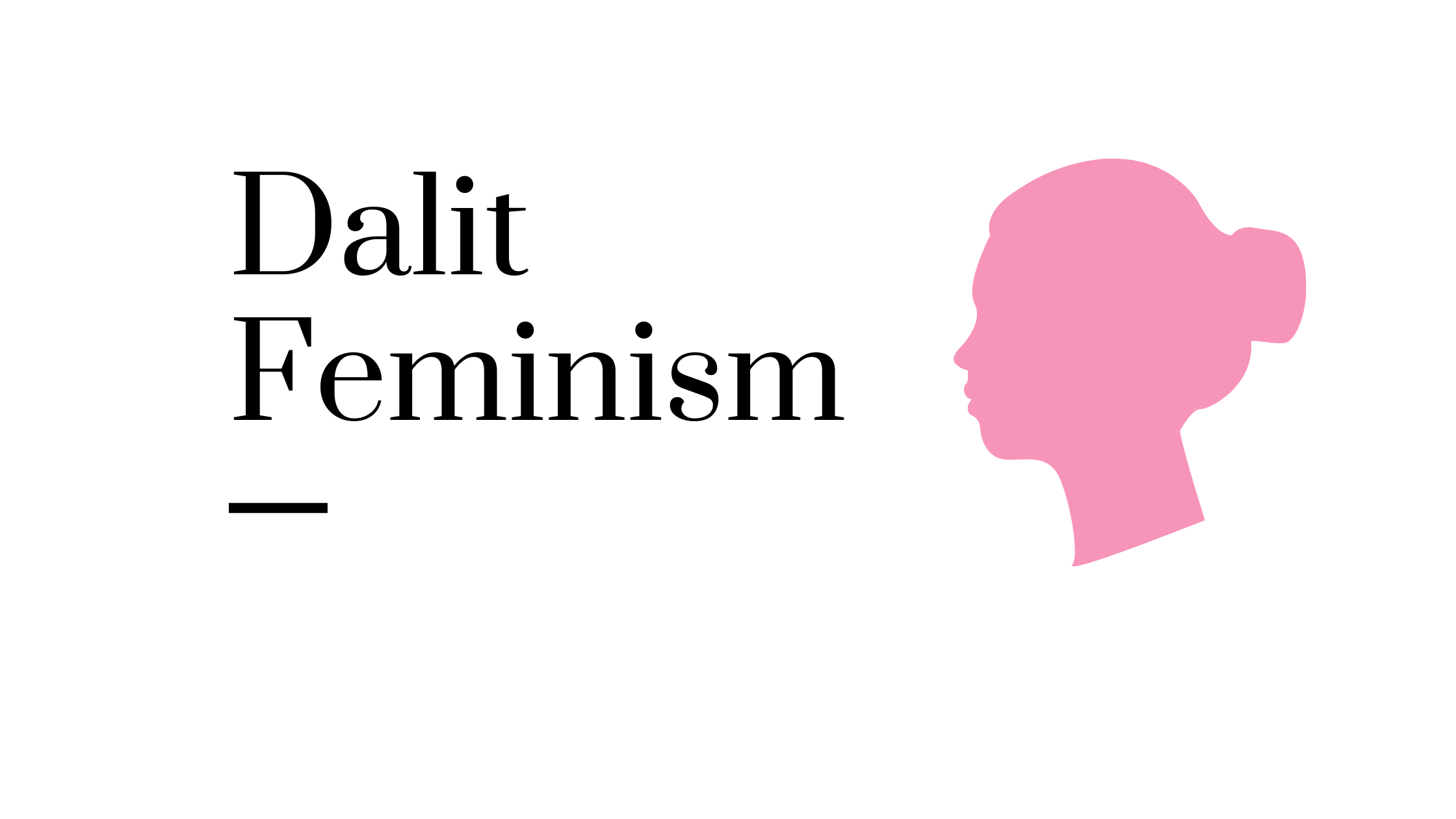 Read: Women's Movements in India
Savitribai Phule remains the stalwart of Dalit feminism, who practically implemented intersectionality as a social reformer. Post-1990s, there was a radical turn in feminist politics which marked the initiation of ideology different from 'upper-caste' feminists. The orthodox customs like that of Sati were linked to other acts of dehumanization of women including widowhood, denial of clothing to women of the marginalized sections, etc. Ambedkar viewed and analyzed the invisible force in the women's movement that did not welcome 'caste' as a part of the entire movement and also its absence could be felt in the literature that was highlighted in Dalit women's writing highlighting the gendered gap.
Historical Significance:
The 1970s and early' 80s were the period of 'reinvention of revolution' and witnessed the rise of several fronts and organizations such as Shramik Mukti Dal and Shramik Mukti Sanghatana. As the independent women's organizations gained momentum, the reformations started with several critiques and conceptualizations. The time witnessed ample class versus patriarchy debates within the political and social fronts. The majority of the feminists agreed that in the Indian context caste should be kept as the centre of analysis of women's oppression. The non-Brahmin women's struggle and history have often been neglected.
Therefore, an outlook from a Dalit feminist approach brings paramount turns in the women's movement. The focus primarily speaks about the Dalit women's experiences and happenings and it started coming into light after the 1990s. The fight is not easy; women are marginalized and doubly oppressed having a very limited reach to education and literacy. A study also reveals the fact that the incidents of dowry deaths and violent family threats are perennial among the dominant upper castes, Dalit women are likely to encounter public threats and sexual and physical assaults including numerous rape cases. Their vulnerability needs to be heard.
Dalit Feminism: Some Important Personalities
There is much more left to be done in the arena of women empowerment but it is unjustifiable if we would not mention and recognize the work done by the women who led the path. Historically, patriarchy has been telling us to stay quiet but now it is high time to break masculine reins. Some important personalities are-
Savitribai Phule (1831-1897) –
Savitribai Phule, a Dalit woman was an ardent believer and propagator of feminism in India. She became the first woman to become a teacher and later established 17 more schools providing secular education to women of all castes. Along with her husband, Jyotirao Phule, and allies she worked for the abolition of gender and caste discrimination. 'Balhatya Pratibandhak Griha' was set up by her to curb out female infanticide and moved a campaign against it.
The first Muslim woman teacher in India, Fatima Sheikh was a companion of Phule to give a staunch fight to the caste system and discrimination in our nation. She helped the Phule couple when they began their activism. Society did not welcome their ideas and gave them the ultimatum to leave their house, at this point Fatima offered them a place to live. Phule and Fatima set up a school together for marginalized women. Their fight continued against Savarna norms and Islamophobia altogether.
Tarabai Shinde (1850-1910)
Defying every Hindu patriarchal belief, she was a feminist activist who voiced against caste evils and prejudices. 'Stri Purush Tulana' (comparison of women and men) was her first publication in Marathi in which she analyses the ingrained disparities between men and women. The text is one of India's modern feminist works. She was also a colleague of the Phule couple and their ideas gave her a platform she required to continue her fight against patriarchy.
Ramabai Ranade (1863-1924)
She established 'Seva Sadan' in Pune and Mumbai to train women to acquire various skills. She was a women's right activist who unfailingly fought to make women self-reliant and economically autonomous. Her personal life experiences gave her the courage to start this training centre. She got married when she was 11 and was not allowed to get an education. Her husband backed her every time and encourages Ranade to study further. Throughout her life, she worked for the welfare of women in marginalized communities.
Dr Vina Mazumdar, another activist, spent her life understanding the stereotypical patriarchal practices affecting women's lives across India. She was one of the first women to get involved in the movements of women's activism and women's studies. Her views firmly showed that there is a lack of acknowledgment of the inequality experienced by the underprivileged women in India and around the world. She became the founding member of the Indian Association of Women's Studies in 1982 and it is conducting numerous national conferences on women issues till date.
Important Books:
Post-1970s, the Dalit Panther's movement, and Ambedkrites together set forth the journey of a new Marathi genre which marked the rise of many excellent Dalit women writers. In their works, they explicitly showed caste and gender oppression.
They have contributed immensely to Indian Literature as well as in amplifying Dalit voices.
Shantabai Kamble – Majya Jalmachi Chittarkatha, the first novel by a Dalit woman.
Bama Faustina Susairaj – 'Karukku'(1992), a Tamil autobiography explaining a Dalit child experiences
Yashica Dutt – She wrote a memoir known as 'Coming out as Dalit' ad shared her life happenings as a Dalit.
Urmila Pawar – 'Aaidan' (1988) which was translated in English as 'The Weave of My Life: A Dalit Woman's Memoir'. Her other works are 'We also made history- women in the Ambedkarite movement' and 'Motheriwit'
Sivakami – Anandhayi/The Taming of Women
Gogu Shyamala – 'Father may be an elephant and mother only a small basket but..', collection of short stories. Her other non-fiction works are Nene Balaanni: T.N.Sadalakshmi bathuku katha, Gender Consciousness in Dalit Women's Literature and Vaada pillala kathalu.
Vijila Chirappad – Adukala Illathaa Veedu(A Home without a Kitchen), Amma, Pakarthi Ezhuthu and Oru Kalpanika Kavitha Alla (Mother is not a Poetic Figment of our Imagination), are her collective poems portraying hardships faced in Dalit life.
Babytai Kamble – Jina Amacha/The Prisons, a book showing the vulnerable condition of Dalit women of Mahar community.
Conclusion:
Concluding the aforementioned facts, I believe that the liberation project of Dalit feminism and viewpoint cannot occur unless it is adopted by the upper-caste feminists too. Uma Chakravarty, V. Geetha, and Sharmila Rege are some of the many feminists who provide us with the fact that Dalit women should not only be the ones to question the oppressive caste structures. The non-Dalit feminists, from their positions in the society and lived experiences, should critically examine the caste structure. I, however, do not intent to say that non-Dalit feminists do not speak on behalf of the struggles of Dalit women. I simply want to say that all womxn are exploited at different levels by caste as a structure. Considering this statement will not only help and guide womxn from all walks of life and strata to be better allies to Dalit feminism but will also help to evaluate the different degrees and measures of caste-based oppression, and how they are victims of this oppressive caste hierarchy and structure.
References:
https://www.epw.in/engage/discussion/caste-and-gender
https://www.youthkiawaaz.com/2020/11/dalit-feminism-exploring-the-intersectionality-of-caste-and-gender/
Towards A Dalit Feminist Standpoint – The Emancipatory Project For All Womxn
http://164.100.47.193/fileupload/current/113573.pdf