Trade Unions or labour unions can be described as a form of workplace association that is created along the lines of concern regarding wages, benefits, political and social power enhancement, and is created by a community of workers in a particular trade or association. One of the main principles utilised by unions as a whole is to implement the concept of collective bargaining which allows them to put forward their demands in an organised fashion. The rise of trade unions have often been recognised to grown synonymously to the labour movements taking place across the world. Worker's unions begun to emerge with the onset of industrialisation and have thus been able to bring together the collective demands of the workers at the forefront through the formation of these unions. In India specifically, the emergence of trade unions begun to rise after World War. This article will incorporate everything one wishes to know about the trade unions of India. It entails the history, roles, functions, objectives, the challenges trade unions face, types of trade unions.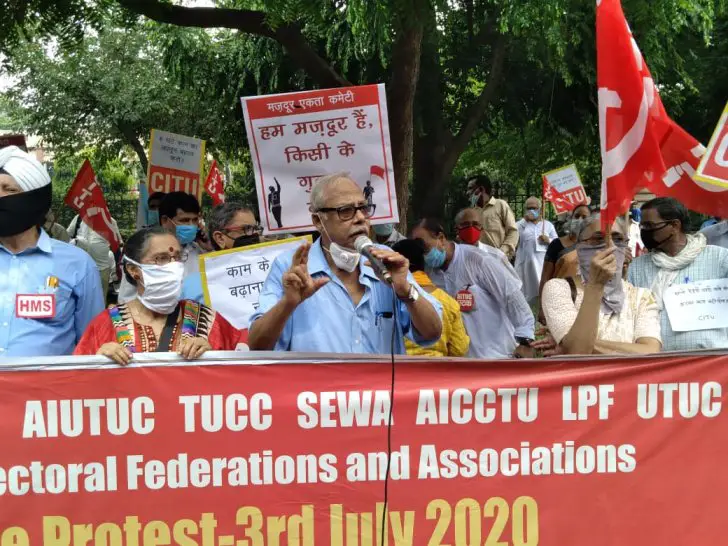 Evolution of Trade Unions
The evolution of trade unions kickstarted around 19th century Great Britain, other parts of Europe and the USA. With the rising number of factories a sense of 'economic activism' begun to spread among the workers. What started as an attempt to secure better rights for the workers slowly begun to morph itself into statutes and legal representation. The popularity of this institution begun to question the pre-existing legalities in places like the conspiracy statutes and restraint of trade laws establishing overarching organisations like the National Labour Union in the United States of America and newer laws like the Trade Reform Act of Britain which gave representation to the vast diversity of workers who were being directly affected by the state of the economy and were involved in the production process.
In India specifically the formation of a Labour Union, in the modern sense began after the first World War. The earliest trade union was formed in the year 1851 and eventually, by the year 1854 Calcutta saw the rise of several trade unions and most of these activities were catalysed by Shorabji Shapuri Bengali and C.P. Mazumdar. Narayan Meghji Lokhande is another notable name when it comes to contributing to the evolution of trade unions in India who signed the memorandum which was created by the Second Trade Commission and became the first officially recognised trade union leader of India.
BP Wadia is also another figure who contributed to the trade union history of the country. Wadia was an ex-member of the Indian Home Rule League and the president of five trade unions of Madras and spearheaded the movement by highlighting the issue of wage slavery and bring about higher wages for the workers.
Eventually, the formation of the ILO (International Labour Organization) was instrumental in shaping the trade scenario across the world and then it led to the formation of AITUC (All India Trade Union Congress) and Lala Lajpat Rai was a pioneer and went ahead to become the first president of AITUC.
After gaining much-needed attention, trade unionism has flourished in India. Trade Unions have come a long way. From a mere 191 in 1934 to a massive 11556 in 2013, according to the Labor Bureau.
Concepts
With the onset of Industrialisation, more factories began to be set up and mass production began to take place thus employing a great number of people who constituted the working class. This class essentially were involved in the factory and possessed skills to create, accumulate and finish the final product. Eventually with the rise of factories a sense of community feeling begun to be formed within the workers who had similar concerns regarding wages, healthcare and working hours and thus gave rise to the notion of 'collective bargaining' where they could approach the managers demanding better conditions as not a single person but everyone faced similar issues.
Another key underlying concept so as to why trade unions were formed is to 'regulate' the relationship between the workers and the employers. It provides a channel through which one may formally reach out to the employer and put forth their demands. It is also aimed at 'improving the relationship between the two parties and guarantee a reality check among the people who are working and the people who are paying them. The union acts as an important aspect of ensuring that the grievance redressal system is within the place and there is a representative body to hold up these issues.
Types of Trade Unions
Although there can be many types of trade unions, however, there 5 common trade unions and are as follows:-
Craft Union- Workers belonging to the same specialized skill. Here, the determinant factor is occupation and not the workplace. Their membership in a union is based on collective conscience which enables them to work as a unifying force within the society. For instance, Musician Unions.
 Industrial Union- As the name suggests, workers form a union based on the same industry. For example, members of cement in Industry situated in Bihar can be members of a union that has its origins in Gujarat. For instance, a Miners Union
General Union- A union that does not have any compulsions to become a member, General Union is open to all. For example, Jamshedpur Labor Union has members hailing from diverse occupations. The Indian Nation Trade Union Congress (INTUC) is an example of a general union.
Federations- This is an all-India aggregative union. A national federation, this organization consists of local trade unions.
White Collars Union- For the so-called 'white-collar' (professionals with a reputed job) people performing the same or similar tasks across the country. For example, the National Union of Teachers.
Main objectives 
When a trade union is established, it has objectives that are agreed upon by every member of the group. Objectives, here, can be viewed as problems that have drawn the union's attention and would strive to change it. Different trade unions have different objectives but some grievances are common to all trade unions.
Wages and Salaries- A trade union undertakes this responsibility and aims for improved salaries. The prevalence of negotiating for a better wage is more in the organizing sector. Mostly, the demands of trade unions are met.
Working Conditions: One chief objective that every trade union works for is the overall wellbeing and health of the workers. The trade unions demand basic facilities such as lighting, ventilation, sanitation, access to safe drinking water, and most importantly safety equipment when carrying out hazardous duties. Furthermore, unions also enlist minimum working hours, a right to leave with pay, social security among many other welfare measures. Very often workers carry out their work in cramped up places with little or no ventilation. For example, GAP (Clothing brand) sweatshops that came under scrutiny.
Discipline- Apart from economic benefits that a trade union aspires to achieve, discipline is equally important. The trade union protects workers from the clutches of the employer. It leads to victimization of workers that are in the form transfers and even dismissals. The overuse of power is extremely prevalent in the unorganized sector since there is a redressal of complaint, unlike the formal sector.  The worker has the backing of the union. It further explains the injustice carried out by management and fights the organization that has targeted the worker.
Recruitment Policies- The union keeps an eye on the proper implementation of recruit that is based on equality. They also ensure that the transfers or selection are not based on the identity of the person. For example, caste and class.
A healthy working environment- Apart from working conditions, a pleasant employee-employer relation is indispensable for industrial peace. However, the hierarchy makes this scenario very challenging to achieve. Being the representative of workers, a trade union tirelessly carries out meetings and negotiations in a bid to promote a harmonious relationship between the two.
Also Read: Labour Laws in India
Functions of Trade Unions
There are quite a few functions performed by a trade union and these can be classified into 3 broad categories.
1.) Militant functions: Activities performed by trade unions leads to better opportunities for workers. The main aim is to get better working conditions and a reasonable salary for the work. It is important to know that the demands put forth by the union aren't always met easily. When a union fails to accomplish these objectives through negotiations and dialogue, they resort to agitations in the form of strikes and gherao. It is because of these agitations, that it is termed as militant functions of a trade union.
A striking example of the militant function is that of Maruti Suzuki Udyog Ltd. A skirmish broke out between workers and the manager, with the latter being burnt alive. Within a couple of days, the company fired all its workers, However, there were workers who were not part of the incident. Those workers resorted to a hunger strike demanding to reinstate them. The Maruti Udyog Kamgar Union has supported the workers and represented their case in the state labor department.
2.) Fraternal Functions: Unions also try to foster cooperation and attempts inculcate to education and culture among their members. Boosting their morale and self-confidence are objectives that are at the top of the priority list. Unions also try to give education to children. Although, this depends on the funds it receives and donations from outsiders.
3.) Social Function: A trade union doesn't restrict itself to economic betterment and a decent wage. They also undertake social activities and providing a variety of services to members.
a) Welfare Activities: This aspect aims to improve the quality of work-life, educating the workers about the importance of mutual funds, and organizing cultural programs. Furthermore, they also entail training of women so that they become self-reliant.
b) Education: Apart from providing education to children, unions also educated the workers. Here, education centers around the quality of work, the environment they work in, and their rights and responsibilities, whilst endorsing transparency.
c) Publishing Periodicals: Speaking of transparency, publishing periodicals does exactly that. Union, in the form of magazine and newsletters, inform the members about its policy as well as its stance on particular issues. An extremely salient feature, this nurtures the relationship between the members and the trade union.
What do unions do
In order to achieve the desired goals, trade unions in India adopt a variety of methods. These include collective bargaining which refers to negotiations between a group of employees and employers to regulate working salaries and improve working conditions. Other methods incorporated by unions are direct action, political action, and legal enactment to secure benefits for workers.
There are two main viewpoints of the methods used by trade unions. The first viewpoint is the Monopoly view that alleges that trade unions are prime determinants due to which distortion in society occurs. The monopoly view claims that trade unions want a wage increase beyond the market level. The other school of thought is the Voice Model which appreciates the work trade unions do. It firmly believes that unions are responsible for the smooth functioning of the firms. The voice model also supports trade unions as they ensure a healthy working relationship between the workers and the employee.
Since the commencement of trade unionism in India, they have played a pivotal role in the lives of its members. They are representatives of the workers who are extremely efficient in articulating the grievances of its members. With policies in place, trade unions are precise in their demands and provide valid reasons as to why their demands should be fulfilled by the authority or employer.
Advantages of a Trade Union:
Now that we're familiar with the work trade unions carry out, it is imperative to shed light on the advantages that they have with respect to workers.
1. Firstly, Now that trade unions strive for higher wages, it is safe to say that trade unions are also responsible for increased productivity. If workers feel that they get a higher wage they are motivated to work resulting in efficiency and high productivity.
2. Secondly, unions serve as a platform that helps their members in diverse ways. It protects them from exploitation and other discriminatory practices exercised by the employer.
3. Thirdly, just like pressure groups in the political arena, trade unions keep an eye on and ensure that the firm doesn't miss use its power. It further ensures that the complaints of workers are considered and rectified at the earliest.
4. Lastly, it reduces inequality since it questions the basis of employment. It demands legitimacy on the recruitment process and assures zero-tolerance against discriminatory practices.
 Challenges faced by them:
1.) Financial weakness- A matter of grave concern. Financial weakness hampers the development of a trade union and that, in turn, affects the development of the workers. This is primarily because of the poverty of workers and is apathetic towards the contribution to the union. Lack of financial backing can make a union very vulnerable.
2.) Leadership Issue- It refers to the leadership by an outsider. For instance, a union-backed by a political party. In this case, a trade union is driven by an intellectual rather than a worker from the union itself.
3.) Statutory Support- According to the trade union act, 7 members to come together can form a union. This gives a rise to the creation of many unions which eventually goes against trade unionism and the unity of workers.
Problems of Trade Unions in India
One of the problems faced by the Indian trade unions is how most of the uprisings and demands put forth by the trade unions are by small groups and thus this undermines their bargaining power which acts as a key function. Financial funding for these trade unions is also significantly low and this disables them to undertake any sort of welfare activities. Low membership to most of the trade unions also acts as a deterrent factor couples with adequate educational or legal knowledge makes trade unions another battlefield of conflicts. There are also significant differences in recognising unionism in specific sectors and it is not evenly distributed across different industries and sectors. For example- 51% in mining, 37% in transport, and 33% of union activity take place in these sectors (Gupta, 2013).
There are also several social causes like inter-union rivalry, leadership issues and politicisation of trade union issues which has proven to be a hindrance to the growth and development of trade unions in the nation. There have been cases where people have been accused of not complying with the union guidelines and conflicts. R G D'Souza versus Poona Employees Union, emerging from competition between them and the Bhartiya Kamgar Sena. The registrar at the centre of worker's organizations dropped the Poona union on a grumbling of a working chief who affirmed that the enrollment was acquired by misrepresentation. The industrial court and the Bombay High Court did not adhere to that request. The Supreme Court maintained the high court request. (Antony, 2014)
While these are issues that have been detrimental to the growth of a healthy front of trade unions in India, the COVID-19 pandemic has caused even more problems especially in terms of worker's layoffs and new situations involving social distancing. Recent studies from the MRD Report suggests that across the nation almost 40 million workers have been laid off. To tackle the crisis at hand, the centre has come up with three laws namely- Occupational Safety, Health and Working Conditions Code, 2020; Industrial Relations Code, 2020; and Code on Social Security, 2020. These three acts attempt to accumulate around 25 central labour laws and their salient features include universalising minimum wage and prioritise occupational safety. While there were strides to accommodate the worker's interest in these times of crisis there are also problems that have risen at the state level. Uttar Pradesh has suspended nearly 36 laws that adhere to the Factories Act of 1948 and thus proved to be a violation of the Tripartite Consultations (International Labour Standards) Convention, 1976. India is a founder member of this Convention and in this attempt has put India's position in a questionable position.
 Prominent trade unions in India.
All India Trade Union Congress (AITUC)
Indian National Trade Union Congress (INTUC)
Bhartiya Mazdoor Sangh
Centre of Indian Trade Unions (CITU)
Hind Mazdoor Sabha
Self Employed Women's Association Of India (SEWA)
Trade Union Coordination Center
All India Central Council of Trade Union
Acts recognising Trade Unions in India
Indian Trade Union Act, 1926- Section 2(h) of the Trade Union Act,1926 defines the term 'trade union as- "Any combination, whether temporary or permanent, formed primarily for the purpose of regulating the relation between workman and workmen or between employers, or for imposing restrictive conditions on the conduct of any trade or business, and includes any federation of two or more trade unions."
Right to form a Trade Union- Right to form a trade union is guaranteed by the Consitution under Article 19(1)(c) but is also subjected to reasonable restriction in the public interest as provided by Article 19(1)(6).
While these are core laws regarding Trade Unions these are not the only ones affecting the worker's lives. Other ancillary laws such as Industrial Relations Code Bill and The Code on Wages are also important laws that have defined the lives of Union workers. The Industrial Relations Code Bill is essential for more extensive government endeavours to smooth out and improve on the plenty of existing and covering work laws by making four work codes – each on compensation, industrial relations, social security aide and word related security, wellbeing and working conditions while the Code on Wages ensures timely payment of wages and creates adequate provision for bonuses to be added.
Another pioneering law that ensured females be a part of the workforce was the Sexual Harassment of Women at Workplace (Prevention, Prohibition and Redressal) Act, 2013 which came up with provisions for women to lodge complaints and set into place a grievance redressal system ensuring their safety at the workplace.
Emerging Role of Trade Unions in India
Worker's organizations in India have developed since we have attained freedom. According to information acquired from the Labor Bureau, the all outnumber of enrolled worker's organizations the nation over numbered to 11556 out of 2013 and the normal participation per association was 1283. In the midst of the verifiable truth that the level of unionism isn't high in India, the convergence of organization enrollment is high in basic areas like banking, insurance, railroads, postal administrations, ports, telecoms and force.  Also, in late many years, the concept of political associations has been tested by the development of big business associations. The predominance of the Liberalization, Privatization and Globalization (LPG) model in India since 1991, alongside the different work adaptability estimates received by bosses, and the decrease in positions in the coordinated area are making difficulties to associations, which are likewise at the same time, giving freedoms to rebuild the association development.
The changing role of trade unions also needs to be acknowledged. Not only are unions focused along the lines of simply micro issues regarding labour rights but also a labour's place in a globalised world. The development of a worker's representation from a purely economic to an entrepreneurial role needs to be acknowledged at both a macro and micro level. For that one of the foremost step should be to come up with consolidated minimum agendas which shall act as a driving force for different unions keeping in mind their purpose and the government's role should be there to act as a catalyst to provide more forums for social dialogue.
– BY SRIMOYEE BISWAS AND VEER SHARMA