Trade unions, also known as labor unions are organizations that are primarily formed by workers that work for the betterment of them and are representatives of their interests. On behalf of the workers, a trade union addresses various Issues. For instance, deserved pay, healthy working conditions, manageable work hours, and other benefits. The act as mediators between the management and the workers.  This article will incorporate everything one wishes to know about the trade unions of India. It entails the history, roles, functions, it's objectives, the challenges trade unions face, types of trade unions, and also highlight their work.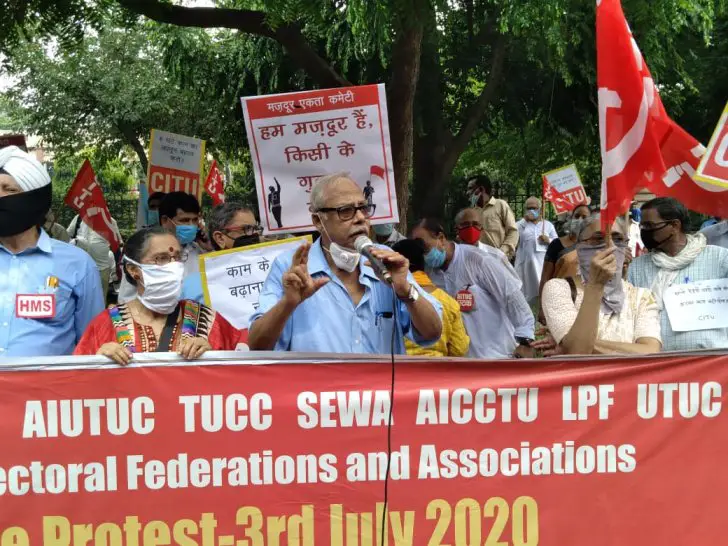 Historical Perspective: The advent of trade unions in India started in the 19th century. The disreputable working conditions and the plight of the working class caught the attention of social activists. The first trade union that came into being was in Bombay (now Mumbai) as early as 1851. Gradually, trade unions also sprang up other parts of the country, like in Calcutta (1854).
The first factory commission was established in 1879 and twelve years later, we see the first factory act. The second factory commission was set up in the year in 1884, in which an epistle was signed by Narayan Meghji Lokhande also known as the father of the trade union movement in India. Subsequently, Lokhande emerged as the first trade union leader of India. The first agitation saw nearly 10,000 people where 2 women wanted Sunday as an off day. A memorandum for the same that eventually got accepted. Under the wings of Narayan Meghji Lokhande, the first trade union triumph was achieved in a very short period of time.
Drawing inspiration from the victory, other trade unions came into existence in other parts of the country. The labor movement galloped forward, gaining momentum. The Madras Labor Union was formed in 1918 with B.P. Wadia as the president. An eminent personality, Wadia propagated that the movement would work towards abolishing wage slavery altogether while getting higher wages is a small fraction of the entire agenda.
Read: History of Slavery 
In the year 1921, M.N. Joshi, a very important figure in Indian trade union history convinced the government to pass his resolution on the registration and protection of trade unions. After much deliberation, the Trade Unions Act of 1926 was enacted.
After gaining much-needed attention, trade unionism has flourished in India. Trade Unions have come a long way. From a mere 191 in 1934 to a massive 11556 in 2013, according to the Labor Bureau.
Types of Trade Unions in India
Although there can be many types of trade unions, however, there 5 common trade unions and are as follows:-
Craft Union- Workers belonging to the same specialized skill. Here, the determinant factor is the occupation and not the workplace. Their membership in a union is based on collective conscience which enables them to work as a unifying force within the society. For instance, Musician Unions.
 Industrial Union- As the name suggests, workers form a union based on the same industry. For example, members of cement in Industry situated in Bihar can be members of a union that has its origins in Gujarat. For instance, a Miners Union
General Union- A union that does not have any compulsions to become a member, General Union is open to all. For example, Jamshedpur Labor Union has members hailing from diverse occupations. The Indian Nation Trade Union Congress (INTUC) is an example of a general union.
Federations- This is an all-India aggregative union. A national federation, this organization consists of local trade unions.
White Collars Union- For the so-called 'white-collar' (professionals with a reputed job) people performing the same or similar tasks across the country. For example, the National Union of Teachers.
Main objectives of trade unions
When a trade union is established, it has objectives that are agreed upon by every member of the group. Objectives, here, can be viewed as problems that have drawn the union's attention and would strive to change it. Different trade unions have different objectives but some grievances are common to all trade unions.
Wages and Salaries- A trade union undertakes this responsibility and aims for improved salaries. The prevalence of negotiating for a better wage is more in the organizing sector. Mostly, the demands of trade unions are met.
Working Conditions: One chief objective that every trade union works for is the overall wellbeing and health of the workers. The trade unions demand basic facilities such as lighting, ventilation, sanitation, access to safe drinking water, and most importantly safety equipment when carrying out hazardous duties. Furthermore, unions also enlist minimum working hours, a right to leave with pay, social security among many other welfare measures. Very often workers carry out their work in cramped up places with little or no ventilation. For example, GAP (Clothing brand) sweatshops that came under scrutiny.
Discipline- Apart from economic benefits that a trade union aspires to achieve, discipline is equally important. The trade union protects workers from the clutches of the employer. It leads to victimization of workers that are in the form transfers and even dismissals. The overuse of power is extremely prevalent in the unorganized sector since there is a redressal of complaint, unlike the formal sector.  The worker has the backing of the union. It further explains the injustice carried out by management and fights the organization that has targeted the worker.
Recruitment Policies- The union keeps an eye on the proper implementation of recruit that is based on equality. They also ensure that the transfers or selection are not based on the identity of the person. For example, caste and class.
A healthy working environment- Apart from working conditions, a pleasant employee-employer relation is indispensable for industrial peace. However, the hierarchy makes this scenario very challenging to achieve. Being the representative of workers, a trade union tirelessly carries out meetings and negotiations in a bid to promote a harmonious relationship between the two.
Functions of Trade Unions
There are quite a few functions performed by a trade union and these can be classified into 3 broad categories.
1.) Militant functions: Activities performed by trade unions leads to better opportunities for workers. The main aim is to get better working conditions and a reasonable salary for the work. It is important to know that the demands put forth by the union aren't always met easily. When a union fails to accomplish these objectives through negotiations and dialogue, they resort to agitations in the form of strikes and gherao. It is because of these agitations, that it is termed as militant functions of a trade union.
A striking example of the militant function is that of Maruti Suzuki Udyog Ltd. A skirmish broke out between workers and the manager, with the latter being burnt alive. Within a couple of days, the company fired all its workers, However, there were workers who were not part of the incident. Those workers resorted to a hunger strike demanding to reinstate them. The Maruti Udyog Kamgar Union have supported the workers and represented their case in the state labor department.
2.) Fraternal Functions: Unions also try to foster cooperation and attempts inculcate to education and culture among their members. Boosting their morale and self-confidence are objectives that are at the top of the priority list. Unions also try to give education to children. Although, this depends on the funds it receives and donations from outsiders.
3.) Social Function: A trade union doesn't restrict itself to economic betterment and a decent wage. They also undertake social activities and providing a variety of services to members.
a) Welfare Activities: This aspect aims to improve the quality of work-life, educating the workers about the importance of mutual funds, and organizing cultural programs. Furthermore, they also entail training of women so that they become self-reliant.
b) Education: Apart from providing education to children, unions also educated the workers. Here, education centers around the quality of work, the environment they work in, and their rights and responsibilities, whilst endorsing transparency.
c) Publishing Periodicals: Speaking of transparency, publishing periodicals does exactly that. Union, in the form of magazine and newsletters, inform the members about its policy as well as its stance on particular issues. An extremely salient feature, this nurtures the relationship between the members and the trade union.
What do unions do
In order to achieve the desired goals, trade unions in India adopt a variety of methods. These include collective bargaining which refers to negotiations between a group of employees and employers to regulate working salaries and improve working conditions. Other methods incorporated by unions are direct action, political action, and legal enactment to secure benefits for workers.
There are two main viewpoints of the methods used by trade unions. The first viewpoint is the Monopoly view that alleges that trade unions are prime determinants due to which distortion in society occurs. The monopoly view claims that trade unions want a wage increase beyond the market level. The other school of thought is the Voice Model which appreciates the work trade unions do. It firmly believes that unions are responsible for the smooth functioning of the firms. The voice model also supports trade unions as they ensure a healthy working relationship between the workers and the employee.
Since the commencement of trade unionism in India, they have played a pivotal role in the lives of its members. They are representatives of the workers who are extremely efficient in articulating the grievances of its members. With policies in place, trade unions are precise in their demands and provide valid reasons as to why their demands should be fulfilled by the authority or employer.
Advantages of a Trade Union:
Now that we're familiar with the work trade unions carry out, it is imperative to shed light on advantages that they have with respect to workers.
Firstly, Now that they trade unions strive for higher wages, it is safe to say that trade unions are also responsible for increased productivity. If workers feel that they get a higher wage they are motivated to work resulting in efficiency and high productivity.
Secondly, unions serve as a platform that helps its members in diverse ways. It protects them exploitation and other discriminatory practices exercised by the employer.
Thirdly, just like pressure groups in the political arena, trade unions keep an eye and ensure that the firm doesn't miss use its power. It further ensures that the complaints of workers are considered and rectified at the earliest.
Lastly, it reduces inequality since it questions the basis of employment. It demands legitimacy on the recruitment process and assures zero-tolerance against discriminatory practices.
 Challenges faced by trade unions:
1.) Financial weakness- A matter of grave concern. Financial weakness hampers the development of a trade union and that, in turn, affects the development of the workers. This is primarily because of the poverty of workers and is apathetic towards the contribution to the union. Lack of financial backing can make a union very vulnerable.
2.) Leadership Issue- It refers to the leadership by an outsider. For instance, a union-backed by a political party. In this case, a trade union is driven by an intellectual rather than a worker from the union itself.
3.) Statutory Support- According to the trade union act, 7 members to come together can form a union. This gives a rise to the creation of many unions which eventually goes against trade unionism and the unity of workers.
Lastly, let's have a look at the prominent trade unions in India.
All India Trade Union Congress (AITUC)
Indian National Trade Union Congress (INTUC)
Bhartiya Mazdoor Sangh
Centre of Indian Trade Unions (CITU)
Hind Mazdoor Sabha
Self Employed Women's Association Of India (SEWA)
Trade Union Coordination Center
All India Central Council of Trade Union
References
1.) https://www.hilarispublisher.com/open-access/the-21st-century-trade-union-challenges-in-india-2168-9601.1000104.pdf
2.) https://www.ukessays.com/essays/commerce/understanding-the-objectives-of-trade-unions-commerce-essay.php
3.) Trade Unions in Asia: An economic and sociological analysis.
The Sociology Group is now on Instagram, Follow us