Malgudi School Days: This was a splendid read and took me about eight hours to finish. This is a classic, you don't have to be a child to relate to it. Through my book review, I will be talking about the author, my favourite character and a critical analysis of a few parts. I will also be providing a summary of the book.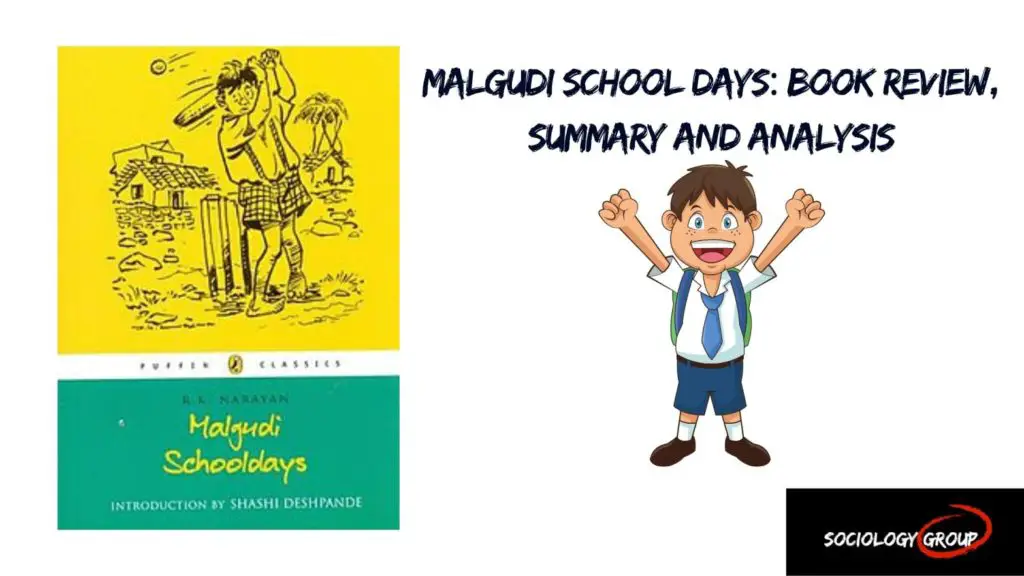 About the Malgudi School days Book Author:  R. K. Narayan
Rasipuram Krishnaswami Iyer Narayanaswami was born on 10 October 1906. He is the brother of famous cartoonist R.K Laxman and is famous for his short stories set in the town of South India called Malgudi. He has authored three books, all three have been very famous including semi-autobiographical Swami and Friends, The English Teacher, and The Bachelor of Arts. His other book The Guide was also a famous one, which went on to win the Sahitya Academy Award and was also adapted for a film, winning the Filmfare Award for Best Film.
Read: RK NARAYAN: Biography and Books
A Summary of the Malgudi School Days Book
Swami and Friends are the first of a trilogy set in a fictional town of South India called Malgudi. The plot revolves around Swami, a demure yet outspoken boy, and his two friends Rajam- The boy who everyone looks up to in class and Mani- the big bruiser who everyone fears. They get involved in various adventures as they roam around the town trying to find things to do.
"He shuddered at the very thought of school" The opening lines of the book give us an account of how much he abhors school life. The first chapter gives us an account of the Albert Mission School and its teachers. Mr Pillai, the history teacher is a crowd favourite whereas Ebenezer, the scriptures teacher is disliked by everyone including Swami. The scriptures master detests Hindu gods, which angers Swami's father who then writes a letter to the headmaster referring to the alienation that the Hindu boys of the class feel when Ebenezer bashes Krishna. This chapter introduces us to Mani. Mani is huge and his brawn outshines his brains. His other friends include Somu, Samuel, and Sankar.
The second chapter marks the entry of the new boy in a class called Rajam. Rajam is the son of a wealthy superintendent. Mani declares Rajam as his rival. After Swami mediates between both of them, they become the best of friends and hang around in a trio. Swami talks incessantly to his family about Rajam. "Oh, granny you don't know what a great fellow Rajam is!" Swami exclaims. His continuous flattery and adulation for Rajam leads to him being called "Rajam's Tail" by his other classmates including Somu Sankar and Samuel. This results in an ugly spat. Rajam to reconcile his classmates calls all of them over for lunch to his magnificent house and offers them a gift if they will make peace with each other.
"Say, Pea," Swami tells Samuel "I got a brother this morning" which highlights how children are unable to understand how babies arrive. Shubbhu his new baby brother has entered the world.
Then comes examination fever, Swami rushes to complete his chapters on decimal, read his lessons again, etc. On the last day of the examination, students are filled with joy, they know that they have a few days to relax and have fun Swami. But all is not so jovial and happy when it comes to the national arena. India is waging a nonviolent war against the British. The boys also decided to join the Freedom Movement and participate in the National boycott of foreign clothes. Swami gets so carried away that he throws a stone at the window of the school. This gets him shifted to another school which is the Board school, he is separated from all his friends and he is despondent.
The second segment marks the maturity of Swami. Now he and his friends have decided to form the Malgudi Cricket Club. Swami has established himself as a great bowler and he is fondly called Maurice Tate. Swami soon gets himself in trouble with the headmaster over The MCC and has to run away from school fearing punishment. Swami manages to reach a forest and is very tired and forlorn. A Forest officer finds Swami and takes care of him. Rajam's father can't find Swami. As soon as Swami returns to Malgudi, he is greeted with sad news as he realizes that Rajam is leaving the town, who is also very angry at Swami for running away on the day of their match. Swami runs to the train station to give his friend a parting present which is a book of fairytales. However, Rajam accepts the present but still doesn't say a word to Swami. "Oh rajam, you are going away? When will you be back" When Rajam finally opens his mouth to say something, it's too late, the train has already left the platform. Mani promises Swami that Rajam told him that he would write to him. But Swami isn't sure. This is like a childhood friendship, which when the time comes, has to end.
Analysis of the Malgudi School Days Book
The beginning of the book automatically alerts you to what this story is going to be about. You get to know that this story is specifically revolving around Swami, a boy from a town called Malgudi who hates school. Swami is an upper-caste vegetarian Brahmin, no doubt. His identity is highlighted in the chapter where he raises his voice against Ebenezer, his scriptures master when Ebenezer glorifies Jesus. As a Brahmin boy, he is unable to take in the fact that Jesus, who eats meat and drinks wine, is worshipped as a god over and above the great Krishna.
K Narayan seeks to fulfil another purpose with his book and doesn't restrict it to just a schoolboy narrative. He tries to focus on the post-colonization changes throughout the book as he mentions the boys' participation in the National Boycott. The line "Young man, do you want our country to remain in eternal slavery?" is significant. This reminds Swami, a middle schooler, that despite his age, he has a few obligations towards his country. Since he is wearing a foreign cap, he removes it and throws it in the fire.
Swami goes till the length of shouting out loud "We will spit on the police" when the headmaster of Board High school is unwilling to participate in the strike. Swami gets so angry that he even manages to throw a stone at the glass window of the school which shatters into a million pieces. When his father reprimands Swami for behaving like this, we see a form of social control being administered on children and students, disallowing them to enter the realms of politics because they are "too young". It is a reflection of how most elders are aloof of the idea of children expressing dissent.
Narayan also tries to subtly hint at the attitude most Hindus had towards Muslims. When Rajam arrives at swami's house, Swami is seen fiddling with a camera made by a Muslim boy in his class called Akbar Ali. Sensing Rajam's disapproval of his new friend, Swami tries to explain himself. He says that Akbar Ali is a "very fine Mohammedan, calls Mohammed of Ghazni and Aurangzeb rascals." The next line from Rajam which is "what makes you think they were rascals?" leaves me a little uncertain about Rajam's opinion on the matter.
All in all, this was a splendid read. I thoroughly enjoyed it. To see a book being written for Indian kids, with native heroes in a familiar social context makes me really happy. Often Indian children resort to books like "What Katy did" to find a frame of reference for their own childhood, but Swami's story offers an Indian alternative to Western novels.
Favourite Character – Swami's Innocent Grandmother
My favourite character is undoubtedly the grandmother. She lived at the end of an ill-ventilated passage between the front hall and the dining room. Swami was a frequent visitor and would often, after his meal, curl up in his granny's lap. She smelt of cardamom and cloves. Her listening abilities and patience know no bound. Swami can go on about Rajam, his schoolmaster, literally, anything under the sun and granny will still listen to him with a lot of attention. She has a really giving nature. She manages to concede to Swami's demand all the time.
Her memory, for her age, is pretty good as she recounts stories of the valor and intelligence of her husband. She tells Swami about how his grandfather got a gold medal for securing the first position in the FA Examination.  Her innocence is bewildering, the way she nods off to sleep in between one of Swami's rendition is indeed endearing. She constantly reminds. Swami about the importance of being a good human being as she narrates stories of Harishchandra. 
Sources
https://en.wikipedia.org/wiki/R._K._Narayan
Malgudi School days by R.K. Narayan – Available on Amazon