Through the analysis of Jyothika's Jackpot
Relevance of female-centric Films 
Female-centric films can be understood as films that follow the lives of women. Recently, the term has come to mean a film with a female lead and a heavy, touching message. These movies are important in our society as they portray empowered women who can fight her own battles. But over time female-centric films are stereotyped as smart, thrilling and message-bearing. I believe that this doesn't portray the fun-filled, humorous side of women, which is much needed in our Indian society (Fully Filmy, 2021).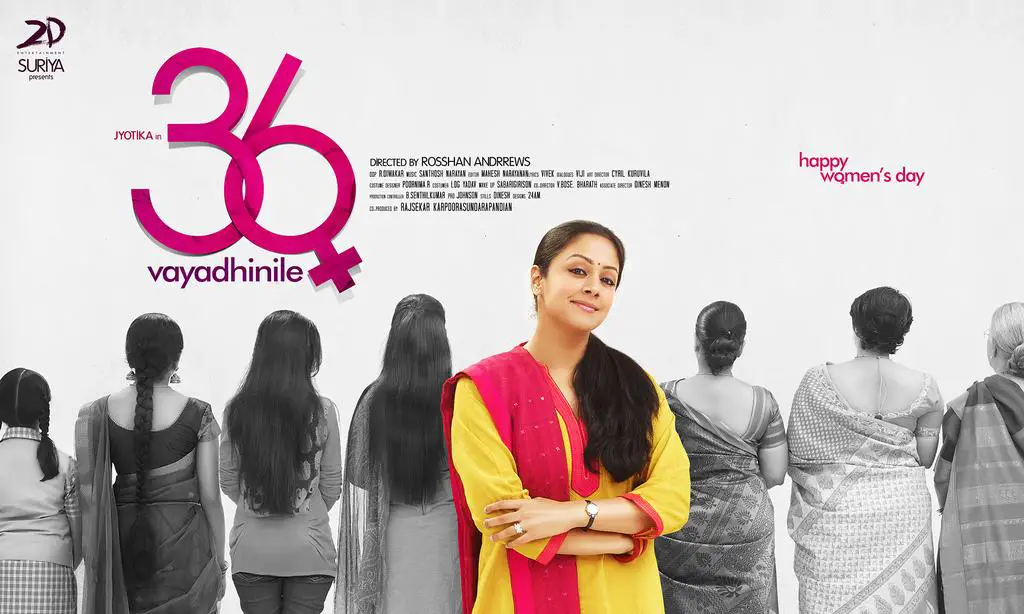 Women, as patriarchy's puppets, have been portrayed as the symbol of virtue, respect and goodness. They usually comprise the good women, the bad, the glamorous ones, and the love-interest, majorly keeping the women in the shadow of men, as a damsel in distress waiting to be rescued or as a person defined by her body to please the hero and the audience. With female-centric films, I wish they weren't stereotyped again into a restricting box. Instead, there can be different types of female-centric films, like thrillers, horror, comedy, romance and relevant for today's Indian film industry, commercial films. The very definition of commercial film is a box-office hit and is hence targeted at everyone, with a little bit of humour, romance, fights, dance, songs and more. It is an all-inclusive film that aims to entertain. Commercial female-centric films can change the way audience look at women, by including a relaxed yet smart, brave persona which is entertaining for all.
Films are important as they help to shape the society and people's expectations and assumptions. Under media studies, mediatization theory has proven to be essential as human interactions and lives are bound more with media every day. The theory, which is still evolving and researched on, undoubtedly points at the impact of media on its audience. It has the power to mould political, social and cultural ideologies and perceptions, where it has a stronger hold with repeated exposure (Corner, 2018). This is important to keep in mind while discussing films as they construct notions of patriarchy, romance, right and wrong, exaggerated machoness and the idea of women. Films that mirror some realities and set achievable utopian standards must be encouraged as they can motivate and guide people, usually unconsciously towards these ideals. Hence, commercial female-centric films are important to society to emphasise on the strengths of women, their intelligence, bravery, decision making and importantly, their fun and relaxed nature. In this essay, we will be looking at actor Jyothika and her most recent commercial female-centric film, Jackpot (2019) to understand the relevance of this film genre.
Background of Actor Jyothika
Actor Jyothika is known across the Tamil film industry for her bubbly charm and smiling, happy characters. Introduced in 1999, she has played various roles as heroines, once an intriguing anti-hero and various other characters. Recognised for her work in Kushi (2000), she plays characters who are smart, and intelligent and spread happiness. Interestingly, she hasn't played many glamourous roles, sticking to her positive demeanour. Post her wedding to actor Suriya, she made her comeback in 2015 with a female-centric film that received much appreciation for the role, message and the return of the actor herself. Ever since, she has acted in 8 more films, of which 6 are female-centric films. With the shift of focus, she has acted in an array of characters, portraying women from diverse backgrounds who are strong, bold and smart.
Interestingly, Jyothika has acted in two female-centric films before her comeback and the onset of the trend. Snegithiye (Priyadarshan, 2000), featuring Jyothika, Sharbani Mukherjee, Tabu and Ishita Arun got a positive review despite poor performances in the box-office and has a rating of 6.6 in IMDB. and Three Roses (Paramesh, 2003), starring Jyothika, Rambha and Laila, wasn't well-received and had a lot of technical difficulties due to constant delays and cast changes. It has a rating of 4.7 in IMDB. These movies weren't box-office hits as the concept was new, where women are strong and fight villains wasn't accepted, though the same is expected from male actors. This is the problem as exaggerated heroism by male actors is normalised. I believe that commercial female-centric films will greatly help to bridge this gap.
Exploring Jackpot
Jackpot (Kalyan, 2019) is a commercial film with an IMDB rating of 5.2, filled with humour, witty lies and smart work. Jyothika and co-star Revathi (another important actor of mid 80s and the 90s with a feminist streak) are con women who are in search of the fabled 'akshaya patra', Caught in the whirlwind of life with multiple characters, they fool, befriend, lie to reach their goal.
The movie saw a confident Jyothika who is smart, spontaneous and can fight beautifully. She is introduced as a hero, with a shimmering introductory credit, her awesome entry in the film or the fast beat introduction song. With a simple storyline, the movie connected the various characters harmoniously, giving each their own persona and space. The best part of the movie, according to me, was that it didn't belittle or threaten the lead women through sexual harassment, directly or indirectly. On the contrary, one of the characters, Manasthan, describes them as 'cunning, smart and unendurable.' He kidnaps the women as they have been blackmailing him and asks them to return the blackmail material. It is obvious here that he fears them and doesn't treat them inferior because they are women. Instead, he hires another goon, alongside his own men to capture them portraying that he knows their strength and wants to counter it.
The film has some mind-blowing fight scenes with well-choreographed sequences that were believable in many instances, especially with some moves inspired by local martial arts. It was a bit challenging at first to come out of the mindset to see exaggerated fights by a woman in films, as it was a little unusual as I have been exposed to few action-packed Hollywood movies where women fight, like Angelina Jolie and the Marvel universe. Nevertheless, it was a refreshing change at the end of the day. Furthermore, it made me wonder how strong movies have bound us to these gendered actions and roles, where despite my awareness, I had to consciously accept the change. Hence, these films are more needed now. They help to normalise these exaggerated filmy moments for all genders over time.
Conclusion
Jackpot is truly relevant for today's age, where film makers are keen to portray women in different lights, giving them the same importance as men. Commercial female-centric films, are hence, much needed to steer the Indian audience away from the sacrificing, chaste women or the glamourous lover, towards a platform where women can joke, fight and live their own lives as heroes, with or without a male actor. Women can be fun, relaxed, chilled, even a robber and will be accepted for it. There won't be double standards where men are accepted as robbers while women are put down based on morals and values. They will be recognised for themselves and not in connection to the men in their lives. This in turn, will create a narrative of women who are bold, strong and fun, exaggerated and filmy as any man.
References:
Corner, John. 2018. "Mediatization: Media Theory's Word of the Decade" Media Theory, May 21, 2018. http://mediatheoryjournal.org/john-corner-mediatization/
Fully Filmy. 2021. "Women in Cinema: Why Should Boys Have all the Fun?" Filmed March 2021. Video. Women in Cinema: Why Should Boys Have all the Fun? I MUBI India | Fully Filmy
Kalyan, S. 2019. Jackpot. Film. India: 2D Entertainment.
Paramesh, Sakthi. 2003. Three Roses. Film. India: Infocus Ltd and Parijay Creators.
Priyadarshan. 2000. Snegithiye. Film. India: Surya Cine Arts.