Indigenous and tribal peoples are often known by national terms such as native peoples, aboriginal peoples, first nations, adivasi, janajati, hunter-gatherers, or hill tribes. Given the diversity of peoples, it aims at protecting, the Convention uses the inclusive terminology of "indigenous and tribal peoples" and ascribes the same set of rights to both groups. In Latin America, for example, the term "tribal" has been applied to certain afro-descendent communities.
TRIBAL COMMUNITIES IN INDIA: 
Inequality in India operates in many aspects but the worst suffering is of India's Tribal People. Indigenous people of India have a very ancient history of their survival in the scarcity of resources. It is a very significant part to study because we are devoid of their real and actual lifestyle, problems and rituals.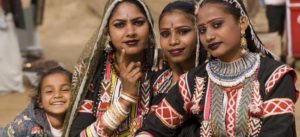 WHAT IS A TRIBE?
There are many laymen and vague definitions for describing a tribe but let us take a look at verified one. From ancient Rome, the term tribe has its origin, where the word Tribus denoted a division within the state.  According to Oxford Advanced Learner's Dictionary, Tribe is a group of people of the same race, and with the same customs, language, religion, etc., living in a particular area and often led by a chief.
TRIBE: IN INDIAN CONTEXT
At present we usually take tribes in comparison with civilization but our history was different. So to study tribes in India, anthropologists go back to ancient or medieval times. There are two approaches evolutionary and historical. Both are prominent as an evolutionary approach is meant to discuss the process of tribal succession with time whereas the historical approach is confined with that exact time. Tribes of India are different on the basis of socio-economic and political development. At present we often regard tribes as mentioned in the Scheduled Tribes list. Most commonly the people living in solitude with localized groups are tribals by Indians. In India, the tribal people have known here as Adivasi a modern Sanskrit word that carries the specific meaning of being the original inhabitants of a given region.
Under Article 342 of the Indian Constitution,1) President of India specify the tribes or tribal communities or parts of or groups within tribes or tribal communities which shall for the purposes of this constitution be deemed to be Scheduled Tribes in relation to that State or Union Territory, as the case may be.
2) Parliament may by law include un or exclude from the list of Scheduled Tribes specified in a notification issued under clause (1) any tribe or tribal community or part of or group within any tribe or tribal community, but to save as aforesaid a notification issued under the said clause shall not be varied by any subsequent notification.
There are over 600 Scheduled Tribes under Article 342.
Caste- Tribe Conflict
Academics are making so many efforts to define tribe but still, there are controversies. The debate often begins when people co-relate caste and tribe. Tribes in India have continuum with caste. Indians relate "janjati" and "jati" together. The basic features of both do not differ so boundaries are always blurred. One reason is that our constitution does not define 'tribe' so there is not any uniform definition among social scientists. Even many colonial writers were unclear about the caste-tribe divide. In reality 'Jan' means people and many mixed castes are often related as tribes by colonial writers. The confusions originate because the tribe also has a subdivision within it. This is an ongoing discussion that still has not reached any conclusion.
Characteristics of Indian Tribes:
In India, the common in all tribes is their definite area. If there is no commonplace for them then they won't get other features like a common language, community, name, rituals, sentiments, territory, etc. This important characteristic helps them to unite together and maintain a sense of unity. It helps to encourage the common culture.
According to Indian Culture, the institution of marriage holds a great significance. Tribal people do not get married outside that always respect their commonality.
People living there always have an organized political authority that looks for their interests and welfare. They fear intrusion that would make their culture impure. The chief actively participates to promote the best for the masses.
The group is egalitarian in nature. The sense of equality among the community should be praised. There is no institution that is based on caste, class or sex. However, the position of chief is higher but tribal people have no sense of discrimination.
They believe in magic and spirits. Taboos are part of their life and largely they trust animism. Worship of spirits with fear and respect is common. They prefer isolated terrains to live in and disregard trespassing in their area
The geographical location of tribes
There are four tribal regions according to anthropologist L.P. Vidyarthi: Himalayan, Middle India, Western India, and Southern India. States and Union Territories having a maximum number of Scheduled Tribes as per the census of 2011 are Lakshadweep with 94.8%, Mizoram with 94.4% and Nagaland with 86.5%. On the contrary, the minimum is in Uttar Pradesh with 0.6%, Tamil Nadu with 1.1% and Bihar with 1.3%. Moreover, there are some states like Punjab, Haryana, Chandigarh, Delhi, and Puducherry which have no population of tribes.
Classification of tribes
To classify tribes we can take the ground of regional or geographical distribution. On regional distribution we can take 5 subcategories:
Northeastern region – The tribes here are the Garo, Kuki, Mizo, Khasi, Monda, Nagas, etc. with regions Assam, Arunachal Pradesh, Mizoram, Nagaland, and Tripura.
The Sub-Himalayan Region – The major tribes here are Gurjar, Gaddi, Theru, Jaunsari, etc.
The Central and East India – With West Bengal, Odisha, Madhya Pradesh and Uttar Pradesh, the tribes are Baiga, Bondo, Joang, Kol, Santhal, Munda, Bhils, Ho, Pahadiya, etc.
South India – The states being Tamil Nadu, Kerala, Andhra Pradesh and Karnataka with tribes Kadar, Tod, Gonds, Chenchu, Koya, etc.
Western India – It includes Rajasthan, Maharashtra and Gujarat and the tribes being Bhils, Gonds, Korku, Koli, Thakar, Warli, Munda, Katkari, Pardhans, Khond, etc.
Apart from this ground, there are two other languages and ethnicity. On language, tribes are divided as Austric Langauge Group, Tibeto-Chinese group, The Dravidian Language group and The Indo-European Language group. Moving further to ethnic roots the division is The Mongoloid Origin, Proto-Austroloid, and The Negrito.
Problems faced by tribal communities:
Even after 73 years of Independence these people perpetually face the problems of both disadvantaged regions and ignorance. If we want to take the deeper picture of inequality our outlook must be deeper into the states where tribal lives. They are deprived and handicapped in terms of income, nutrition, education, infrastructure, health, and governance.
The most depressing trouble is economical condition. They have only small landholdings and hardly practice any occupation. The pieces of their lands are transferred to other nontribal areas that disrupt their only source of living. Even now they are not free to use forest products. They are made to displace from their homes so frequently. For instance, on 12 December 1979, there were widespread protests against Sardar Sarovar Dam Project. Nonetheless, the government decided to increase the height of this dam. To fulfill the same approximately 2 Lakh people were dislodged and of whom the majority were innocent tribal people.

The literacy rate is very negligible. In the era of social and economic development government forgets to take care of these folks. India has a very less number of Scheduled Tribes in education institutions even after reservation policy. There is no proper implementation of policies. The unemployed have a great number.

The basic social infrastructures like a hospital, banks, schools, etc. are lacking here. Sometimes, the problem also stands on their part because they do not want any nontribal to take a stand. It is always a fear of a minority that they would lose their existence.
From British time, the one predicament that continues is exploitation by Christian Missionaries. In several areas tribes are forced to convert into Christianity. Even these missionaries are responsible to encourage their outrage against the government of India.
Issuing of Forest Pattas: Over 58 lakh people have applied for the forest pattas (for the ownership of forest produce) but only just about 14 lakh pattas have been issued individually and some more have been issued at the community levels.
Some related acts and laws:
PESA (Panchayat Extension of Scheduled Area) Act, 1996: The objectives this act is to extend the provisions mentioned in Part IX of the constitution to scheduled areas. It is to provide 'self-rule' to upgrade the tribal populations. It points to protect their customs, traditions and cultural identity. The Gram Sabhas were empowered so that they become the main center for all activities. The act would definitely support people's participation to achieve better utilization of resources.
Forest Act, 2006: This Act may be called the Scheduled Tribes and Other Traditional Forest Dwellers (Recognition of Forest Rights) Act, 2006. As its name suggests the act was enacted to protect the rights to hold and live in the forest land. It should be under the occupation for livelihood. Apart from it, there is also an inclusion of rights for the ownership of land by scheduled tribes. Although it faced challenges like hurdles in implementation, lack of awareness, improper roadmaps, etc.
SC/ST (Prevention of Atrocities) Amendment Act of 2018: The very feature of Indian society has evils like caste clashes, cow vigilantism, honor killing and so on. These are atrocities faced by minorities as per the custom. So the SC/ST (PoA) Act, 1989 was enacted to punish the crimes belonging to Scheduled Castes and Tribes. Along with it there were provisions like no anticipatory bail, speedy proceedings and giving compensation to victims. This act was amended in 1995, 2015 and then 2018. In 2018 in Subhash Kashinath Mahajan vs State of Maharashtra Case, the drawbacks like misuse of act got popular and questions were being made on its validity. But after the amendment act, the original provisions were restored.
INITIATIVES FOR TRIBAL WELFARE
Tribal Research Institutes
Ekalavya model of residential schools is set up: Poorna Malavath who climbed Everest is also from one of the tribal welfare schools.
Van Bandhu Kalyan Yojana has been launched by the Central Government of India for the holistic development and welfare of the tribal population of India.
TRIFED has setup TribesIndia a chain of showrooms where several categories of handicrafts are being marketed like tribal textiles, tribal jewelry.
Study shows that people living in any area can best protect rather than the outsiders. Our wildlife conservation initiative wants the involvement of local tribal communities. Removal of local people and put a fence for protection has no basis for conservation. The engagement by outsiders is what is regarded as 'bourgeois environmentalism'. People living in big cities lack ground realities. Instead of isolating such communities there must be the engagement of their practices with more scientific management. There are many cases where they are removed for mining. Millions of tribal people faced harassment to make tiger reserves. Conservationists must protect, support and listen to them. As human beings, they do have some human rights. Sociologists must make people know from their studies the actual and pitiful plight of such masses.
Conclusion:
Indian constitution provides certain safeguards to tribal people. There are protective, political and developmental safeguards. But after getting the true picture of their life, we get that picture is more or less the same. They get less respect and honor and often regarded as "they" by other people. The best cheers will be shouted only when scheduled tribes from far unknown areas will take benefits and rather than the tribal living in urban and developed cities.
References:
https://www.oxfordlearnersdictionaries.com/definition/english/tribe
https://www.jstor.org/stable/23619931?seq=2#metadata_info_tab_contents
Definition and classification of the tribe- Shodhganga Pdf
https://tribal.nic.in/actRules.aspx
BOOK: Constitution of India by PM Bakshi for Article 342
https://www.ilo.org/global/topics/indigenous-tribal/WCMS_503321/lang–en/index.htm