A spider's web. A Tapestry, indeed. It's intricacies, detailing and moreover an undying spirit to create a life of its own, especially, a soft home. This also holds true for a human being. Wars, poverty, physical assault, migration, death of loved ones, building homes amidst all of it, has been a story of Christa Zitzewitz, beautifully explained by her daughter, Malve von Hassell.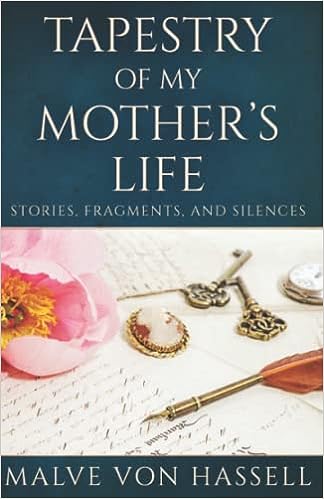 World Wars have been fought, treaties have been signed, countries are at peace and have charted their own path to development. But look deeper, is it true for the citizens whose daily lives hung on the edges, some hanged tightly not to die and others were either forced to death or died with malnutrition and diseases? This story is set in different periods of history and various geographies with one woman named Christa navigating her life throughout. The interesting question is how did she make it though?
Christa Zitzewitz grew up in a well based family who had everything from values, morals, ample food, horses, ownership of lands and respect from society. As she grew up, she was gradually getting aware about the Nazi ideology and its influence. Her family however showed tough resistance towards Hitler. And that made their life precarious. Early in her life, she had to stay away from her family, their riches, which she willingly did due to her unwillingness to join her disturbed mother and father and brother who created enough troubles.
Wherever she went, she had an impeccable habit of creating a home for her. Amidst migrations and journey towards education she lost her family members and her romantic interests due to Hitler's regime. But nevertheless, she did not give up. Horrors were all around her, tremors she had always felt, but creating a life of her own was a full time interest. Later, she married Wolf Ulrich Von Hassel, her second husband and a diplomat by profession. And together they aligned to create a comfortable life for their three children in the United States of America. The story essentially is about Christa's never dying attitude for creating future plans, adding love, stories, smiles to everything she does and moreover starting from scratch once again, all the time.
Christa's intricate life history has been justified by her very own daughter and the author of this book, Malve von Hassell. The author has the remarkable quality of combining history with autobiography. The histories of various geographies, families, individuals before and after World War 2 have been explained in detail, this also shows the depth of her research ability. This ability to give context for every new character and use them to explain Christa's personality is exceptional. And when the historical side gets slightly heavier and the reader starts feeling detached, the author brings her poetic side into it. Adding all of them. Her poetic hold, historical research, style of autobiography and her role as a daughter while writing, the story of her mother feels exactly the way Christa lived her life, with lightness, love and efforts.
Malve von Hassell's unique way of storytelling also sheds light upon several themes. Although the story generally revolves around Christa and her distinctive way of navigating her complex life, the foremost theme amidst the story is her strong and maintained character portrayal. Christa accepts the present, welcomes it, ignores the happenings that trouble her, looks out for opportunity, holds her roots and passes them subsequently. The reader is at times astonished to see how well her essence of personality is maintained even in her last years. She carries all the lands, states, individuals, scares, traumas with her beautifully, never regrets.
In addition to her character portrayal, the second explicit theme remains to be the relationship between the state regime and the citizens. Throughout the book, the state's influence has been intricately explained through various means, i.e, violence, institutions, literature, theatre, gendered socialisation, etc. While connecting to the above major theme, is the ability of this story to explain war, misery not on a large scale but through people's life journeys. This makes the reader read the history of World War 2 and its aftermath in a lively manner.
Moreover, in relation with the Nazi ideology, an explicit theme engulfs the storyline, i.e, gendered socialisation. Christa's feminine childhood upbringing, her career choices, state regime's way of division of labour for war, all are centred around gender based socialisation. And lastly, it becomes evident that the story is not only centred around Christa's life but also how the wars, families histories are transferred from generation to generation. Habits and values are sometimes given as a burden and other times as a gift.
Tapestry of my Mother's life is a well written and researched autobiography. That has the backing of strong political and historical context and an emotional connection of a daughter towards her mother. Even though Christa's life has been given justice, it also could be explained through Wendy Cope's poem,
The Orange
At lunchtime I bought a huge orange—
The size of it made us all laugh.
I peeled it and shared it with Robert and Dave—
They got quarters and I had a half.
And that orange, it made me so happy,
As ordinary things often do
Just lately. The shopping. A walk in the park.
This is peace and contentment. It's new.
The rest of the day was quite easy.
I did all the jobs on my list
And enjoyed them and had some time over.
I love you. I'm glad I exist.
— Wendy Cope
Discover the poignant narrative of 'Tapestry of My Mother's Life' on Amazon, a testament to resilience, love, and the indomitable human spirit.
---
Also Read: Interview with Malve von Hassell, Tapestry Of My Mother's Life