How to study for the Sociology GATE Exam – Humanities and Social Sciences (HSS)
The Graduate Aptitude Test in Engineering or GATE is an all-Indian entrance exam conducted jointly by the Indian Institute of Science (IISc) and the Indian Institute of Technology (IIT). It is conducted every year in the month of February and is one of the most reputed examinations in India. As of 2022, GATE comprises 29 disciples from whom the candidate can choose based on their interest.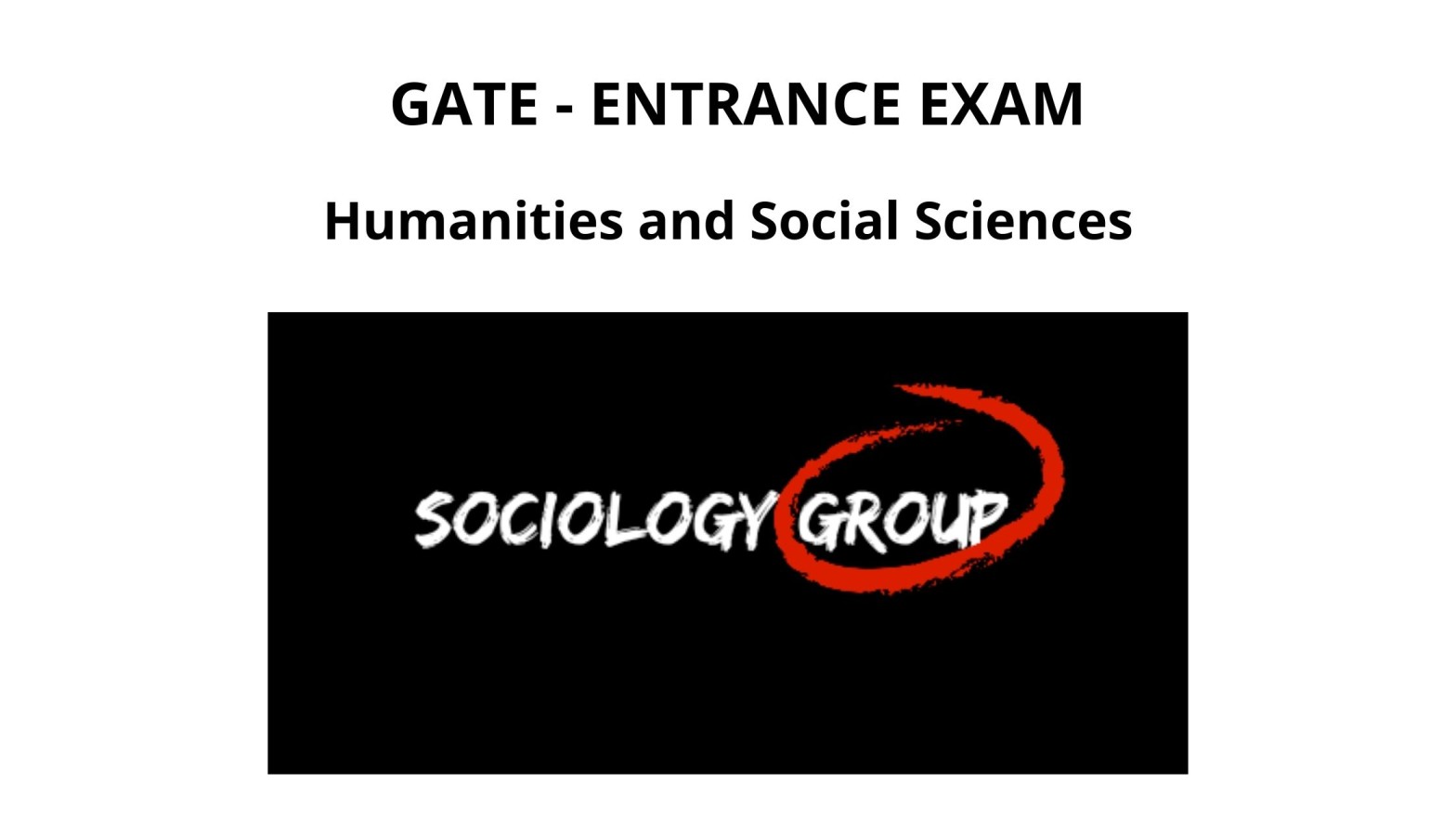 Earlier, educational institutes used to take separate exams for the Humanities and Social Sciences (HSS) candidates. But from the year 2021, GATE has now included subjects from HSS and Environmental Studies in the same exam. HSS students will be able to take GATE in any one of the following six subjects: Economics, English Literature, Linguistics, Sociology, Psychology, and Philosophy. 
This addition of HSS and Environmental Studies has now granted an entry to the students of Humanities and Commerce to enter the renowned world of IITs. To make the exam more accessible to all students from all fields of study, students of third-year undergraduate courses from any institution are now eligible for GATE. 
Why give the GATE Exam- Scope & Importace
There is a misconception that GATE is only for those who want to pursue higher education. Even though it is right that GATE opens opportunities for education, it does much more as well. A candidate who passes the GATE exam can use it to enter the job market, get scholarships, fellowships, and much more. Listed below are some of the reasons why GATE is a relevant exam to clear. 
Exposure 
Clearing the GATE exam will ensure that you get into the top universities of India. Being in such spaces not only helps you to excel in the field of your study but also enriches you with great experiences. You get to learn both inside and outside the classroom. It opens countless opportunities for you because of the prestige that comes with the name.  
Higher Studies  
Get a specialized degree at the Master's and/or Doctorate level. The higher the education you receive the more specialized you get in your field. Your future also depends on the education you receive because a greater educational experience will allow you to flourish more in the intellectual and job market. 
Added Benefits such as Fellowships and Scholarships 
The students who clear GATE are eligible for Junior Research Fellowship (JRF) and Senior Research Fellowship (SRF). A significant number of institutions like Bhabha Atomic Research Center (BARC) also offer scholarships based on the GATE scorecard. 
Get hired by Public Sector Undertakings (PSUs) 
Even if you do not want to continue higher education and enter the job market immediately after your undergraduate degree, then giving GATE opens up your arenas. Several PSUs have the prerequisites of GATE qualification as a requirement to get the job. 
Access to Foreign Universities 
A substantial number of universities in Singapore and Germany offer education opportunities based on your GATE score. Thus, clearing the exam allows you to build a career and life abroad. 
Sociology in GATE
Eligibility
A candidate who is currently studying in the 3rd or higher years of any undergraduate degree program (10+2+3, 10+2+4, or 10+2+5).
Someone who has already completed any government approved degree program in Engineering / Technology / Architecture / Science / Commerce / Arts.
No minimum or maximum age limit. 
Earlier, applicants were permitted to apply for only one subject or discipline. But, from 2022 onwards, students can go for two papers from the guided form of combinations.
Syllabus 
GATE 2022 has a mandatory section of Reasoning and Comprehension and then other sections including subject-specific questions. 
The broad syllabus include themes of:
Sociological Theory
Research Methodology
Sociological Concepts 
Agrarian Sociology
Family, Marriage, and Kinship
Sociology of India
Social Movements
Sociology of Development 
To check the detailed syllabus for HSS
How to Prepare for Sociology Entrance
The aim of the GATE is to check your knowledge, not only regarding your own subject but also your understanding of current affairs and general knowledge. If you are a GATE aspirant, these tips and tricks will allow you to perform your best!
Be aware about your Syllabus 
Before you sit to study, make sure you know the syllabus. To study without knowing what to study is like being in a headless goose chase. The first thing you need to do is match your study material with the syllabus prescribed for your subject. Having the syllabus with you will allow you to prioritize your time and efforts in the most fruitful manner.    
Once you have the syllabus with you, the next step for you to do is to formulate a study plan. Take a few days, and prepare a plan for yourself. Make sure that you dedicate enough time to study all the various aspects of what a GATE exam requires you to know. By making a study plan you will stay organized. This will also ensure that you do not miss out on anything. 
Clearing GATE is not a plaything. It is recommended that you start your preparations as soon as you determine that you will be giving this exam. Last-minute studying for 3 months will take you nowhere. This is a demanding exam that requires you to know more than ample objectives based on you being both school and street smart. 
Making notes alongside studying is one of the least celebrated skills. You might sit and read a lot but retaining all the information you read is impossible. Making notes will help you to remember what you read in the long term. While you continue to study a great number of books, having notes for each book, topic, or theme allows you to revise at any given moment in time. 
Practice Previous year papers
By practicing previous year's papers you can check the level you're at. All that you have studied is put into a test when you take a mock exam because it shows you how much you're prepared or not. This practice will also make you comfortable with the exam patterns and there will be no surprise for you in the exam hall. Practicing prior will also help you in time management.  
What to Read & Books for Sociology Entrance
The world of Sociology is expansive, but thankfully the syllabus list is not. As said above, if you strategize your syllabus well and prepare a study schedule then there is nothing to worry about. The following book list will help you ace your preparation. 
If you are starting at the beginners level, read:
NCERT Class 11th and 12th Sociology books
IGNOU Material 
If you want to study for the themes of Sociological Theory, Research Methodology, and Sociological Concepts, read: 
Introduction to Sociology by Anthony Giddens
Sociological Theory by George Ritzer
Sociology Themes and Perspectives by Haralambos & Holborn
A Dictionary of Sociology by John Scott
Sociological Thought by Francis Abraham and John Henry Morgan
An Introduction to Political Theory by O P Gauba
Essential Sociology by Seema and Nitin Sangwan 
(Find a detailed review of "Essential Sociology" HERE) 
If you are studying for the Indian themes such as Agrarian Sociology, Family, Marriage, and Kinship, Sociology of India, and Social Movements, read: 
Social Change in Modern India by M N Srinivas
Caste Its Twentieth Century Avatar by M N Srinivas
Handbook of Indian Sociology by Veena Das
Indian Society: Themes and Social Issues by Nadeem Hasnain
Modernization of Indian Tradition by Yogendra Singh
Rural Sociology by S.L Doshi and P.C Jain
Social Background of Indian Nationalism by A R Desai  
Additional Information: The "must-read books for Sociology" for NET, UPSC, and GATE are often the same books. So if you prepare for one exam, you are actually preparing for three.
GATE Cut Off
GATE cut-off is the score that one requires to qualify for the exam. An applicant who scores more than the cut-off is then eligible for the counseling round. The cut-off is determined by the various institutions themselves and they vary for each subject, year, and institute. The GATE scorecard is only allotted to those who clear the cutoff.  
The previous year's cut-off for the year 2021, for HSS Sociology was a score of  34.30 out of 100. The number of students who appeared to give the exam was 1255, and 23.35% of students were able to clear the exam and make it into the counseling round. 
Previous Year Question Papers
Since the addition of HSS Sociology has been very recent to the GATE exam there are not a lot of resources that one can find. But there are websites that an aspirant of GATE can keep a track of to access previous year papers and sample/mock papers alike. 
Click HERE to access the previous year's question paper. Click HERE for the answer key. 
Practice Session & GATE Sociology Key Analysis
Let us solve some of the previous year's questions dedicated solely to Sociological knowledge to decode the answers, their explanation, and their sources.
Q 1. Which method was primarily used by M. N. Srinivas for his work? 
Fieldwork 
Explanation: To answer this question you must be acquainted with the primary works of M.N. Srinivas and Research Methods. 
(Question no. 2 from XH-C6 section of the previous year paper) 
Q 2. What does 'avunculate' refer to?  
A relationship between Mother's brother and Sister's son 
Explanation: To understand the relationship of avunculate you have to study the themes of Family, Kinship, and Marriage. Sociologists such as Franz Boas, Radcliffe-Brown, and Levi-Strauss have discussed this theme of Kinship relationships.   
(Question no. 4 from XH-C6 section of the previous year paper) 
Q3. Who wrote the famous book "The city and the grassroots"
Manuel Castells  
Explanation: Manuel Castells is a very relevant urban sociologist. It is imperative for you to know the major works of sociology and their corresponding authors.  
(Question no. 8 from XH-C6 section of the previous year paper) 
Q4. What did Pierre Bourdieu define as "Systems of durable dispositions, structured structures predisposed to function as structuring structures… collectively orchestrated without being the product of the orchestrating action of a conductor."
Habitus 
Explanation: Pierre Bourdieu is a classic sociologist. It is imperative for you to know the classical work of sociologists and the concepts to which they have contributed. 
(Question no. 10 from XH-C6 section of the previous year paper) 
Q5. Point out the differences between New Social Movements (NSM) and Old Social Movements (OSM). 
NSMs are devoted to changing cultural norms and prefer flexible horizontal participation. Whereas, OSMs bring structural transformations and follow hierarchical organizational structure. 
Explanation: Social Movements are very closely linked with sociological theory. Read Nick Crossley to understand these concepts in depth. 
(Question no. 13 from XH-C6 section of the previous year paper) 
Q6. Imagine there is a spiritual leader from any religion who has a huge estate, organization, publication, etc. In Weberian terms, what kind of power do you possess? 
Bureaucratized Charismatic Power 
Explanation: One of the most celebrated works of Weber is his thesis on "Types of Power/Authority". In this scenario, the answer is bureaucratized charismatic power because a) Weber discusses 'Bureaucracy' in detail in his work, and being the owner of multiple properties is through the bureaucratic power that one holds; b) it is an example of Charismatic authority because the person is a spiritual leader. 
(Question no. 27 from XH-C6 section of the previous year paper) 
Q7. How would you apply reflexivity in your sociological approach?  
By reflecting on one's own biases and values, and how the research's position impacts the results of the research. 
Explanation: Reflexive sociology is a branch of sociology that deals with a sociological explanation of sociology itself. Alvin Gouldner was the theorist who came up with the concept of reflexive sociology. Therefore, do not forget to read about all the various types of sociological perspectives adopted or contributed by different major theorists.  
(Question no. 38 from XH-C6 section of the previous year paper) 
An Insider's Tip
When you are studying a lot, it is always advisable that you make your notes based on categories. Since the syllabus of Sociology is vast, you can divide your notes or flashcards based on different categories, such as
Make separate notes for different sociologists. 
You can even sub-divide theorists based on their nationality or perspectives. For example, club all American Sociologists under a single category OR club all Functionalists under one category. 
Definitions / Concepts 
There are many concepts in sociology, to remember them all can be a task. Make separate notes for different major concepts and try to relate them to examples for better recall. 
Books and Authors 
Most of the major sociologists have written books. Formulate a list of books, their authors, and their main argument. 
Current Affairs 
The amount of news one has to know is impossible to prepare for. Be smart in noting the news which is relevant. Make notes based on themes such as politics, environment, policies, etc. Different sub-headings will help you stay organized. 
How to Read Current Affairs with Sociological Perspective
General Knowledge 
General knowledge is another thing that cannot be completely covered or studied. Therefore the best way to gather GK is to study most of the previous years' papers. Find a pattern and lean towards those themes for studying. 
In conclusion, if you are someone who wants to study in the top-notch universities of India, need to explore the world of greatness, or enter the job market, then GATE is what you need to prepare for. No matter which stream you come from, start your preparation today with the help of the Sociology Group to unlock a great future for yourself. 
Read: Sociology Basics Here