Gail Omvedt as she would describe herself in three simple English terms was a writer, researcher and activist to put it simply. However, the body politic of the numerous grassroots movements that she has contributed to in various capacities as well as several social scientists and students who have been inspired by her life and work, would expand these three simple yet loaded terms for anyone who is actively or passively employed in a conversation about her. These three terms that she used for herself as her vocations, blend into each other so intricately and yet so very messily, that they give and take from each other and disseminate her ideals and her strivings for resistance to any layperson who is to come across her life and work in any capacity. I still remember, my Sociology of India lectures, where I was almost intrigued by reading her name as the author of one of the articles, we were to read for our unit on B.R. Ambedkar's Non-Brahmanical perspective on Indian society. I was still in the process of acquainting myself with Sociology as a discipline and was quite confused (after googling her name) about how a white person could have written about one of the most influential philosophers in the Indian tradition who dared to resist the rigid social stratification of caste that is only understood theoretically in the west but experientially by the non-Brahmanical Indian body politic. Upon reading further, I could not help but wonder how a white woman could come to hold such a dear place in the hearts of so many DBA Indians and other marginalized people and commit her entire life to this cause, when millions of upper class, so-called "stakeholders" of Indian colonial modernity, only enable caste-based discrimination and violence. While these might seem as naive ramblings rather than imminent questions of sociological inquiry, we will come to realize in the following detour of Dr. Gail Omvedt's work, that many of the answers lie in how she carefully combined her research and writing with her teaching and activism – how she took theory to the roots of popular culture and the lived experiences of many people she worked with through her critical social engagement, back to her theory.
Gail Omvedt: From American Academia to the Indian Cultural Revolt: A journey across fields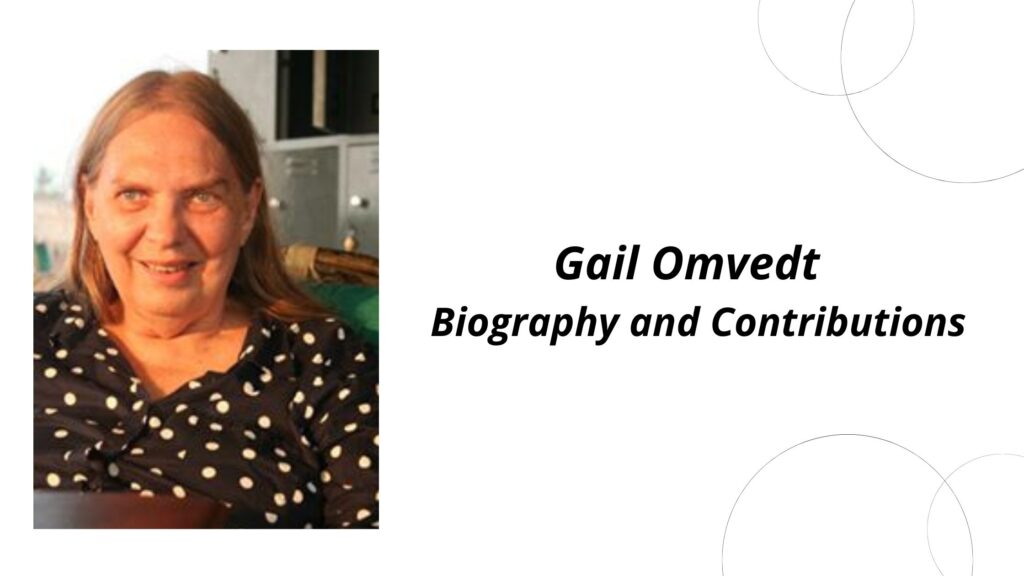 Gail Omvedt was born in Minneapolis, in Minnesota and went to Carleton college in the United States. She was born to a Scandinavian immigrant family, and her father was a lawyer who worked with the indigenous American population. This is also what sparked her interest in contributing to the margins and inspired her to receive an education in Sociology and also partake in various social movements, particularly counter-culture and new left movements in the United States. Her first encounter with the Indian subcontinent was during the year 1963-64, after which she visited India again in the year 1970-71, in order to conduct fieldwork for her thesis titled "Cultural Revolt in a Colonial Society: The Non-Brahman movement in western India 1873-1930". This exercise was a remarkable foray into the historical conditions that raised the anti-caste movements in colonial India and also contributed to their fall. Omvedt traces the legacy of Jyotirao and Savitribai Phule's engagements with marginalized castes and resistance towards the Brahmanical regime and the rise and fall of the Satyashodhak Samaj ("Truth-seeker's society) which was founded by Phule. The Satyashodhak Samaj remained the primary organization that pioneered anti-caste radicalism and structural reform in its most prominent two decades between 1910 and 1930. During this period, it also gave rise to the seeds of Ambedkarite consciousness and a peasant movement that Omvedt herself contributed to later on. Omvedt also traces in this the eventual decline of anti-caste radicalism as most of the proponents of the Satyashodhak Samaj ended up joining the Congress initiative, sowing the seeds for the popular Gandhi-Ambedkar debate on contesting caste-based discrimination and violence in India through the tools of law and public policy. This journey into the historicity of the non-Brahman movement in Maharashtra and its political presence was crucial to Omvedt's decision to stay in India for a longer time even after receiving her Ph.D. in 1973. This commitment was pioneered by her involvement with local peasant movements and movements centered on the lives of unemployed textile mill workers and farmer families affected by droughts in Maharashtra, all during the course of her doctoral fieldwork. On one such occasion, she met her future husband Bharat Patankar, who had been an activist for a really long time, and they married in 1976. Omvedt began permanent residence in India since then and finally gave up her American citizenship in the 1980s in order to become an Indian citizen. Following this, she and her husband founded the Shramik Mukti Dal, an organization that catered to the informal sector in rural India, through which she also branched out to grassroots organizing around ecological concerns and concerns about gender-based violence. Her migration to India was a crucial aspect that deeply influenced the Anti-caste, peasant, environmental and women's movements in India, precisely in Maharashtra. From here on she also contributed significantly to Indian Academia and intelligentsia, as well as the civil society via engagements with organizations like the UN and Oxfam.
Activism and Community oriented action research
Gail Omvedt contributed significantly to several social movements in Maharashtra and the rest of India as mentioned above, however, her foray into these various movements combined various philosophies pioneered by thinkers like Marx, Phule, Ambedkar, Gramsci and various pioneers of feminist thought. The Shramik Mukti Dal itself had a philosophical grounding that combined Marx, Gramsci, Ambedkar and Phule's ideas in order to give impetus to its own. The Shramik Mukti Dal essentially started out as a movement for water rights in drought-prone districts of Maharashtra, and along with activists, ecologists, philanthropists, academics and progressive intellectuals it emphasized on the social production of drought – that is the idea that drought is as much a human fueled disaster as any other. This idea was popularized through a struggle that lasted several years, which tried to prevent corporations from draining the village wells of many villages along the cost of the Yerala river, by incessant sand extraction from the bank of this river. The Dal worked in tandem with the rural body politic of drought affected villages to pioneer this resistance against corporate exploitation of natural resources, to the point where sand extraction from riverbeds became illegal. Gail Omvedt also branched out with more related and pressing concerns that connected the issue of water rights to issues of land rights and gender. The SMD under her branched out into various organizations such as the Sri Mukti Sangharsh Chalval which focused on gender-based violence faced by women and the issue of abandonment in marriages where women are left with no source of livelihood by their husbands who abandon them. The chalval was very active in Satara and Sangli districts and also influenced the budding of the Shetkari Mahila Aghadi which then brought to the center the rural women's question based on land and ownership rights. It also sought to enhance political representation by women so that they take charge of these issues.
Gail Omvedt: Contributions to Theory and Method: Publications and Positions of Responsibility
Gail Omvedt was also an academic by training as well as a researcher, and in this capacity, she has contributed immensely to the development of the sociology of India, particularly contextualizing non-Brahmanical perspectives to the study of Indian society. Gail Omvedt has contributed significantly to the study of social movements in India as well, providing a theoretical framework to understand the development of Anti-caste consciousness by tracing the history of anti-caste social movements pan India. She has also contextualized violence against women in India as well as a significant legacy of the women's question and women's movement in a post-LPG India. Some of her publications include: "Violence Against Women: New Movements and New Theories in India", "Reinventing Revolution: New Social Movements in India", "Dalits and The Democratic Revolution: Dr. Ambedkar and The Dalit Movement in Colonial India", "Buddhism in India: Challenging Brahmanism and Caste" among others. Her contextualization of Ambedkar's theoretical legacy by reintroducing his politics as that of "Liberty", "Equality" and "Community" (based on the ideals of the French revolution, although changing fraternity to the community to rid the term of gendered implications). Gail Omvedt has also served in consultation and teaching capacities in various academic institutions such as Pune University, Indian Institute of Advanced Study in Shimla, as well as serving as Chair Professor for the Dr B.R. Ambedkar Chair of Social Change and Development at IGNOU. She has also worked with various UN initiatives as well as with Oxfam initiatives.
Conclusion 
Overall, Dr Gail Omvedt has carefully blended roles of being a researcher, activist and writer in various capacities that have informed theory, method and practice in Sociology, Anthropology and the social sciences as a whole. She has provided ground for many individuals with similar inclinations, who wish to combine their scholarship with self-reflexive personal practice and community outreach. Her death in 2021 was a major blow to the body politic of the social movements she contributed to as well as the Indian academia as well as academia in the west. Her contributions have informed and re-informed many curricula for the social sciences at the undergraduate and postgraduate levels as well as various research curricula that seek to commit to action research. She has been a very inspirational academic-turned-activist and has influenced scholarship and community outreach worldwide.