Indian singer and composer Falguni Pathak is prominent for her musical compositions, mainly her music based on traditional Gujrati folk music making her also known as the Dandiya Queen. Dandiya is a traditional dance performed primarily in western India prominently in the states of Gujarat and Rajasthan. It is performed mainly during the Hindu festival, Navratri. She is also recognised as a 'Queer Icon' and referred to as the "Indian Madonna" an outcome of her unconventional dressing style (androgynous) and her attempts to destigmatise homosexuality in the early 2000s.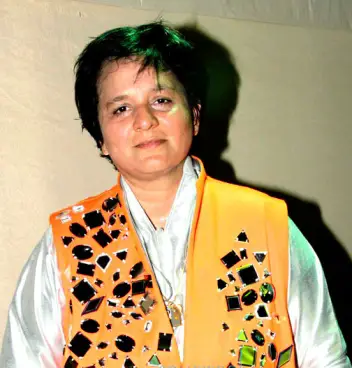 The following article looks at Falguni Pathak's musical career and her rise to fame. In her musical career, two aspects are considered. The first aspect covered looks at the inclusion of queer symbolism in her videos and adapting an androgynous attire for her performances. The second aspect looks at her rise in the music industry as the Dandiya Queen, for her energetic performances during Navratri. Her musical career of combining queerness with her label as an Icon has created comparisons to western singer Madonna hence, being gaining the title, the Indian Madonna. 
Biography
Falguni Pathak was born into a Gujarati family in Vadodara, Gujrat on the 12th of March 1964. She is the youngest of five children, all girls. It is believed that Falguni's parents were expecting her to be a boy. However, her older sisters used to dress her up as a boy hence resulting in her androgenous dressing style and short hair. She received her Bachelor in Commerce (B.Com.) degree from Smt MMK College of Commerce and Economics Mumbai.
Discography and Rise to Fame 
She began performing at the age of 23, with her professional debut in 1987. Since her debut, she has developed a large fanbase across India, despite her performances being primarily in Gujrati. Following her debut, she went on to record professionally and began her career as a Bollywood singer. However, along with her Bollywood songs, she is also known to perform Marathi, Punjabi and Rajasthani songs. Her debut album 'Yaad Piya Ki Aane Lagi" (1998) two years after Deepa Mehta released her film "Fire"(1996) which explored a lesbian relationship in the Indian Context. The film received massive backlash from the right-wing conservatives who felt it defied the "ideal woman" as it portrayed "non-feminine acts" such as women smoking and seeking sexual liberation. Falguni, releasing her debut album two years following the release of Fire, which thrust her into the media's eyes as she too defied the characters of an ideal woman. She chose to adopt a traditionally masculine appearance (which was her identity throughout her youth). This was a peculiar sight for the media as when she sang; her voice was high pitched and feminine.  
Her popularity grew with the arrival of television in the 1990s, which gave a platform for non-film singers. This created a new set of audiences and gave more freedom to express singing styles. Pathak's songs were described as "cute" and catchy. These songs which often loved songs were televised a countless number of times endlessly on television shows. This led to the creation of a large fandom who appreciated and praised her. This was quite unlikely as her masculine "tomboy appearance" for a woman was not something most Indians were familiar or even comfortable with. Women were expected to be feminine to play the role of a woman in society. This was also seen to be quite a contradiction to her music videos which featured her feminine voice and were often seen to have portals of hyper-femininity and heteronormativity, which met the expectations of the Indian society. Her videos were made to attract the Indian audience with portals of romantic quests, feminine bonding over make-up and men. Pathak in these videos was a singer narrator rather than being a part in the video's storyline.
Her first breakthrough song, which rose her to fame, was Chudi (2013), a song about a young teenage girl's love and the distress from being in love. However, it must be noted that despite the heteronormative and gender ideals (teenage girl lovesick over a boy), in the video, Falguni remains true to her identity and is seen sporting a navy blue pantsuit in her appearance in the video. 
The Rise of a Queer Icon 
Falguni's androgynous appearance while performing with a feminine voice called for questioning typical signs of gender and sexuality, prompting the examination of the relationship between visual and acoustics. In her music videos, she is not the main focus in the video but rather an observer. Her videos for her love songs feature heterosexual relationships, but during her appearance, she is always dressed in traditionally masculine clothing. She is frequently referred to as the Indian Madonna due to her similarities with the American singer's extraordinarily energetic and iconic performances. While Madonna is referred to as who is referred to as the "Queen of Pop", Falguni earned herself the title of the "Dandiya Queen". Madonna's title as a queer icon is a result of her activism against anti-LGBT laws and her prominence in the fight to support the legalisation of same-sex marriage. 
Read: Queer Movement in India
Falguni has similarly promoted queerness through crossdressing. She has been the first encounter of androgyny to millions of Indians and has promoted normalisation of non-gender-conforming appearances. Although Falguni has never commented about her sexuality, she dropped subtle hints in her videos. Her song "Meri Chunar Udd Udd Jaye"(2000) has subtle hints of homosexuality. The video features a girl who reminisces times with her potential lover who is played by none other than Falguni Pathak herself. 
The Dandiya Queen 
Despite her prominent career in Indian Pop music, Falguni is also known prominently for her traditional performances across the state of Gujrat during Navratri. She is often one of the most sought after performers. While the females traditionally wear a lehenga and men wear a short kurta with bottoms known as Pyjamas. Falguni defies the gender norms during her performances as she is seen sporting a kurta with pyjamas and an overcoat. As mentioned before in her videos for her songs in which she features she is seen wearing the same androgynous appearance by dressing up in typically masculine clothing. Her performances are known to be extraordinarily energetic and bring life to the Navaratri festivities. 
Legacy
Falguni Pathak earned her title of being the Indian Madonna and The Dandiya queen. She will be remembered for her defiance of societal norms of the binary. Her dressing style challenged traditional ideals of gender expression. Her appearances in her videos in her androgynous style of clothing paved the way for destigmatising clothing preferences and gender expressions. Her video for the song "Meri Chunar Udd Udd Jaye" depicted a lesbian relationship despite knowing the backlash it could face from a conservative Indian society. Yet, her choice to portray homosexuality is commendable and can even be said to be a brave choice. Her choice of dressing in men's traditional attire during a Hindu festival proved that a person's expression does not define their success as she continues to be one of the most sought after performers during Navratri. Her energetic performances in several languages, her bravery to defy of gender norms and attires, her attempts to destigmatise homosexuality despite the potentiality of backlash, makes her truly an icon. 
References
FalguniPathak VEVO. (1998). Falguni Pathak – Chudi [Video]. Retrieved from https://www.youtube.com/watch?v=Xna3I11v9Vs
FalguniPathakVEVO. (2000). Falguni Pathak – Meri Chunar Udd Udd Jaye [Video]. Retrieved from https://www.youtube.com/watch?v=p9r2GxMlRD4
Kher, R. (2016). I never took Bollywood seriously: Falguni Pathak. Retrieved 1 July 2020, from https://www.hindustantimes.com/music/i-never-took-bollywood-seriously/story-1USgpVI4tyURvKreoIaayO.html
Madan, S. (2019). The garba songstress. Retrieved 1 July 2020, from https://www.deccanherald.com/sunday-herald/sunday-herald-melange/the-garba-songstress-766210.html
Singer Falguni Pathak to make Rs 2 crore this Navratri? – Times of India. (2013). Retrieved 1 July 2020, from https://timesofindia.indiatimes.com/entertainment/hindi/music/news/Singer-Falguni-Pathak-to-make-Rs-2-crore-this-Navratri/articleshow/21703262.cms
Sundar, P. (2017). The Queer Sound of the Dandiya Queen, Falguni Pathak. Retrieved 1 July 2020, from https://soundstudiesblog.com/2017/10/23/the-queer-sound-of-the-dandiya-queen/