In 1915 April 16 Akshay Ramanlal Desai was born living life from 1915-1994 in Nadiad in Gujarat and took his last breath on November 12, 1994, in Baroda, Gujarat. His father RamanlalVasantlal Desai, inspired many youngsters as he was a well-known literature. Akshay Ramanlal Desai also took parts in many movements of students in Baroda, Surat, and Bombay.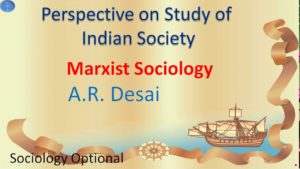 He went to the University of Bombay for his graduation and got his law degree and Ph.D. in sociology under the eyes of G.S Ghurye in 1946 from the same university. Later in his life, he became the professor in the Bombay University and later became head of the department. 1947 was the year he got married to Neera Desai who participated in the area of women's studies. Around 1953 he became a member of Trotskyites Revolutionary Socialist Party and in 1981 resigned.
A.R Desai counseled and practiced dialectical historical model in sociological studies.  He was greatly influenced by
 A.R.Desai Methodology:
the works of Marx,  Engels and Leon Trotsky and studied closely all their works. He took a modern Marxist approach to empirical investigation.
Along with other Indian sociologist applied Marxist methods to study Indian structure and its process. He rejects all the interpretations of tradition related to religion, rituals, and festivals. It is said to be secular phenomena.
It's an economic aspect and originates and progress in economics. He finds it in all the social institutions. He doesn't see the existence of the tradition in western culture. His studies evolve around nationalism and social configuration, his analysis of community development programs for economic progress,  study between state and society in India or relationship between social structure and polity, urban and demographic problems and study on peasants movements all these are based upon Marxists method.
He believes that the evolving denial is taking place in Indian process of social transformation due to the relation or links with the capitalist, rural bourgeoisie and state structure all pulled out from social roots.
Desai and his Writings:
To study the changes in India society was evaluated by some of the Marxist sociologists. A.R Desai stand out he was completely devoted and lived to explore and understand different aspects of Indian societal realities:
The Social Background of Indian Nationalism, 1948
Currently operating, 1973
Immanent features of Indian Nationalism 1975
The issue and problems of Rural sociology in India, 1969
Slums and Urbanization of India 1970-72
Implication of the modernization of Indian society in the world context, 1971
Peasant struggle in India 1979
India's path of development, 1984
Desai also participated in the political field of sociology. He offered the studies on peasant and struggles. Desai also likes D.P Mukherji studied Indian society through the eyes of Marxian. Later Desai and Pillai carried a study of slums. Rural sociology of India an edited version was published by him.
The major contribution of Desai:
Town structure, Change of Indian society, social foundation of Indian patriotism, worker battles and power and society
Town structure: In a pre-British era, Indian towns were self-sufficient. Peasants were highly concentrated in villages or towns. Here peasants enjoyed traditional family rights over the land. Whatever was produced on the land was traded within the village and was not gone outside the village. The culture at the time of pre-British period was feudal in nature.
Change of Indian society:  The change from feudal society to capitalist resulted after the conquer of India by British. Britishers introduced many economic reforms which expelled the old reforms. These changes impacted a lot of artisans. With capitalist system agricultural laborers, merchants, tenants, and industrial workers evolved. Commercialization of everything from agriculture, land, work took place. All these things gave birth to exploitation and poverty in rural areas. All this gave also gave rise in unifying Indian society.
Social foundation of Indian Patriotism:
Desai used Marxist approach to analyze patriotism in India during the British period. All the books by Desai were published in 1948 but they became popular in the late sixties and seventies. One of his full-length work was on "The Background of Indian Nationalism" it was proved to be a trendsetter.
According to him, India's nationalism is an output of materialistic conditions which were built by British colonialism.
Workers Battle:
Books like Peasant Struggles in India and Agrarian Struggles in India after Independence was authored by Desai. Desai combined all the important sufferings of peasants during British rule. He displayed then and now struggles of these peasants.
Power and Society:
In one of his Writings State and Society in India, he criticized how academic establishments are accepting modernization. A.R Desai later commented on the nonappearance of an examination of class role, class character, and monetary, tough, thinking a function of the era of Independence stated by Marxist. He further sought subject of the cruelty of state and protection from it.
Desai and Marxist:
Desai gave a chance to understand the Indian society through the Marxist approach and this also reflects in his works. He just not only believed that Marx is as essential in sociology rather he also showed for radical-minded to open their research horizons.
According to Desai Marxist approach helps people to raise important questions, also to hold researchers in a right manner, formulate proper theories, and come up with proper concepts, use accurate techniques for researchers.
Desai believed the Marxist approach is best to study the industrial relations, not just management of labor but as a capital-labor relation. It also helps in understanding dynamics of rural, educational, urban and establishments.
Desai showed the great importance and true determination of analyzing India society through every aspect with the help of Marxist approaches. Desai didn't leave any opportunity he took on different fields within society and looked through the eyes of Marist. He analyzed different components like nationalism, struggles of workers, state, and society, changes that occurred during the colonial rule and also discussed village structure. He kept a keen eye and tried to explain scholars who had rigid thinking regarding the Marxist approach that it was important to study Indian society using Marxist approach.