A.P.J. ABDUL KALAM. This is not just a name but it is the description of the paragon of dedication, resilience, patience, and aptitude, all at once. A man who set the sky as his limited and quite literally rocketed beyond its boundaries.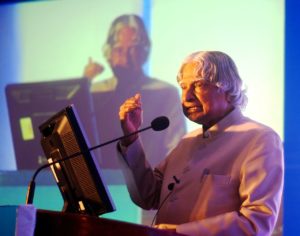 Avul Pakir Jainulabdin Abdul Kalam was one of the most industrious scientists to have blessed India with his contributions. He was an extremely secular man and one who believed in the power of science and the religion of humanity. Mr Kalam not only advocated the merits of education and science but also believed in the ability of each child to develop a scientific temper.
Also the 11th President of India, Dr Kalam was a man unparalleled in wisdom beyond the scientific perimeter. His goodness and knowledge were rivalled only by the humility and gentle modesty of his nature.
Often invited to schools and colleges for offering motivational speeches, Dr A.P.J. Abdul Kalam always preferred to talk to children and inspire them to work towards achieving that one set goal. He often said "Dreams are not what you see during your sleep- rather they do not let you sleep" and with his mental agility always ended up as a model of excellence who every child wished to emulate.
Dr Kalam was from a very humble background and had to work a long way to achieve what he achieved during his lifetime. It is said that once he had to complete a project during his college days, and on having been threatened by the dean of being stripped of his scholarship, he had completed the work before the deadline. The Dean of his institute later told him that the threat was only to make him work as per his potential.
While Dr Kalam was completing his graduation from the Madras Institute of Technology in aerospace engineering, he had to face many obstacles in his way. For one, his financial condition never allowed him to go beyond the necessary. Also, since he was an erudite student, he often headed Projects and was constantly under the pressure of coping well and maintaining the balance between his personal and student life.
Dr Kalam was awarded the prestigious Padma Bhushan in 1981 and the Padma Vibhushan in 1990 for his contributions in the scientific field through organizations such as the Indian Scientific Research Organisation(I.S.R.O) and the Defence Research and Development Organisation(D.R.D.O.)
Not only did he work towards India's development in the scientific field, but also wrote several books to inspire the younger generation. Ignited Minds, Wings of Fire, Mission India, Luminous Sparksetc. were some of his most notable works in this regard.
Always an academician, Dr Kalam said that he would not have liked the idea of a day off every year on his death anniversary, and so this day is celebrated today as "Youth Renaissance Day" by countrymen.
For a person like Dr Kalam, even his way of departing seems to us something that he would've desired- while giving a lecture. How to complete one's tasks with patience, how to work towards one's goals and how to achieve success were questions he had long before finding answers to. More than anything else, it was his utter dedication, muscle, and sinew that made him what he was. He believed that all of us have it in us to achieve what he had achieved and just like he said – We are all born with a divine fire in us and our efforts should be to give wings to this fire and fill the world with the flow of this goodness!