Sachin Gupta: "Dedication and Hard work never go vain", these are the words of the third UPSC topper, the Sirsa Boy. Hearing the inner voice of own's conscience and heart he started his journey of entering the UPSC family in 2016 where he got an All India Rank of 575. The unsatisfaction of the result attained in the previous exams made him take a step further in his life.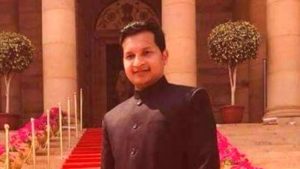 The 31-year-old was born in the year 1987 in Sirsa of Haryana. He is the son of Sudarshan Gupta who is a farmer as well as a trader who runs a private trading forum. His mother Sushma Gupta is a teacher by profession in a government school. He is the youngest child in the house.
He completed his primary and secondary education in D.A.V Centenary Public School in Sirsa itself. He pursued his higher education from Thapar Institute of Engineering and Technology located in Patiala of Punjab. He has graduated in Bachelor of Engineering in the field of Mechanical Engineering.
His interest is in traveling and reading General Knowledge Books. He previously worked in Maruti company after completing his bachelors. Later on, he took an interest in civil services and started aspiring to become an IAS officer. For the sake of completing his dream, he told his father that he wanted to quit his job and go for further preparations to Bangalore.
His father knew he was good at studies and thus gave him to go to Bangalore, a decision he considered as the good one and life-changing. There he joined coaching institute that gave education for clearing UPSC exams. There were teachers who guided him to move further. Before going to Bangalore he had previously taken group studies in Delhi and had appeared in the previous exam but could not get good results as per the expectations. He knew he could do it as he had the potential to crack the exams.
"I thought of clearing the exams, but with such a good rank was totally unexpected", says the third position holder. He has made and followed his own rules of success. To start with the first rule, he followed was being anti-social on online media. He preferred staying away from social media. Not only that, he also studied for 18 hours a day, listened to what his teachers said and the practice the same. He says, "One should never leave hopes and always think that this attempt will be his last attempt. Always do your preparations thinking this, only then you can achieve the success you wish for."
He also says," Always listen to a single teacher and follow whatever guidance he gives. One requires test, practice, and speed to clear UPSC exam. One must select subjects of own choice not depending on which subject has the most demand in the market or how many numbers of students are interested in which subject. It requires hard work and focuses and one should not hesitate to sacrifice anything if your aim demands it."
Also, see,